WELCOME
St. Augustine is a small, yet strong parish in the farming communities of Germantown, Farmersville, New Lebanon and surrounding areas.
We are a family….one mass, one mission, one goal to serve God and help others. When you join the St. Augustine parish you are immediately adopted by this faith community; you are welcomed into this family.
As a parishioner you will always be supported in all your endeavors. Involvement in the parish only increases your blessings of friendship, support, and love!

Be Generous as God is Generous
Donate to St. Augustine Church
Click Below to Donate
ST. AUGUSTINE PARISH NEWS
St Augustine and St. Benedict Annual Picnic Our Annual Picnic may come on

August 28, 2022

. We are about a week later than usual because of some uncertainties due to the Family of Parishes.
Our Lady of Grace Picnic date is

September 11, 2022
Queen of Martyrs Picnic is

September 18, 2022
ST. AUGUSTINE PARISH NEWS
We are going to start collecting plastic for a second bench for the Marian Garden. Please bring the plastic to church and give it to Marie or Randy Klotz. 
Acceptable plastic

is:

grocery bags, case over wrap, dry cleaning bags, newspaper sleeves, ice bags, salt bags, product wrap, retail bags, air pillow cushions, bubble wrap, plastic shipping envelopes, and cereal box liners. Bread bags, ziploc bags, and produce bags are acceptable as long as they are clean and dry.
Sacristans Needed
Is anyone interested in becoming a Sacristan? Please contact Sylvia Hess or Fran Delegato.
Thank you!
WHAT IS THE CATHOLIC MINISTRIES APPEAL (CMA)?
The Catholic Ministries Appeal is the annual campaign to support six local ministries that teach, feed, and heal.
appeal.
Your CMA gift supports the education of our spiritual leaders, changing the lives of those called to serve … thank you!
ST. AUGUSTINE PARISH NEWS
Learn more at http://www.CatholicAOC.org/Synod. Want to participate? On the website you will find an opportunity to sign up for one of our local meetings near you. We hope to see you there! And, if you know someone who has left the faith, please invite them to participate too!
St. Augustine Parish
Sunday Mass 8:30 AM
ST. AUGUSTINE PARISH NEWS

Donate to St. Augustine Church
For Anointing, Marriages, Baptisms, or other sacramental preparation, please call the rectory at (937) 855-2289 or (937) 268-6697 to schedule.
If you are preparing for surgery or have a serious illness, call the rectory to schedule the Sacrament of the Sick.
For Confessions, please schedule with the priest.
Information for the weekly bulletin must be submitted by Monday at 4:00 pm.
Please call (937) 855-2289 or email the information to csaintaugustine@woh.rr.com
ST. AUGUSTINE PARISH NEWS
Beacons of Light Interview w/ Archbishop Schnurr
Archbishop Schnurr has recorded a new video – in interview format with Anna Mitchell of Sacred Heart Radio – discussing Beacons of Light. The video can be found here:
FROM THE ARCHDIOCESE WORSHIP TOGETHER SAFELY (COVID-19)
Updated June 1, 2021
      Discreet use of hand sanitizer by ministers of Holy Communion should continue and hand sanitizer should be available at the doors of church if possible. No Holy Communion from the chalice by the faithful (wine); concelebrating priests should Communicate by intinction. It is recommended that at least one section of seating for at least one Sunday Mass continue to be reserved for social distancing; please adjust week to week based on the preference of the faithful and pastoral judgment.
ST. AUGUSTINE PARISH NEWS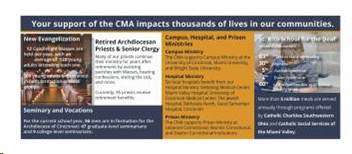 2021 CATHOLIC MINISTRIES APPEAL (CMA)
Archbishop Schnurr sends his thanks to every- one from Pastoral Region One who has pledged to the 2021 Catholic Ministries Appeal. If you have not yet made your pledge, please consider doing so this week. These important local ministries depend on our help each year. You will find extra pledge envelopes in the back of Church for your convenience this weekend. To make a donation online, please visit http://www.AOCstewardship.org. Thank you!
ST. AUGUSTINE PARISH NEWS

A letter from Archbishop Schnurr regarding various issues related to application of the Church's moral teaching to the development, distribution, and reception of vaccines.
ST. AUGUSTINE PARISH NEWS
Help our elders. In good times and bad, senior Catholic sisters, brothers, and religious order priests have dedicated themselves to service and acts of mercy. Today, they pray for an aching world. Yet years of serving for little or no pay have left their religious communities without enough retirement savings. Your gift to the Retirement Fund for Religious helps provide medications, nursing care, and other necessities. Please be generous.
CURRENT

BULLETINS
PAST

BULLETINS
Also Available at St. Benedict Church
St. Benedict will no longer be streaming their mass live. Parishioners and visitors are encouraged to visit in person. All COVID protocols are in place ensuring your safety
ST. AUGUSTINE PARISH NEWS
New Family of Parishes
NE-8 (2 priests)
• St. Augustine, Germantown
• Queen of Martyrs, Dayton
• Our Lady of Grace, Dayton
• St. Benedict the Moor, Dayton
For a complete list of

Family of Parishes
go to
Deacon Ken's Homily
Saint of the Weak
The Bicentennial History of the Archdiocese of Cincinnati,
by Fr. David J. Endres
Books available at the website below
St. Augustine Parish
Sunday Mass 8:30 AM