WELCOME
St. Augustine is a small, yet strong parish in the farming communities of Germantown, Farmersville, New Lebanon and surrounding areas.
We are a family….one mass, one mission, one goal to serve God and help others. When you join the St. Augustine parish you are immediately adopted by this faith community; you are welcomed into this family.
As a parishioner you will always be supported in all your endeavors. Involvement in the parish only increases your blessings of friendship, support, and love!
RCIA – Anyone interested in learning more about the Catholic Faith is asked to please call the parish office (937-268-6697).

Be Generous as God is Generous
Donate to St. Augustine Church
Click Below to Donate
ST. AUGUSTINE PARISH NEWS
Archbishop Dennis M. Schnurr invites all the faithful to join him in a study of The Mass, produced by Word on Fire and led by Bishop Robert Barron. Archbishop Schnurr's special study of The Mass
Study of the Mass: Past Episodes
ST. AUGUSTINE PARISH NEWS
Family of Parishes Northeast #8 Latest Updates
ST. AUGUSTINE PARISH NEWS
We are going to start collecting plastic for a second bench for the Marian Garden. Please bring the plastic to church and give it to Marie or Randy Klotz. 
Acceptable plastic

is:

grocery bags, case over wrap, dry cleaning bags, newspaper sleeves, ice bags, salt bags, product wrap, retail bags, air pillow cushions, bubble wrap, plastic shipping envelopes, and cereal box liners. Bread bags, ziploc bags, and produce bags are acceptable as long as they are clean and dry.
Sacristans Needed
Is anyone interested in becoming a Sacristan? Please contact Sylvia Hess or Fran Delegato.
Thank you!
WHAT IS THE CATHOLIC MINISTRIES APPEAL (CMA)?
The Catholic Ministries Appeal is the annual campaign to support six local ministries that teach, feed, and heal.
appeal.
Your CMA gift supports the education of our spiritual leaders, changing the lives of those called to serve … thank you!
ST. AUGUSTINE PARISH NEWS
Learn more at http://www.CatholicAOC.org/Synod. Want to participate? On the website you will find an opportunity to sign up for one of our local meetings near you. We hope to see you there! And, if you know someone who has left the faith, please invite them to participate too!
No SUNDAY MASS 8:30AM. Sunday December 10th.
Friday December 8, 2023


Immaculate Conception of the Blessed Virgin Mary Mass at St. Augustine 7pm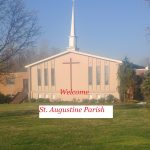 REVIVAL

On

December 4th

. Saint Augustine Parish was treated with a very inspirational Speaker Deacon Royce Winters from the Crescent Parishes, and with a very talented Choir from Church of the Resurrection in Cincinnati Ohio
2023 Advent Season Angle Tree

Please Select an Angle from the Angle Tree at Church and Pray for the Person listed on the Angle during the Advent Season.
Saint Augustine is also Requesting coloring books. Colored pencils. Crayons. Wall calendars. And some puzzle books. For The residents of the Germantown nursing home. 



ST. AUGUSTINE PARISH NEWS
While traveling and you wish to find Catholic Services near your visiting area go to this website.
ST. AUGUSTINE PARISH NEWS

ST. AUGUSTINE PRAYER CHAIN
If you would like to be a part of the St. Augustine Prayer Chain, please contact Marie Klotz at marieklotz1@gmail.com
-----------------------------------------------------------------------
For Anointing, Marriages, Baptisms, or other sacramental preparation, please call the rectory at

(937) 855-2289

or

(937) 268-6697

to schedule.
If you are preparing for surgery or have a serious illness, call the rectory to schedule the Sacrament of the Sick.
For Confessions, please schedule with the priest.
Information for the weekly bulletin must be submitted by

Monday at 4:00 pm.
-----------------------------------------------------------------------
S

onshine in a Bag
St. AUGUSTINE PARISH participated and supported "SONSHINE IN A BAG" food program. The Sonshine in a Bag program provides bags of food to refer students who they feel could benefit from receiving food from this program.
Thank You Note from Germantown Church of God
ST. AUGUSTINE PARISH NEWS
Sunday October 1st. St. Augustine presented the

(The Top 3 Reasons That I Became Catholic... and Always Will Be. The Dr. John Bergsma, a former Protestant Pastor's story)

was shown immediately after the

8:30 am Mass

. Please fill free to view this presentation.
To View click below.
Please

call

(937) 855-22

89

or email the information to csaintaugustine@woh.rr.com
----------------------------------------------------------------------
HOLY SPIRIT FAMILY OF CHURCH INFORMATION
United in Faith, Hope, and Service to the Community

St. Benedict the Moor Church
519 Liscum Dr., Dayton, OH 4il17


937-268-6697

Email admin@unitedinhope.orq
Website https://www.unitedinhope.org
Office hours: Tues.-Thurs. 9:30 arn-1 :00 pm
Queen of Martyrs Church

4134 Cedar Ridge Rd. (Church), Dayton, OH 45414
4144 Cedar Ridge Rd. (Office)
937 -277 -2492
queenofmartyrsdayton.gmail.co

m
Website

qmparish@qmdayton.org
Office hours: Tues. & Thurs. 9:00 am-12:00 pm
Queen of Martyrs Church

4134 Cedar Ridge Rd. (Church), Dayton, OH 45414
4144 Cedar Ridge Rd. (Office)
937 -277 -2492
queenofmartyrsdayton.gmail.co

m
Website

qmparish@qmdayton.org
Office hours: Tues. & Thurs. 9:00 am-12:00 pm
Our Lady of Grace Parish Center (Office)
220 W. Siebenthaler Ave. Dayton, OH 45405
937-274-2107
info@ourladyofgracedayton.orq
Website http://ourladyofgracedayton.org/
Office hours: Mon.-Thurs. 9:00 am-4:00 pm
Corpus Christi Church

527 Forest Ave.
Dayton, OH 45405

Our Lady of Mercy Church
533 Odlin Ave.
Dayton, OH 45405

St Augustine Church
6939Weaver Rd. (Church), Germantown, OH 45327
BULLETIN
PAST BULLETIN

S
New Family of Pari

shes
NE-8 (2 priests)
• St. Augustine, Germantown
• Queen of Martyrs, Dayton
• Our Lady of Grace, Dayton
• St. Benedict the Moor, Dayton
For a complete list of

Family of Parishes
go to
Deacon Ken's Homily
Saint of the Weak
The Bicentennial History of the Archdiocese of Cincinnati,
by Fr. David J. Endres
Books available at the website below
St. Augustine Parish
Sunday Mass 8:30 AM