OTHER AREA HAPPENINGS
Community-Wide
Evening of Healing Prayer
"These signs will accompany those who believe… They will lay hands on the sick and they will
recover"

(Mark 16:17).

Join us

Saturday, August 7

at Our Lady of Good Hope Church, (GPS ADDRESS – 316 East Central Ave) Miamisburg, OH 45342. Praise and Worship music will begin at 6:30pm, followed by the Healing Service led by Deacon Russ Feldkamp of Encounter Ministries from 7:00-9:00pm. Join us for an evening of praise and worship followed by an opportunity to pray for you and any current needs. This evening is free and open to anyone in need of healing Please invite your family, friends, co-workers, neighbors of any faith or background.
Contact chrisjasek@gmail.com with questions.
OTHER AREA HAPPENINGS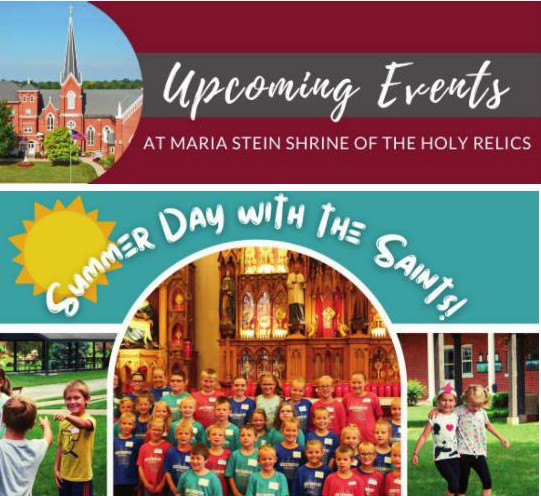 Our beloved annual kids day event is back! Choose Tuesday,

August 10 or Thursday, August 12

(the same program is offered both days) from 1:00pm – 4:00pm. The event is for children entering grades 1-6 and is $10 per child. The day includes faith-based activities, crafts and snacks.
AUGUST 29
ST. MONICA PRAYER SERVICE
Join us at 2pm for the St. Monica Prayer Service. We will pray for those who have strayed from the faith, just as she prayed for the conversion of her son, St. Augustine. The prayer service will include scripture reading, reflection on the life of and prayer with the relic of St. Monica. Refreshments will follow the service.
ST. AUGUSTINE PARISH NEWS
ST. AUGUSTINE SVDP REPORT
The St. Vincent De Paul St. Augustine Conference provided assistance to 4 families during the 2nd quarter of 2021. Donations supported these families in the following ways:
• $750 for Rent
• $839 for Utilities
Parish donations along with donations from the Plant Sale and Kroger's Community Rewards program has allowed this conference to continue our mission of assisting neighbors in need. Many thanks for your continued monetary support and prayers to help the St. Vincent De Paul society help others in our Germantown/Farmersville/New Lebanon community. If anyone who isn't participating in the Kroger Community Rewards program is interested in signing up, please contact Barb Maichle for additional information.
ST. AUGUSTINE PARISH NEWS
DCWC 2020 Scholarship Program
T
he DCWC 2020 Scholarship Program had many deserving candidates and we wanted to announce that we found 10 fine young women deserving of this Scholarship. The winners were unable to attend our Spring Luncheon this luncheon this year as it was cancelled because of COVID-19, so we want to recognize the achievements of the following recipients:
Miley Azbill-St. Charles-Alter H.S.
Lyndsey Carter-St. Albert The Great-CJ H.S. Elizabeth Jasek-Our Lady of Good Hope-Alter H.S. Courtney Kingston-Our Lady of Good Hope- Miamisburg H.S.
Sophia Lopez-Navarijo-St. Mary Hispanic Ministry- Carroll H.S.
Erin McGraw-St. Christopher-Cj H.S.
Jill Roberts-Immaculate Conception-Carroll H.S. Jackie Sherick-St. Albert The Great-Kettering Fairmont H.S.
Aiden Valenti-St. Augustine-Valley View H.S. Katie White-St. Charles-Alter H.S.
On behalf of Lisa Nussman, President of DCWC and the members, we want to say how proud we are of these girls and wish them: CONGRATULATIONS AND GOOD LUCK.
ST. AUGUSTINE PARISH NEWS
Please keep in your prayers our shut-ins: Toni Moore
OTHER AREA HAPPENINGS
"Mary in Miniature: Books of Hours in the Marian Library's Collection"
"Mary in Miniature: Books of Hours in the Marian Library's Collection"

This Library exhibit has been recreated as an online exhibit. Books of Hours – devotional books centered on a series of prayers to the Virgin Mary – were the best-selling book in Europe for over 300 years, from 1250 to 1550. This exhibit highlights Books of

Hours in the Marian Library's collection – their art, their text and their unique (and sometimes unusual) features. Books of Hours, also called horae, not only contain artistic masterpieces in miniature, but also provide a window into the religious and social lives and customs of their medieval readers To connect to the exhibit, visit http://udayton.edu/marianlibrary.
OTHER AREA HAPPENINGS
DIVORCE SUPPORT MINISTRIES
Divorced? Separated? We can help! There are two excellent Catholic-Sponsored divorce support groups in the local area to help you heal from this life trauma. Both programs provide a warm, caring environment led by people who understand what you are going through. Learn practical information and gain hope for your future. You should not have to feel isolated or cut off from the Catholic Church.
Get Inspired! Listen to "Good News Today"
Father Jim Willig's Gospel teachings every Sunday on Sacred Heart Radio at 7:30 and 9:30 am. Sacred Heart Radio broadcasts in Greater Cincinnati on 740AM, Hamilton on 89.5FM, and Dayton on 910AM. Also listen anytime on Heart to Heart's website:
http://www.heartoheart.org.
PRAYERS
Show Your "Catholic Mary Spirit"
As you may know, St. Mary is in the beginning process of raising funds to air condition our church. We are talking to contractors etc. and at the same time we are looking into raising the funds for this project. You can help us and show your "Catholic/Mary Spirit" at the same time. For $5 each, you can purchase a 2-sided Mary blue silicon bracelet printed in both English and Spanish. They are available at St. Mary after Mass in the sacristy, or during the week at the St. Mary parish office.

Questions? Call Mark at

937-256-5633
LAY CATHOLIC STUDIES
The Athenaeum of Ohio Lay Pastoral Ministry Program is sponsored by the Archdiocese of Cincinnati and offers lay Catholics the opportunity to grow in faith, knowledge and skills in order to serve families, communities and the Church more effectively. Since 1975, the LPMP has equipped ordinary Catholics to accomplish extraordinary things in the name of Christ. Weeknight and Saturday classes fit into busy adult schedules, allowing participants to maintain job, family and community commitments while answering a call to deeper discipleship. Classes count toward catechist certification and serve as a prerequisite for application to the permanent diaconate formation. Interviews are now underway for fall classes at the main campus and Good Shepherd in Montgomery. We are offering a 25% lay tuition discount this year. Call 513-231-1200 for information or to set up an interview.
OTHER AREA NEWS
NOTRE DAME MISSION VOLUNTEERS
Serve a year with Notre Dame AmeriCorps in Dayton! NDA Dayton members give a year of service at a local school, park or non-profit and receive a stipend and an education award. Gain valuable skills while serving your community! For more information and to apply, visit:
https://serviceyear.org/ndmva/notre-dame-americorps-member/QbPGx2/
email
http://dayton@ndmva.org.
POPE FRANCIS CALLS US ALL TO
"MISSIONARY DISCIPLESHIP".
The Lay Pastoral Ministry Program can equip you to respond with a

"Yes!"

The LPMP is sponsored by the Archdiocese of Cincinnati and helps lay men and women grow in faith, discern and develop gifts for ministry and gain the knowledge and confidence needed to serve families, communities and parishes more effectively. Evening and Saturday courses in scripture, doctrine,morality, evangelization and liturgy fit into a busy adult schedule. Interviews are now ongoing for graduate and non degree classes beginning in August. Cincinnati locations include the main campus in Mt. Washington and Good Shepherd in Montgomery. All lay students will receive a 25% tuition reduction this year. Call

513-231-1200

for information or to schedule an appointment.
OTHER AREA NEWS
WE ARE LOOKING FOR YOU
Do you have a passion to care for the elderly? The Little Sisters of the Poor, a nursing home that provides care to the elderly poor, is looking for people to join the family. Nurses and STNA's are in need to help continue the Sisters' mission to care for the elderly poor. Please contact the HR department: 

hrcincinnati@littlesistersofthepoor.org

or

(513)281-8001 ext. 127.
ARCHDIOCESAN LAY PASTORAL
MINISTRY PROGRAM
Have you ever said, "Someone should start a Scripture Study group in our parish?" Or, "We have a lot of elderly, housebound parishioners. Someone should organize a visitation team?" Well, you are right! Someone should. Maybe that someone is you. The Archdiocesan Lay Pastoral Ministry Program has been educating and forming lay men and women just like you for service to their parishes, schools and communities since 1975. We offer a non-degreed Certificate in Ministry, spiritual and pastoral formation and the opportunity to grow in faith, knowledge and skills. Saturday classes, flexible components and a great support system allow busy adults to maintain work and family commitments while preparing for new opportunities. Classes are available in 2018-19 at Sacred Heart of Jesus in McCartyville. Contact Deacon Hal Belcher at

419-305-5486

or 

hbelcher001@woh.rr.com

for more information or to set up a personal interview. You too, go into my vineyard
ENGLISH LANGUAGE TUTORING PROGRAM
AT INCARNATION CHURCH
Volunteer members of Incarnation Church, in Centerville, are offering English as a Second Language (ESL) classes every Saturday morning from 10:30am-12:00pm in the Parish Center (behind the church on the south end of the school). This free outreach program accommodates all nationalities and faiths, and is designed to help students learn better English skills. We provide individualized instruction specific to the needs of our participants, and are welcoming new students at this time. For more information, or to join the ESL program, please call Barbara at 937-433-1660, or Roberta at 937-435-5756. TIME IS RUNNING
OTHER AREA NEWS
ST. BENEDICT THE MOOR SCHOOL
Open enrollment is going on at St. Benedict the Moor Catholic School for the 2020-2021 Academic Year. Interested people should visit the campus at 138 Gramont Avenue, or call at

937-268-6697

.
OTHER AREA EVENTS
Test your Catholic IQ! (Courtesy of OLGH)
Click Below
 

S

UNDAY MORNING SCRIPTURE STUDY
SHARE THE WORD SCRIPTURE STUDIES

Share the Word Scripture Studies has begun its 37th year. We meet in the St. Mary Center following the 9:45am Mass. We invite you to join us for a lively discussion of the readings of the day and how they relate to our daily lives.
 

NEW GROUP WELCOMES




YOUNG PROFESSIONALS
Shine Dayton would like to invite you to learn more about our organization. We are a group of young professionals committed to advocating for the compassionate works of Catholic Social Services of the Miami Valley through the engagement and empowerment of individuals. For more information on becoming a member or to join us at an upcoming event, email shine.dayton@gmail.com or visit us at http://www.cssmv.org/giving/shinedayton or

http://www.facebook.com/shinedayton

.
 GUIDELINES FOR ARCHDIOCESAN
TUITION

ASSISTANCE
Needs-based grants from both the endowed and expendable funds will be available for students attending grades Kindergarten through 12 in Catholic schools in our archdiocese. Approximately 80% of the tuition assistance funds available annually will aid Catholic School students in grades Kindergarten through 8th Grade. To apply for assistance please go to https://factsmgt.com/services/grant-aid-assessment Approximately 20% of the tuition assistance funds available annually will aid Catholic School high school students. To apply for high school tuition assistance, contact your high school directly for more information. Log on to http://go.udayton.edu/manger for more information. Know Mary Better: Learn more about the Blessed Virgin Mary