Sixth Sunday of Easter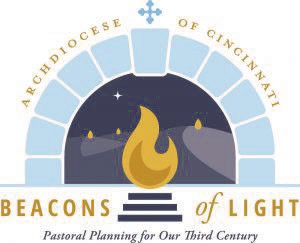 • Every Family of Parishes will form people to embrace stewardship as a way of life.
• Every Family of Parishes will actively promote vocational discernment.
• Every Family of Parishes will create and implement a plan that ministers to all persons in every season of life and every stage in the process of evangelization.
• Every Family of Parishes will have an Evangelization Team, overseen by the pastor and led by competent and qualified staff.
• Every Family of Parishes must offer support to their communities through the spiritual and corporal works of mercy and promote a culture of life, charity, and justice.
• Every Family of Parishes will incorporate principles of Catholic Social Teaching into faith formation efforts for youth and adults.
• Every Family of Parishes will promote intercultural competence and facilitate the participation of all people in the life of the Church

.
The Current Reality
As we know from the current reality report created in the strategic planning phase of Beacons of Light, the average Sunday Mass in the Archdiocese of Cincinnati utilizes less than 40% of the church building. After further analysis including attendance figures from October 2021, projected numbers of priests to be assigned to each Family, the current Mass schedules of each Family, the capacity of the church buildings, and the availability of retired priests, we know a bit more about the work ahead to ensure vibrant Eucharistic liturgies.
• Between 2019 and 2021 we had a total decline of Sunday attendance throughout the Archdiocese of Cincinnati of 32,955, a loss of 25% from 133,533 in October of 2019. While we've rebounded from even more dire numbers in 2020, we have a long way to go to return just to our attendance in 2019.
• 138 of our 208 parish churches (66%) utilize less than 40% of the church building on Sunday.
• Of our 57 Families of Parishes, only 17 will need no change whatsoever to the schedule of Sunday Mass or the increased assistance of retired priests.
• 78 parishes would benefit from a reduction of at least one Sunday Mass to facilitate a sustainable schedule within the new Family on July 1.
• 65 parishes will need both a reduction of at least one Sunday Mass AND the increased assistance of a retired priest to ensure a feasible schedule for the Family of Parishes
• Thankfully, only 4 Families (including 20 parishes) will need radical change to their Sunday Mass schedules in the near future.
You can explore more analysis of the current reality regarding Mass schedules and facility utilization of our parish churches.
Visit Family of Parishes
As we prepare to be the family of Parishes beginning July 1, 2022, we are asking everyone to take time to visit a location or more of our family members.
          Corpus Christy                                                 Our Lady of Mercy


     527 Forest Avenue, Dayton                             533 Odlin Ave. Dayton




Saturdays 4:30pm                                            Sunday 9:00am
Queen of Martyrs
4144 Cedar Ridge Rd
Mass Sunday 11am

Fifth Sunday of Easter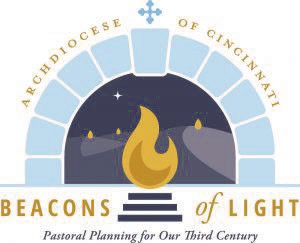 HE SIX GUIDING PRINCIPLES
THE SIX GUIDING PRINCIPLES ADDRESS AREAS LARGELY RELATED TO TEACHING AND SANCTIFYING Eucharist Church Leadership Stewardship Love in Action
GENERAL PARAMETERS
• Families of Parishes must follow canon law, civil law, all universal and particular Church law, and archdiocesan policies.
•

Families of Parishes

must develop a pastoral plan for parish vitality, submitted at least annually, reviewed by the dean, to be approved by the archbishop in conformity with the parameters of the Pastoral Planning Pathway according to the published timeline.
• By September 1, 2022, every Family of Parishes must form a Planning Team, led by the pastor, to coordinate pastoral planning geared toward the unification of the Family by J

une 30, 2027.


•  

will have a unified Pastoral Council

,

with other relevant and necessary consultative groups for specific areas of parish life.
• The Finance Councils of each parish within the Family will work together to appropriately plan for and monitor the finances of the Family of Parishes.


• Competent and qualified staff

are necessary to serve the Family of Parishes, especially in the areas of worship, evangelization (including love in action), and administration. As is possible, staff will be unified to serve the entire Family.
•

Priests must have a regularly scheduled da

y off and must be able to take all annual vacation and retreats.
• Priests, deacons, staff and other lay leaders will participate in ongoing spiritual formation and training for leadership.

Fourth Sunday of Easter

What Is Phase 0? Get Ready To Warmup!



     The year 2022 will be momentous in the Archdiocese of Cincinnati as Families of Parishes begin to join to envision the future as a community of faith. You will be a big part of this as a parish leader. You will hear much more about the Pastoral Planning Pathway – the support, resources, and
guidance that will be provided for Families to use in creating their pastoral plan – in the future. The first phase of the Pathway will begin

July 1, 2022.

But what about now? What should parish leaders do between

now and July 1?

We're calling this time "Phase 0: Warmup."
     During Phase 0, the time before our Families of Parishes are implemented on July 1, we have been encouraged to pray, learn, and prepare. Change is rarely easy, and the transitions we anticipate with the implementation of the Families of Parishes are no exception. We will look back at where our parishes have been and anticipate the newness of life and faith that is possible in the future; we may grieve as we let go of familiar routines and find hope in joining with others who share our Catholic faith. It is not only in Phase 0 that we should pray, learn, and prepare, however. Here are a few thoughts about how we might carry these crucial actions into our future:
Pray: Let us look for opportunities to pray together as we join with others in our new Families of Parishes. Of all the things that hold us together as Catholics, prayer is at the top of the list. Invite the Holy Spirit to be with us as we experience the traditions of the parishes in our Families; participate in Mass at each parish in the Family; celebrate one another's patronal feast days; include prayer in meetings and at the beginning or end of festivals, dinners, picnics, and other social time.
Learn: As we implement our Families of Parishes, leaders will continue to learn through studying Journeying Together as well as guiding Church documents, especially those that expand our pastoral vision as we create pastoral plans to address the six principles of Beacons of Light. We will

also learn about each other. We will learn what is or has been important to each parish in our Family. We'll learn about the health of our pastoral practices, fiscal situation, and buildings and grounds. All of this learning will be foundational to the way we discern our future together.
Prepare: It is tempting to think that once July 1 is upon us, everything must happen immediately. We know that isn't really possible, nor advisable. Preparation will continue to be necessary – we must take the time for prayer, conversation, and discernment in order to make decisions that will
lead us toward more fully living as people of mission in our Families of Parishes
Visit Family of Parishes
As we prepare to be the family of Parishes beginning

July 1, 2022,

we are asking everyone to take time to visit a location or more of our family members.
Corpus Christy
527 Forest Avenue, Dayton
Saturdays 4:30pm
Our Lady of Mercy
533 Odlin Ave Dayton
Sunday 9:00am
Queen of Martyrs
4144 Cedar Ridge Rd
Mass Sunday 11am

You may have come across Gary Chapman's book titled 5 love languages: How to express Heartfelt
Commitment to Your Mate. In this book Chapman explains 5 different ways in which people demonstrate love: Gifts; Quality time; Words of Affirmation and Encouragement; Committed
service to the other and Intimacy. Chapman observes that the best way to know the love language to speak to a beloved one is to observe closely how the person expresses love to other people.
      Jesus was a polyglot and spoke so many love languages. He spoke the language of love in his incarnation when he came to live in the world; he spoke the language of love to people in dire need (For example, at the Wedding at Cana, in the multiplication of food for the crowd, in raising the only child of a widow, etc.); he eloquently expressed the language of love in his ministry to the sick and sinners; furthermore, he spoke the ultimate language of love by laying down his life to redeem his people. He taught his disciples,

"No one has greater love than this, to lay down one's life for one's friends"

(John 15:13).

After resurrection Jesus appeared to his disciples several times to rebuild their faith, to strengthen their love and renew their hope. They were almost frustrated and depressed after his death and had gone back to their former trade of fishing. In order to revive their spirit, He breathed the Holy Spirit in the Apostles and commissioned them to go forth and be ministers of mercy. More still, he saw the need to entrust Peter with the mantle of leadership. Jesus needed a leader who had the strength, courage and capacity to love God wholeheartedly. Jesus saw Peter as a potential leader and so asked Peter three times:

"Do you love me?"

First, he asked:

"Simon, son of John, do you love me more

than these?"

Simon Peter answered him,

"Yes, Lord, you know that I love you."

Jesus said to him,

"Feed my lambs."

He asked the second time,

"Simon, son of John, do you love me?"

Simon Peter answered him,

"Yes, Lord, you know that I love you."

Jesus said to him,

"Tend my sheep."

Jesus said to him the third time,

"Simon, son of John, do you love me?"

Peter was distressed that Jesus had said to him a third time,

"Do you love me?" and he said to him, "Lord, you know everything; you know that I love you."

Jesus said to him,

"Feed my sheep."

Peter was called to learn how to take care of the sheep in the same way that God does. In his role as Shepherd of Israel, God demonstrated tender loving care and he expressed it thus:

"When Israel was a child, I loved him… I took them up in my arms… I led them with cords of compassion, with the bands of love, and I became to them as one who eases the yoke on their jaws, and I bent down to them and fed them"

(Hosea 11:1, 3-4).

Therefore, Jesus wanted
to make Peter to know that pastoral care of the flock requires total commitment. More so, Jesus invited Peter to grow in his capacity to love and to be aware that love requires nothing less than giving everything for the sake of the beloved. After Pentecost Peter and the rest of the Apostles
received power and grace to proclaim the Good News fearlessly. When the Sanhedrin ordered them to stop speaking and teaching in the name of Jesus, they responded courageously saying,

"We must obey God rather than men"

(Acts of the Apostles 5:29)

. When Peter became the leader
of the Church, his love for Jesus intensified and that love led him to shedding his blood like that of his Master Jesus, the lamb that was slain

(Revelation 5:12)

. Jesus expects each of us to grow in our capacity to love. St. Augustine expressed regret for learning the language of love of God so late in his life. In his confession he wrote: "Late have I loved you, O Beauty so ancient and so new. Late have I loved you! …You shone your Self upon me to drive away my blindness. You breathed your fragrance upon me… and in astonishment I drew my breath…now I pant for you! I tasted you, and now I hunger and thirst for you. You touched me! – And I burn to live within your peace."
      We all have a common vocation to love. In his exhortation on love entitled Amoris Laetitia (The Joy of Love) Pope Francis says,

"We are called to bear witness to the Gospel of God's love"

(71)

. For the Apostle Paul, the language of love is patience and kindness

(See
1 Corinthians 13:4-7).

Mercy Sunday

     The new permanent deacon class will be ordained on April 23 at the Cathedral Basilica of St. Peter in Chains in downtown Cincinnati. As a one of the 14 men in this class (and four others from the Diocese of Covington), I know the reasons that called each of us into this ministry are as varied as our sponsoring parishes. However, after three years of formation and seminary studies, many hours of community prayer define our future role in the Church: service.
      The title

"deacon"

derives from the Greek term diakonia, which means

"to serve."

Everything in our preparation for future ministry centers on rendering service to our parishes and to the entire Body of Christ -the Church.
      The journey to diaconal ordination is not an easy path; formation requires commitment and sacrifice. We willingly chose to give up, or at least suspend, activities we valued and embrace a rigorous curriculum, something candidates may not have experienced since college. In our first year, we dedicated our time and energy to philosophy classes, understanding that this discipline is the critical foundation for later theological studies. We made it through other classes by learning to rely on one another, acknowledging our shortcomings and asking for help, and by relying on
the continuous support of our remarkable spouses and families.
      Throughout the three years of formation, we spend two weekends of every month at the seminary studying sacred scripture, Canon Law, spirituality, preaching and sacramental, moral, and liturgical theology Those unfamiliar with praying the Divine Office are instructed in these daily prayers of the Church. Deacon candidates pray, and periodically lead in community, both the morning and evening hours of these prayers and pray the Rosary together in the evenings. Prayer, we understand, is essential.
       We must demonstrate our ability to serve as deacon at Mass, witness marriages, perform baptisms and preside over funerals and burial services. Because deacons are radically dependent on prayer, candidates should be able to lead the faithful in Eucharistic adoration and benediction.
      However, not all formation occurs in the classroom or the chapel. We live, eat and socialize together at the seminary, with meals providing a wonderful opportunity to share our struggles, our opinions and a good deal of humor.
      As we prepare for ordination, we are each aware of the profound commitment we are making for the rest of our lives. The sacrament of ordination, like those of baptism and confirmation, leaves an indelible mark on the human soul; it is something that can never be removed. Once a deacon, always a servant.
       As we complete formation, each candidate is asked to reflect both on his experience and his vision for ministry as a deacon. From our studies and reflection, we know the deacon's unique role is to serve, but in a particular way – we are to seek out the wounded, lost and forsaken in our Church and in our world. In modeling Christ, the Servant, our lives must echo the words of

Isaiah 6:8.

When the Lord asks, "Whom shall I send, and who will go for us?" our response will be,

"Here we are Lord, Send us."

Easter Sunday Homily
       I get a chuckle when I think about the Resurrection. Mary arrives at the tomb and hastens to tell the Apostles that Jesus' body is gone. Shortly after, the finger pointing begins. The apostles point their fingers to the soldiers: "You moved his body didn't you?" You and the Pharisees wanted to make Jesus body disappear, so, he couldn't come back as he said he would, so you had to have moved his body!" The Pharisees point back at the Disciples and said: "You moved his body didn't you? You wanted to make all Jesus' ridiculous statements about coming back look true and so you moved the body to make it look so! It's kind of reminiscent of one child saying to another: "My dad can beat up your dad."
       Many people didn't know what to believe, even those who traveled with and were close to Jesus. We'll hear later that even doubting Thomas needed proof.
      What proof do we need that Jesus is who he says he is, that He wants to abide with us, and that he is coming back for us? I'd like to share with you some words about proof which I found on the internet years ago. It is simply titled

"Proof".
"Proof".
      How can we trust that which is unseen? Simple, look for the proof. The shadow, proves the sun. The echo, proves the sound. The steam, proves the heat. The watermark, proves the flood. The rustling of the leaves, proves the wind. We struggle to believe what we cannot see But we cannot see because we are really not looking. The creation, proves the creator. The Heavens, proves his glory. The Son, proves the Father. The cross, proves His love.
(Author Unknown)
      As we look back on Holy week, we see proof of God's love. On Holy Thursday God blessed us with the Priesthood. Jesus gave the disciples all authority that had been given Him by the Father. Those Apostles laid hands on their disciples and made Bishops and priests. Our priest is gloriously ordained into that same Priestly lineage. At the Last Supper He initiated the Eucharist. The Eucharist is the way God chooses to abide in us. It is

"THE"

personal relationship of all personal relationships.
      On Good Friday, God shows us his love by offering His Son on the cross to remove all stain of sin, and free us from everlasting death. He took our debt upon himself to save us.
      On Holy Saturday we began our celebration in darkness but recall that in the resurrection Jesus is the light of the world. We are called to share that light, and on that night, we share that light with those who join the Church and experience Baptism where their sins are forgiven and they are united with Christ. In the Sacrament of Confirmation the Catechumens receive the gift of the Holy Spirit.
     Holy week culminates on Easter Sunday. The church teaches that Easter Sunday is the greatest and oldest Christian feast, which celebrates Christ's Resurrection. We celebrate because if He hadn't risen from the dead, we would have no shot at everlasting life with him. How do we know that Jesus was resurrected, what's our proof? Jesus tells us: "I am the resurrection and the life.
Those who believe in me, even though they die, will live. Saint Peter tells us: "We ate and drank with him after he rose from the dead." In about 56 AD Saint Paul tells us: "For I handed on to you as of first importance what I in turn had received:
that Christ died for our sins in accordance with the scriptures, and that he was buried, and that he was raised on the third day in accordance with the scriptures, and that he appeared to Cephas, then to the twelve. Then he appeared to more than five hundred brothers and sisters at one time.
     We struggle to believe what we cannot see But we cannot see because we are really not looking. The creation, proves the creator. The Heavens, proves his glory. The Son, proves the Father. The cross, proves His love. Easter Sunday proves the resurrection. Jesus is alive and he is coming back for us. You can take that to the bank!
Deacon: Kenneth Stewart

Easter Sunday

The Resurrection of Christ is no fairy tale. It is rather the truth about Christ, who for us and for the sake
of our salvation, suffered unimaginable pain, was crucified, died on the Cross and was buried; and on the third day, rose again from the death. His resurrection from the dead is the foundation of our faith in the fact that our story does not end in this world at the hour of our physical death. Our history continues in the world to come where we hope to behold and possess eternal life by the power and merits of He Who died and rose again. May the power of the resurrection of Christ regenerate us to newness of life in Him; Amen.
The worry and despair which naturally consumed the Apostles and Disciples of Christ were so deep that they never remembered His assurance to them about His victory over death and they failed also to understand the prophetic witnesses of the Sacred Scripture about the Messiah. In fact, they thought it was all ended from the time Jesus gave-up the ghost. But also the power of love in the heart of some of Jesus' female Disciples was so profound that even in their despair and as Jesus lay helpless and lifeless in the Tomb, they were preoccupied about how best to show Him sincere love and pure affection. This innermost and strong force of love for the Lord was the motivation behind the earliest possible visit of Mary of Magdaia in the Gospel Reading of this day of the resurrection

(John 20:1-9)

. To her greatest surprise she met an Empty Tomb; and returning to the disciples she declared

"they have taken the Lord out of the tomb, she said, and we don't know where they have put Him."

That the Tomb was empty was a sign of something far more superior than she could have ever imagined at that point. The Empty Tomb was a sign of victory! He is no longer among the dead; but now victorious over death and lives in eternity, from where He is able to bring all sons and daughters of God to newness of life. The resurrection of Christ is the power-house of our regeneration through Baptism into the sons and daughters of God. Certainly, John the Beloved "saw and he believed" through the testimony of this great sign he had seen. This resurrection experience will also be the starting point of the reinforcement of the faith of the apostles and disciples in the power, person, mission and authenticity of their Master Jesus Christ. This experience will also be a notable reference point of the disciples in their proclamation of the Gospel of Christ. In line with this, the truth of the Resurrection was the center of the pastoral address of Saint Peter to Cornelius and his household in the First Reading of today

(Acts 10:34, 37-43)

;

"I, and those with me, can witness to everything Jesus did … and also to the fact that they killed him by hanging him on a tree; yet three days afterwards God raised Him to life."

That Christ is risen is the foundation of Easter joy and festivities. It is impossible to cage the joy of the resurrection experience. It is a powerful force for good and victory over the reckless attractions and seductions of the things of this passing world. The resurrection of Christ brings us to look beyond the here and now; to see the future God has prepared for those who believe. The resurrection of Christ is an invitation to cultivate the habit of an undistracted attention on Christ the forever victorious One. In the words of the Second Reading of today

(Colossians 3:1-4)

;

"you have been brought back to true life with Christ, you must look for the things that are in heaven, where Christ is,

sitting at God's right hand."

To look away from Christ and from His celestial abode is to look towards destruction and death and to focus on that dungeon from where He saves us through His Victory over death. Such non-Christological focus and concentration is physically, spiritually and morally disastrous. When we focus on Christ risen from the dead, we initiate a process of transformation into a better image of ourselves by the natural effects of the splendor, beauty and luminosity of the Victorious Object of our focus. This transformation takes place according to the mind and plan of God our Father, and by the power of the Holy Spirit. This experience is what makes us true witnesses of the resurrection like the earliest Disciples of Christ. The world is in dire need of witnesses of the power of the resurrection. We cannot be effective witnesses if we cannot focus and
concentrate on the Resurrected One! Inability to focus opens the door widest to all forms of distractions and weakens the manifestation of the workings of the Holy Spirit within us and in our ecclesial communities. Lord Jesus, our faith and hope is to share in the beauty, splendor and brilliance of Your resurrection at the end of time. Give us the grace to look away and overcome the seductions from everything worldly and distractive as to firmly focus on the true Object of aspiration through Whom we are saved; Amen.
Happy Easter; Fr Cyril CCE

Palm Sunday
The Catholic News Service article caught my immediate attention because it focused on an issue that faced the Catholic hospital in Connecticut where I served several decades ago.
The article read:
     

"An Australian bishop has defended a Catholic hospital's decision to cover hospital room crucifixes if patients request it. [The] Bishop said the move by St. John of God Hospital did not reflect a drift toward secularism or political correctness. 'It's not denying our beliefs. It's accommodating a request in a room; if [patients] believe nothing and they see this tortured body on the cross, the visual image can be distressing if they don't understand it,' the bishop said. 'If they're in a room and they were stressed, are you helping or hindering them? That's part of good health care: you tend to them.'"
       I recall in the mid-1990's when we members of the Pastoral Care Department at St. Vincent's Medical Center were asked to fine tune our attentiveness to the significant Jewish population the hospital served. Already did we have on our staff an Orthodox Rabbi, and Jewish holy days were respectfully observed, but it had never occurred to any of us, including the Rabbi, that the crucifix that hung on the wall of every patient room could be a source of distress. After some discussion among us, though, it was agreed that our primary mission was healing, not proselytizing, and so on that rare occasion when a patient asked that we remove the crucifix from the wall, we did so willingly. And well do I remember the comment of octogenarian Sr. Zoe who served at the hospital as she left a patient room carrying the crucifix, she'd just taken off the wall. Standing at the foot of the patient's bed, crucifix in hand, she offered a warm assurance, "You know, even though I took this off the wall, God is still with you while you're here in the hospital. And our prayers are with you, too, that you'll be healed quickly. God bless you!" And with a wide smile and a quick turn, she and the crucified Jesus were gone.
Indeed, though the crucifix be removed, the crucifixion continues. Though the Catholic symbol of the suffering Savior be taken from the wall, no less does Jesus yet suffer in the bodies, minds and souls of his sisters and brothers on the journey heavenward. Sr. Zoe knew that well, and though she'd taken down the crucifix from the wall, she saw the more real presence of the suffering Jesus embodied in the patient to whom she spoke consoling words.
      On this Palm Sunday when we recall the events that led up to the crucifixion of Jesus, the actions and words of Sr. Zoe stood as witness that still does Jesus suffer, still does Jesus bear a heavy cross. And in the passion account from Luke that we read today, Sr. Zoe found her biblical precursor. St. Luke writes,

"As they led Jesus away, they seized a man, Simon of Cyrene, who was coming from the country, and they laid the cross on him, and made him carry it behind Jesus."

(Luke 23:26)

Additionally, ancient tradition speaks of a woman named Veronica who, seeing Jesus on the road to Calvary, rushed out of the crowd to soothe his bleeding face with a cool cloth. This is Sr. Zoe. She is Simon of Cyrene helping the sick to bear the load. She is Veronica providing soothing relief in soft words and gentle touch. Christians around the world celebrate this Palm Sunday hearing once again the gospel account of the events that led to the death of Jesus. And even while the ears of the devout take in words so familiar, still does Jesus suffer just outside the doors of our churches. Still does Jesus' stagger and fall under the weight of a burden too heavy for one to bear. And still does he raise his blood-streaked face in search of human compassion. Simon of Cyrene and Veronica both urge us to quit the crowd of spectators and take a stand beside Jesus, shouldering his cross, soothing his suffering, walking the long road home with him.
BY: Fr. Robert deLeon, CSC

Fifth Sunday of Lent

     Of all the miracles Jesus did, the raising of Lazarus ranks as the most astonishing to the people of his time. Traditional Jewish belief had it that the soul of a dead person somehow remains with the body for three days. After three days the soul departs finally from the body never to return, and that is when corruption sets in. When Martha objects to the opening of the tomb and says,

"Lord, already there is a stench because he has been dead four days"

(John 11:39)

, she is expressing the common view that this is now a hopeless situation. Is that why Jesus delayed coming to the funeral, to let the situation become

"impossible

" before acting on it? G.K. Hesterton once said,

"Hope means hoping when things are hopeless, or it is no virtue at all."

In traditional Jewish mentality bringing back to life a person who is already four days dead and decaying is as unthinkable as the prophet Ezekiel's vision in which the grey, dry bones of the dead are miraculously restored to life. For the early Christians the story of the raising of Lazarus was more than a pointer to the resurrection of Jesus. Jesus rose on the third day; his body never saw corruption. For them this miracle is a challenge to never give up hope even in the hopeless situations in which they found themselves as individuals, as a church or as a nation. It is never too late for God to revive and revitalize a person, a church or a nation. But first we must learn to cooperate with God. How can we cooperate with God to experience God's resurrection power in our lives and in our world? Well, everyone knows the answer already: faith. But that is not the point that John makes in this story. In fact, there is no one in the story, not even Mary or Martha, who believed that Jesus could bring Lazarus back to life after four days dead. No one expected him to do it, so expectant faith is not the emphasis here. Rather the emphasis in the story on how we cooperate with a miracle working God is placed on practical obedience and doing God's will. To affect the miracle, Jesus issues three commands and all of them are obeyed to the letter. That is how the miracle happens. First,

"Jesus said, 'Roll away the stone.' … So, they rolled away the stone"

(verses 39-41)

. Did the people understand why they should do this heavy work of rolling away the tombstone to expose a stinking corpse? You bet they didn't. But it was their faith in Jesus expressing itself not through intellectual agreement with Jesus but through practical agreement with him, through obedience. Why didn't Jesus' command the stone to roll away all by itself, without bothering the people? We don't quite know. All we know is that divine power seems always to be activated by human cooperation and stifled by non-cooperation. As C.S. Lewis said,

"God seems to do nothing of Himself which He can possibly delegate to His creatures."

God will not do by a miracle what we can do by obedience.
      The second command Jesus gives is directed to the dead man:

"'Lazarus, come out!' and the dead man came out"

(verses 43-44)

. We do not know the details of what transpired in the tomb. All we know is that Jesus' word of command is followed by immediate obedience. Lazarus gropes his way out of the dark tomb even with his hands and feet tied up in bandages, and his face all wrapped up. Even a man rotting away in the tomb can still do something to help himself.
      The third command again is addressed to the people,

"Un- bind him, and let him go"

(verse 44).

Even though Lazarus could stumble himself out of the tomb, there was no way he could unbind himself. He needs the community to do that for him. By unbinding Lazarus and setting him free from the death bands the community is accepting Lazarus back as one of them.
      Many Christian individuals and communities today have fallen victim to the death of sin. Many are already in the tomb of hopelessness and decay, in the bondage of sinful habits and attitudes. Nothing short of a miracle can bring us back to life in Christ. Jesus is ready for the miracle. He himself said,

"I came that they may have life, and have it abundantly"

(John 10:10

). Are we ready to cooperate with him for the miracle? Are we ready to roll away the stone that stands between us and the light of Christ's face? Are we ready to take the first step to come out of the place of death? Are we ready to unbind (i.e., forgive) one another and let them go free? These are the various ways we cooperate with God in the miracle of bringing us back to life and reviving us as individuals, as a church, and a nation.

Fourth Sunday of Lent
     Today is the fourth Sunday of Lent which the Church traditionally observes as Laetare Sunday. Laetare is the Latin translation for

"to rejoice"

. On this Sunday, the Church invites her members to rejoice as we get to the middle of the Lenten season and so, gradually approaching Easter. We have to rejoice because of the great hope that awaits us at Easter. The first reading

(1 Sam. 16:1.6-7.10-13)

also gives us another reason to rejoice. This reason is the fact that God does not judge us based on our physical appearances as men do, but that He judges our hearts. The heart here refers to the inner chamber of a person where one interacts with God. This was the lesson Samuel learnt when God asked him to anoint David as King instead of his elder brothers who had better physical qualities. The Good News is that God is not interested in our outward appearances but in our internal disposition towards Him. If our disposition is good, He might also improve on our physical appearances.
      We can understand this better in the gospel reading

(John 9:1-41)

. When Jesus together with his disciples met the man born blind, while his disciples looked at his blindness as a consequence of his sins or those of his parents, Jesus looked straight into the man's heart and saw him as a potential witness to the Good News. That was why he went ahead to mix spittle with clay, anoint the blind man's eyes and asked him to wash in the pool of Siloam. As a result of this, the blind man began to see and all who saw him were astonished.
      The story of this blind man symbolizes the destiny of man. But unlike the man born physically blind, we became spiritually blind as a result of the sin of our first parents, Adam and Eve and also, that the work of God might be made manifest in us. Like the blind man, we all have the opportunity of encountering Christ on the way to be healed of our spiritual blindness
       The meeting of Jesus with this blind man symbolizes the encounter with God which the incarnation of Christ made possible. The anointing with clay mixed with spittle symbolizes a personal encounter with Christ who chooses to encounter us differently in various ways. This could be through reading of the Scriptures, participating in the liturgy or joining in a fellowship. The presence of Christ's spittle in the clay got from the ground symbolizes the divine presence in those activities we may see as ordinary, such as reading the Bible or going for a sacramental confession. The pool of Siloam which means

"sent",

symbolizes the Church which is sent to represent Christ in the world. The washing in the pool symbolizes a participation in the sacraments of the Church of which baptism is of paramount importance. The faith of the blind man symbolizes the faith of all who have truly encountered Christ on a personal level. The reaction of the Pharisees and the Jews symbolizes the attitude of those who see the light of faith and yet refuse to follow it on account of their stubbornness and unbelief
      Since we all have sinned and fallen short of the glory of God, we have all gone spiritually blind. Within this period of Lent, God invites us to wash ourselves in this pool of Siloam by actively participating in the Lenten observance. Do you participate in the Stations of the Cross or fast or give alms? Through a sincere practice of prayer, fasting and almsgiving, we may be healed of this spiritual blindness which is sin.
     As the second reading

(Eph. 5:8-14)

advises us, it is time to wake from sleep by searching out what pleases the Lord and by taking no part in the works of darkness. Therefore, beloved friends, let us rejoice that Christ has located us and has given us a solution to our problem. Let us then do our part to see that we walk as the children of light who will resurrect with Christ at Easter.
Happy Sunday. God loves you.
Uwakwe Chibuike MFC
AUTOBIOGRAPHY
OF FR. FRANCIS TANDOH C.S.Sp.
I am Fr. Francis Tandoh. I was born to the parents of Mr. Andrew Tandoh & Mrs. Dorothy (Payne) Tandoh. I am the fourth child from a family of 12 children with ten surviving. I pursued my elementary and high school education in Kumasi, Ghana. I received my call to the priesthood at an early age. I attended St. Hubert's Seminary in Kumasi. I left the seminary to continue my Sixth Form (at a time high school was seven years in Ghana) education in T. I. Ahamadya Islamic School, in Kumasi. I entered the teaching career and taught in St. Benedict Middle School, Kumasi, Ghana, from 1981-83.
          I decided to join the Missionary and Religious Order of the Holy Spirit Congregation and entered into the Postulancy in 1983. I completed my Novitiate and started my philosophical studies in 1985, at the School of philosophy Insukka, Nigeria. I took some time off reflecting on my vocation to the priesthood. During this time, I taught Social Studies in St. Anthony Junior High School, in Kumasi Ghana. At the same time, I was engaged in a rural ministry for young adults.
          I went to continue my studies for the Priesthood and missionary life in the Spiritan International School of Theology, Enugu, Nigeria. I was ordained in the Star of the Sea Catholic Cathedral by the late Most Rev. Charles Kweku Sam on July 24, 1993, in Takoradi, Ghana, my home Diocese, after completing my theological studies.
           I hold a degree in Religious Education; master's in educational administration/Leadership. I hold a certificate in Pastoral Counseling; I am a certified Clinical Chaplain with CPSP. I suspended my candidacy as a student in licentiate/Doctoral degree with Marian Research Institute, University of Dayton, due to my parish workload, but I hope to take it up very soon. Before my ordination, I was the Publicity Officer for the Kumasi Diocesan Youth Council, Bursar Holy Ghost Pre-Novitiate, Ghana.
          In my Ministry as a Priest, I single-handedly founded a benevolent group called Spiritan Friends, who support the Spiritans and their ministries. I have served at Our Lady of Fatima Parish while in residence as Religion Teacher in St. Edward's Middle School, Bwiam the Gambia and St. Peters High School; Pastor Star of the Sea Parish, an affluent Parish of 1000 families; Pastor St. Charles Luanga Parish of about 2000 in Sunday mass attendance. Rector St. Peters Seminary, all in the Gambia.
          I was transferred here to the United States in 1996 to serve as the Mission Coordinator for the Holy Spirit Fathers, West Africa Province, now Ghana Province, a position that I still served until 2016. My main work was to write grants and preach
in Catholic Churches to creating awareness about the missions, especially in Africa in soliciting funds to support the church's activities in Africa, especially in training priest for the Spiritans coming from Ghana. To support myself I was employed to be the Religious Education Director in Resurrection Catholic School, now St. Benedict the Moor Catholic School, while still being the Parochial Vicar for St. James and Resurrection Parishes in Dayton Ohio until my appointment as the Pastor of St. James and Resurrection Parishes, in December 2000.
             In 2000 soon after my appointment, I led the parish community of 400 families through a church building campaign, Vision to Victory, which finally gave them a new church edifice, with a new parish, St. Benedict the Moor. The church holds 1050
people in the sanctuary and a hall which seats 600 people, I am the first pastor of this newly created parish. In that same year, I was appointed the Pastor of St. Augustine, Germantown and St. Mary, Camden with Fr. Joshua Otusafo as my Associate.
             In July 2009 in addition to the three Parishes, I was asked to be the Pastor of St. Mary's and Holy Family in Dayton. In 2010/2011, Holy Family Parish was closed to the English Congregation due to financial constraints. I still have all these three Parishes. St. Mary's Camden was given out to the Preble County Parishes in 2014.
          Recently in 2015, I led my parishes into accepting the only Catholic school in the West side of Dayton that was closing, reasons being poor Academic Standards and Financial Constraints. Today St. Benedict the Moor School is opened and thriving academically and raising good students for the future of our community and country. Advocacy has been my passion for the ministry. I believe the word becomes more meaningful when parishioners see it reflected in the community and their life. For
more than six years I was the Co-chairperson and Chairperson of Leaders of Equality of Action in Dayton (LEAD). LEAD is an interfaith Justice Group who work with City leaders and Congregations to hold the system and Politicians accountable to bring freedom and peace into the community. In my terms we were able to have victories with the RTA busing Board to be more inclusive, the City of Dayton to change its ordinance to be friendlier to Ex-Offenders (Bann the Box), City increasing the demolishing of dilapidated buildings and many more victories.
         As I celebrate this weekend the 25 years milestone today, it is my will to work together with all of you who are my flock to expand the missionary work of God with affection and love for the good of you, my parishioners, and the community that we serve. May the good Lord who has entrusted me with his flock help me with good health, courage and good directions that comes from the guidance of his spirit to bring it to a fruitful end.
Thank you for your support during all these years
GOD BLESS
catholicsmart.com/…/Pastor-Corner-Logo.jpg