Fourth Sunday in Ordinary Time
Reflection
January 24, 2023, Feast of St. Francis de Sales, patron of the Archdiocese of Cincinnati
Dear brothers and sisters in Christ,
     The implementation of Beacons of Light marks a new chapter in the life of the Archdiocese of Cincinnati. It is now just over six months since our 208 parishes were organized into 57 Families of Parishes, in several instances under new pastoral leadership. These changes, while necessary and infused with great hope, understandably have been a source of concern and anxiety for many of you, as well as for your priests. Please accept my heartfelt gratitude for your patience and fortitude during this time of transition. Your steadfast commitment to the work of the Church and your parish community is a great testament to the depth of your Catholic faith. In any undertaking as complex as Beacons of Light, it can be easy to

"lose the forest for the trees."

For that reason, it is important to pause from time to time and remind ourselves why we are doing this and what we hope to accomplish.
     It all begins with the Great Commission given by Jesus to the apostles:

"Go, therefore, and make disciples of all nations, baptizing them in the name of the Father, and of the Son, and of the Holy Spirit, teaching them to observe all that I have commanded you"

(Mt. 28:19-20).

The Catholic Church is Christ's sacramental presence on earth, imbued with the Holy Spirit, given to us as a means for our salvation. All the resources of the Church – human, physical, financial – must be structured, as appropriate for the particular time and place, to proclaiming the Good News of salvation and making disciples.
     This is the purpose of Beacons of Light, to enable the vital proclamation of the Gospel for the third century of our own archdiocese. The infrastructure and schedules that were essential to the work of the local Church in decades past may no longer best serve the mission to- day. Therefore, under the leadership of the pastor, each Family of Parishes will engage in intentional pastoral planning, rooted in sincere prayer and open collaboration, to discern the best configuration of its collective resources to pursue the evangelizing mission of the Church. This is not a project for the priest and parish leaders only, but for the entire parish community, and it will not come to fruition overnight. Patience and fortitude will be essential.
     Our hope for this transformative undertaking is that our parishes truly become

"beacons of light"

– strong, joyful communities of evangelization and service centered on the Eucharist, together growing in faith and radiating the love of Christ to the world. We need to keep this vision in mind to avoid simply getting mired in the details. Every decision within a Family of Parishes should be made with the intent of moving the parish community closer to our desired outcome. St. Francis de Sales, patron of the Archdiocese of Cincinnati, once wrote,

"Never be in a hurry; do everything quietly and in a calm spirit. Do not lose your inner peace for anything what-so ever, even if your whole world seems upset."

As we move forward, let us keep these comforting words top-of-mind, praying for, and confident of, the continued blessings of our loving God who has promised to never leave us.
Sincerely yours in Christ,
Most Reverend Dennis M. Schnurr Archbishop of Cincinnati
Happy Sunday

Deacon Ken's Second Sunday in Ordinary Time
They told us in the Homiletics course that when we are going to preach, to print the readings and carry them with us wherever we went. We were also told to do lectio divina at least once a day, which I did. I circled and underlined, I read the footnotes in the bible, I read all the paragraphs in the Catechism of the Catholic Church that had to do with witnessing and service. Then I waited, and I waited, and I waited. You know what I got? A quote about Marines from President Reagan and some Marine Corps Recruiting Slogans.
This is what I got…
The quote:
"Some people spend an entire lifetime wondering if they have made a difference in the world. The Marines don't have that problem.
President Ronald Reagan
The recruiting slogans:
• "It's not just a job, it's an adventure"
• "When the going gets tough, the tough get going"
• "We never promised you a rose garden" •   
 Like Mary (which is a really far stretch), I pondered these things in my heart, and I waited, and waited, and I waited some more. I thought surely God is teaching me patience and perseverance.
 On Thursday morning I went to the Barber. On a plaque on the wall across from where I was sitting was the "quote of the week":
    "Nothing good ever came from a comfort zone". It was then things started to meld together.
     As Christians, you and I have only one job. Our one job is to bring others to Christ. We do that by our witnessing and service to Jesus and to others. In our witnessing and service, others see our words and actions, and are drawn to Christ. Often, we think it is a difficult thing to do, but be assured you it's not as hard as one would think. I'll give you a couple of examples.
  His name was Roosevelt. He was from Mississippi, but had moved to Detroit so, he could better support his family. While working in a Ford automobile plant, Roosevelt met Ralph Lyke and Jim Stewart. Ralph and Jim were working their way through the Moody Bible Institute to become pastors. All three became good friends and soon began asking their factory worker friends to bring gently used clothing to the factory. The three men collected the clothing, and now and again would rent a van and haul the clothing to Mississippi.
      One day at a family reunion Roosevelt and I were on the same end of the horseshoe pit. Roosevelt jokingly said:

"Ken, where I'm from, we throw horseshoes with one leg tied behind our backs."

I said:

"Well Roosevelt, at my house, we throw the horseshoes with the horses still attached". 

We had a good laugh, but what he said next blew me away. Roosevelt said: "Ken, when you get to heaven, who is the first person you want to see"? I said:

"Probably my mom"

. Roosevelt said,

"I want to see Jesus first, and thank him for all He has done"

. Did you see how easy and smoothly he did that? Nothing extravagant. He didn't quote chapter and verse. On that day, I learned to witness, and it would serve me well because later I would need to witness.
      His nickname was Squeak. He was the roller man at the asphalt company where I worked. I could tell something was really bothering him, so I went to talk with him. I discovered that his wife had divorced him, and he never wanted a divorce. Squeak was miserable. I said:

"Squeak, do you go to church? Sounds to me like a trip to a church would do well for you right now."

Squeak said:

"I did a long time ago, but haven't gone for a good while"

. I said:

"Why don't you give it another try"

, and he did. Long story short, Squeak went back to church, met the woman of his dreams and got married. Today Squeak has two beautiful children who he is raising in the church. He is one of the happiest persons on the face of the earth.
     In our world, there are plenty of Ken's and Squeaks who need but just a gentle nudge towards salvation. It is so easy to tell them that the God who created heaven and earth, snowcapped mountains and the depths of the oceans sits in heaven and says: "See that man, or that woman, or that child? I am especially fond of them.

So much so that I sent my Son to take away the sins of the world by dying on a cross that everyone might live forever in heaven with Me.
Remember the quotes and recruiting slogans?
"Nothing good ever came from a comfort zone":

We were baptized and received the Holy Spirit. If we would only do our part, the Holy Spirit would do his. To do our part, we have to leave the comfort zone.
"It's not just a job, it's an adventure."
Being a Christian isn't just a job, and it is an adventure. To think that we could have a hand in helping others come to Christ and then on to eternal salvation, WOW!"
"When the going gets tough, the tough get going."
Get going Christians! Witnessing isn't as tough as we may think. It can be as simple as saying:

"Put Jesus first" or "go back to church."
"We never promised you a rose garden."
There will be speed bumps along the way. Not everyone will desire to turn their lives to Christ. Not everyone will desire to do God's will. Talk to them about Jesus anyway. Yours may be the only Gospel they will ever hear. And finally, at the end of days, God will say: "Some people spend an entire lifetime wondering if they have made a difference in the world. "The Christians at Saint Augustine don't have that problem" don't have that problem.
God Bless you abundantly as you go and proclaim the Gospel of the Lord.
Deacon Kenneth Stewart

Second Sunday in Ordinary Time
Reflection
      "See, I have come, Lord, to do your will."

What else could be the ambition of any true disciple of our Lord Jesus Christ if not to do the will of God after the example of Christ; the one and the only 'Lamb of God who takes away the sin of the world!' May God conform us unto the likeness of Christ to do His will at all times, Amen.
     Jesus made it clear that

"Not everyone who

says to me, 'Lord, Lord,' shall enter the kingdom of heaven, but he who does the will of my Father who is in heaven" (Mt 7:21). Living the will of God is our sole ticket to eternal life. One may ask; what is the will of God? We must know that the commandments of God contained in the Holy Bible, epitomized in the commands to love God and neighbor, summarize God's entire will (CCC 2822). Jesus Christ did not only teach us in theory that living the will of God is the sole criterion of redemption, but he also gave us the loudest example; "For I have come down from heaven, not to do my own will, but the will of him who sent me" (John 6:38). The phrase

"the Lamb of God"

as we heard in the Gospel Reading of today (John 1:29- 34) is one of the images used in the scriptures to describe this mission and identity of our Lord Jesus Christ; the one who executes the will of God even up to the foot of the cross

"Father, if you are willing, remove this cup from me; nevertheless not my will, but yours be done"

(Luke 22:42). The identity "the lamb of God" is most meaningful on the Cross of Calvary.
     Humanly speaking, the agony on the Cross is a testimony that the will of God is not always as rosy for one to desire. But also, the victory of the Cross is an enigmatic representation of the fact that irrespective of how stupid the will of God may seem to us or how good an obstacle they may look like, they are the surest path to our actualization of our real selves; that which God wants for us. One trait of our vocation as Christians is to teach others to learn and do the will of God. The Prophecy in the First Reading of today (Isaiah 49:3, 5-6) ended with this note; "I will give you as a light to the nations that my salvation may reach to the end of the earth." This light can only shine to others through the lived witness of those who do the will of God. Failure to teach others by example to do the will of God is counter-evangelization. Those, in the word of the Second Reading (I Cor 1:1-3) who have been

"sanctified in Christ Jesus and called to be saints"

must be living wit- nesses of the prayer of Jesus

"not my will, but yours be done."

Saint Paul has shown us by his life that this example, epitomized in Jesus Christ, is possible. May the ever-sufficient grace of God lead us constantly to pray like Jesus our Master; Your will be done; Amen.
      Happy Sunday. Fr Cyril Unachukwu CCE

Epiphany blessings
       Something you may like to do. You may have seen it before over the doorway of a Catholic friend:

20+C+M+B+22

chalked on the lintel.
      This means that your friend's house has been blessed with a very special, very old custom. The custom echoes the Passover, wherein the Jewish people would sprinkle lamb's blood over their doorways as an invocation of God's blessing for their household Blessed chalk is now used to mark the doorways for this Catholic blessing

.
      It's a tradition that began in Eastern Europe. After Epiphany, the village priest went to every home in his parish with specially blessed Epiphany water and chalk. Upon entering the home, he prayed special prayers and blessed every room in the house.
     From the east came the Magi to Bethlehem to adore the Lord; and opening their treasures they offered precious gifts…
     Bless, O Lord God almighty, this home, that in it there may be health, purity, the strength of victory, humility, goodness and mercy, the fulfillment of Thy law…
   After this the numbers of the year, enclosing the initials of the Magi (Caspar, Melchior, and Balthasar) are written with the blessed chalk over the door. The Magi's initials also stand for a Latin house blessing: Christus mansionem benedicat

(May Christ bless this house).
HAPPY NEW YEAR

New Year's Day
Reflection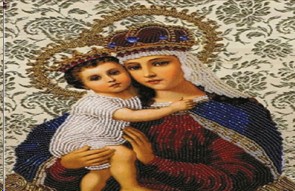 On the first day of the New Year, we celebrate the Solemnity of Mary, the Mother of God. This gives us the opportunity to reflect on the example of the Woman who has shown us how to make and fulfill a firm lifetime resolution. At the Annunciation, in response to the Archangel Gabriel's announcement, she made her vow: "Behold, I am the handmaid of the Lord. May it be done to me according to your word"

(Lk 1:38).
      Coming from the mouth of a humble maiden of Nazareth, these words may sound so ordinary and even insignificant. But in reality, as proven by her perfect fidelity and obedience to God all throughout her earthly life, these words were, we may say, her

"Vision Statement"

. It was a very simple statement, but so profound and powerful.

"I am the handmaid of the Lord"

: a firm commitment to humility.

"May it be done to me according to your word"

: a concrete resolution to a total and unconditional obedience to the will of God. With such spirit of perfect humility and complete obedience, she made her- self truly pleasing to God and ready to fulfill her unique and most sublime role as the Theotokos, Mother of God. Each one of us have our own New Year's resolutions. Let us entrust all these to Jesus through his Mother, the Blessed Virgin Mary. St. Padre Pio said,

"Some people are so foolish that they think they can go through life without the help of the Blessed Mother."

Knowing how limited we are, we turn to our Blessed Mother so that she may present all our prayers and resolutions to her Son, Jesus. Then, we are confident that the Lord will look upon us with love and bless our New Year with all the graces we need to face the challenges and trials ahead. Let us begin the New Year with the thought of our Lord Jesus imparting his gracious blessing upon us. Pope Benedict XVI gives us a helpful insight on the meaning of such blessing. In the second volume of his book, Jesus of Nazareth, he wrote:

"The blessing hands of Christ are like a roof that protects us. But at the same time, they are a gesture of opening up, tearing the world open so that heaven may enter in, may become 'present' within it."
May we all have a peaceful and blessed New Year!

Christmas Day
Reflection

      The birth of our Savior Jesus Christ was not an ad hoc or impromptu measure by God to save the world. It was, rather, a fulfillment of an eternal plan of God. St. Paul captures this succinctly: "when the fullness of time had come, God sent his Son, born of a woman" (Gal. 4:4; NRSV). While we joyfully celebrate the eternally unique birth, which gladdened the angels of God (cf. Luke 2:8- 14), let us spiritually savior some of the amazing truths revealed by the fact that our Savior's birth was a fulfillment of an eternal plan of God.
     

 Firstly

, the fact that Jesus' birth was a fulfillment of God's eternal plan reveals the truth that we were in the mind of God before creation. Once again, St. Paul expresses this truth as follows:

"Blessed be the God and Father of our Lord Jesus Christ, who has blessed us in Christ with every spiritual blessing in the heavenly places, just as He chose us in Christ before the foundation of the world"

(Eph. 1:3-4). Beloved, is it not over- whelming to know that we were all in the mind of God before the foundation or creation of the world? Such an overwhelming knowledge should stir a spontaneous heartfelt gratitude to God.
     

Secondly,

God who had us in mind before creation planned then for our salvation. This is well expressed in the continuation of the above quotation from the Letter to the Ephesians: God "chose us in Christ before the

foundation

of the world to be holy and blameless before Him in love. He destined us for adoption as His children through Jesus Christ…. In Him we have redemption through His blood…. He has made known to us the mystery of His will, according to His good pleasure that He set forth in Christ, as a plan for the fullness of time, to gather up all things in Him, things in heaven and things on earth"

(Eph. 1:4-10; cf. Rom. 8:28-30).
     Thirdly, the fact that Jesus' birth was a fulfillment of God's eternal plan reveals the truth of God's unfathomable love for us. It was only out of a love that is deeper than the depth of our understanding and wider than the breadth of our explanation that He who created us could put in place a pre-creation plan to save us should we disobey. Moreover, only an unconditional love beyond the comprehension of humans could motivate the de- sign of a plan that would cost the Father the death of His only begotten Son (cf. John 3:16; 1 John 4:9-10; John 15:13). Our appropriate response to such love is to love God at all costs and to love our neighbors as ourselves (cf. 1 John 3:16-17; 4:7-13).
     Fourthly, the fact that Jesus' birth was a fulfillment of God's eternal plan reveals the truth that God's providence is ineffable. He who loves us so much provides more than adequately for us. Therefore, our trust in Him should be steadfast in all circumstances, especially in the difficult times of our lives. He does not abandon us in the difficult times. Indeed, the problems which we reckon as meaningless and unhelpful, God knows very well why we encounter them and how helpful they are in the grand scheme of our salvation. Let us, therefore, always trust in the providence of the all-loving, all knowing, and all wise God.
      Fifthly, the fact that Jesus' birth was a fulfillment of God's eternal plan reveals the truth that the birth of each of us is in fulfillment of God's plan. He who planned the birth of His Son planned the birth of each of us. None of us arrived on this earth as a mistake nor at the wrong time. We were born in accordance with His will or purpose. Indeed, each of us was specially crafted by Him. This is beautifully captured by the Psalmist:

Deacon Ken's -Fourth Sunday of Advent Homily
        Predicament – an unpleasant, trying, or dangerous situation.
We've all been in a predicament in our lives at one time or another. I'd like to share one of mine with you. To do so, I have to leave the ambo and slide the big barn door open. As you look into the barn, there is a huge pile of straw at the back, probably sixteen feet across, length and width. The straw is piled about three feet high, And the straw is a perfect spot to land in.
      To the left is a farrowing room. A farrowing room is nothing more than a maternity ward for pigs. It is a wooden room inside the barn with a concrete floor. It has an automatic waterer, and a chute at the top which is used to fill a feed trough in the farrowing room. Seven steps lead to the top of the farrowing room. In the very center of the barn hangs a rope with a loop at the bottom. The rope hangs from a beam in the top of the barn. My cousin Jane brought her sons up from West Virginia, and I was about to show them a ride better than any E ticket ride at Disneyland. I grabbed the rope, climbed the seven steps to the top of the farrowing room, put my right foot in the rope, leaned back, and hurled myself towards that pile of straw. As I leaned back, my foot slipped through the loop and I was upside down, swinging wildly. I was trying to right myself, so I didn't let go of the rope over the pile of straw. As I swung back towards the farrowing room, upside down, I crashed into the steps. It was then that I yelled: "Somebody stop me"! They couldn't help since they were doubled over in laughter. They did eventually come to my aid and stopped my swinging. The predicament will forever be known by my family as "dope on a rope". Let's leave the barn and return to the Ambo.
       Today's gospel finds Joseph in a big predicament! He is betrothed to a woman named Mary, and Mary becomes pregnant. Joseph has not taken Mary into his household yet so he knows he is not the father. His choices are that he either embarrasses himself, or he embarrasses Mary. Joseph really doesn't want to make either of those choices. God sends and angel to Joseph to tell him that a good thing, a really good thing, is about to happen. The angel tells Joseph that the boy he will bring into his home, the boy that will call him Father, will be the savior of the world. The angel confirmed what the Lord said through the prophet: "Behold, the virgin shall conceive and bear a son, and they shall call him Emmanuel".
       This time of year, we often hear of the importance of Mary's "yes". I think we often forget the importance of Joseph's yes. Joseph's predicament? Where should his obedience fall? Should he follow the law, or follow the instructions of the angel? Thankfully, Joseph did as the angel instructed. He practiced obedience of faith; the obedience of faith Saint Paul tells us about.
      The scriptures tell us of great acts of obedience of faith by his people. By faith, Abraham set out with his people to a land he had never seen, no clue where he was going. By faith, he lived as a stranger in the promised land. By faith, Sarah who was thought to be past childbearing age, conceived a child. By faith Abraham offered to sacrifice his only son. By faith, Mary welcomes the words of the Angel Gabriel who tells Mary that she would conceive a Son by the power of the Holy Spirit. Mary didn't understand, but she answered: "Do unto me as you wish". These are just a few of many examples.
      You and I have our own predicaments. God puts us in them to help us to grow in faith and obedience. Saint Paul says that perseverance through trials, helps us to grow in courage, wisdom and strength. Characteristics we need to fight the good fight. As we look and see where God is working in our lives, we are able to say without fail

: "I trust you God, my faith is in you. I will forever be obedient to your will".
     Isn't it great to know we serve a God who will never abandon us in our predicaments? A God who can do the impossible and the unimaginable. day and forever in our predicaments. A God who can do the impossible and the unimaginable. A God who always has our best interest in mind? Emmanuel, "God is with us", words from an angel to Joseph. Emmanuel, "God is with US", today and forever in our predicaments.
Deacon Kenneth Stewart

Fourth Sunday of Advent
Reflection
      Christmas songs give us vivid explanations of Christmas in beautiful rhythms. One of these famous songs,

"O come, O come Immanuel,"

composed in the 12th Century, calls on God (Immanuel) to come, manifest his presence and ransom his people from lonely exile, from Satan's tyranny and from the depths of hell. The song further calls on God to come and cheer our spirits and to disperse the gloomy clouds of night and death's shadows around us. It is a distress call on God to come and save us. At Christmas, we celebrate the response of God to this desperate cry. God responded by taking human form (incarnation) coming into the world as a child (nativity). Christmas is a time when we celebrate the birth of this special child – Jesus (Savior). At Christmas we celebrate the physical presence of God who comes to dwell among his people. At various times in history God manifested himself in different ways. For example, he appeared in a cloudy pillar to the people of Israel and as a wonderful light shrouded in the cloud

(Exodus 16:7-10; 13:21-22; 14:19-20)

. The people experienced his presence in the Tabernacle, and it is this presence that the Jewish Rabbis refer to as the Shekinah. The people believed a Messiah will come who will be a manifestation of the presence of God. Zechariah prophesied long before the coming of the Messiah:

"I will cause my Shekinah to dwell in the midst of thee" (Zechariah 2:10).

In the coming of Jesus, there is a new experience of the Shekinah, the presence and glory of God: The Word dwelt among us, and we experienced his glory (John 1:14).
     The prophet Isaiah assured King Ahaz that a Messiah would come from the house of David, the dynasty of Ahaz. Therefore, Ahaz was told not worry because the future of his kingdom is bright. The Gospel of Matthew also confirms that the birth of Jesus is a fulfilment of what the Lord said long ago through the prophet: "Behold, the virgin shall conceive and bear a son, and they shall call him Emmanuel, which means "God is with us" (cf. Matthew 1:18-24).
      Emmanuel is God's personal intervention into human history. His coming into the world is an answer to a cry that yearns for a redeemer. In Christmas we celebrate the presence of God in our midst, and we celebrate the presence of one another. We celebrate the presence of a God who steps into our darkness; a God who steps into our fears; a God who steps into our troubles. His name is Emmanuel – God with us. He is a God that promises to be with us until the end of time. He is a God who is omnipresent. We cannot flee away from his presence. The Psalmist cries out:

"Where shall I go from your Spirit? Or where shall I flee from your presence? If I ascend to heaven, you are there! If I make my bed in Sheol, you are there! If I take the wings of the morning and dwell in the uttermost parts of the sea, even there your hand shall lead me, and your right hand shall hold me."

(Psalm 139:7–10).
BY: Fr. Gerald Musa

Third Sunday of Advent
Reflection

Have you ever seen the face of a young lady preparing, maybe about five days, to marrying the love of her life? Some here may remember their own times. Or have you witnessed a married lady who longed to have a child but for years could not, only for her to suddenly conceive?
Have you ever seen the face of such a person before? If you haven't seen, just try to imagine it. I bet you it radiates. There's joy and smiles, even though hands are still open waiting for the result to come. That is expectant joy, that is our message for today, the joy that is already radiating because of the reality that is expected.
T

his is the same excitement that fills us today as Christ birth draws nearer. Let the readings today help us and give us the directions to meet him in the proper way.

Second Sunday of Advent
Reflection

     How many are familiar with the roads to Camden in the Gratis area, formerly one of our region's parishes? It is about thirty miles from St. Benedict Church, but it takes me not less than forty minutes to make it when I am driving. When I am going to Cincinnati, which is about fifty-six miles, it takes me somewhere forty-five minutes to make it through the interstate. The Camden Road is full of curbs and hills on a country road, and that consumes time and needs extra care, whereas the Cincinnati one is a straight shot.
      Today's gospel reading urges us to prepare the way of the Lord, level all the mountains, and make his paths smooth and straight. Most of us like a better road because it is comfortable to be on a good road, and a good highway cuts down mileage and speeds up our journey. What are the pothole in your life that you need to fill up? What mountains in your life do you need to level to speed up the Lord's coming? What are the curb areas in your spiritual journey to straighten them up?
       If somebody important is visiting your house, you take your whole time to clean up and tidy up your com- pound and inside the house. What are the dusty areas of your life and the areas of tall grass that you need to clear? Christ is coming, but how are you going to receive him? Advent is the time of preparation, a time we prepare, awaiting both his first and second coming. Let the readings today help us and give us the directions to meet him in the proper way.

First Sunday of Advent
Reflection
     Advent is the first period in the year of worship. It is the time established by the church to help us prepare for the coming of Christ, so we have the word

"Advent,"

which means

"coming,"

the appearance of the Lord. Jesus came into the world by genuinely becoming man, "a man like us in all things but sin." He was born in Bethlehem about two thousand years ago, known as the first coming of Christ. Faith tells us that he will come again at the end of time as he announced himself

(Matthew 24: 30; 25, 31),

"the second coming of Christ."

In the true sense, for each of us, Jesus' second coming comes at the time of our death. As Jesus finds us at our death, so will he find us at the end of the world.
      During Advent, the church wants us to prepare for Jesus' coming at Christmas and the second coming, the time of our death. Someone may ask how I will prepare for his first coming, which already took place two thousand years ago. That is true, but we can also say that Jesus came to us for the first time when we first came to believe in him, when he changed our life around as we accepted Baptism, promising to make the journey with him.
     Jesus is always at our work to save us; he never rests as a farmer each year, and each day, he will start his work on the farm afresh, and so does Christ in us. He repeats his first coming to us daily, reminding us how he cares for us. Jesus comes to us at Christmas, just like the first Christmas. The church waits during Advent for the redeemer, just like the people of Israel waited for the Messiah. We, the church, set this time aside to prepare well for his coming at Christmas. The church reflects upon her actions and shakes all the dust off her heart, making his coming at Christmas more profitable to us as individuals and as a community. The better we prepare, the closer we shall be to completing our salvation; what about using the confessional during this period to reconcile with your God?

Thirty –Third Sunday in Ordinary Time
Reflection
He, who came in a humble way as a son of David born in Bethlehem, will come again but this time in awesome majesty as the Son of God, the King of kings. He, who was mocked as

"king of the Jews"

on the cross

(cf. gospel reading),

will come again in an impossible to imagine divine glory! On that day, all peoples including all kings and presidents, dead and alive, will bow and acknowledge that Jesus is the King of kings, Lord of lords, President of all presidents! Yes, He who is coming is great! Indeed, He is the greatest,

"for in Him all things were created, in heaven and on earth, visible and invisible, whether thrones or dominions or principalities or authorities – all things were created through Him and for Him"

(Col. 1:16; second reading)!

Normally, we do not associate powerful personalities with love; but Jesus, being God

(cf. second reading),

is not only all-powerful, He is also most loving. He loves every one of us. Indeed, He loves even people we think do not deserve to be loved. Jesus loves us so much that He became poor so that we might share in His divine riches

(2 Cor. 8:9)

. What is more? He sacrificed His very life for us: "for greater love has no man than to lay down his life for his friends" (John 15:13). Again, because of His great love for us, He has prepared for each of us a reward (heaven) which is greater than the service we render Him. Thus, when He comes again, He does so to bring reward for those whose service has pleased Him. How do we please Jesus? By making Jesus the King of our personal and daily lives here on earth. When we allow Jesus to rule our personal lives every day, we will not be afraid of meeting Him on the last day; rather, we will be eager to meet Him, whom we please on daily basis. May we always be eager to help the needy. And may every help we give put a smile, not just on the face of the beneficiary, but also on the face of the King of kings. Amen!

Thirty –Second Sunday in Ordinary Time
Reflection
      As

"children of the resurrection,"

in the phrase of Jesus, we believe we will exist for all eternity with our earthly identity and personality somehow still present. The same for those who have gone before us in faith, all of our loved ones and ancestors of old.
     In the resurrected life and state of being, we will show all our bonds of love and faith in our resurrected body, however that may look. The bonds between us will be closer and more intimate than anything we enjoyed on earth. This fact we believe along with all its unresolved mystery. In the words of Jesus, "God is not the God of the dead but of the living." What awaits us is the possibility of being fully and truly alive, for "all are alive for Christ" (both quotes from Gospel According to Saint Luke, chapter 20, verse 38).
       In the Christian heritage, belief in the eventual resurrection of the body should provide the needed momentum to keep doing good works in this life, which we carry out at this time with our physical bodies here and now. It also needs to be pointed out that our belief in resurrect- ed life is not blind adherence to mysterious doctrinal facts. What we are to possess is confidence in a Person, our Lord Jesus Christ, who said,

"I am the resurrection and the life"

(Gospel According to Saint John, chapter 11, verse 25). It is Christ to whom we go and from who we receive our life.

Thirty – First Sunday in Ordinary Time
The goal of life
       Today, it looks as if the Evangelic narrative was the accomplishment of the parable of the Pharisee and the tax collector (cf. Lk 18:9-14). Humbly and sincerely, the tax collector was praying from the bottom of his heart: «O God, be merciful to me a sinner» (Lk 18:13); and, today, we contemplate how Jesus Christ honors Zacchaeus' repentance by forgiving him, the Jericho chief tax collector, a wealthy and influent man, though hated and underrated by his neighbors, who felt bled by him: «Zacchaeus, come down quickly for I must stay at your house today» (Lk 19:5). The divine forgiveness provokes the conversion of Zacchaeus; this is one of the originalities of the Gospel: God's forgiveness is free; it is not that God forgives us because of our conversion, but the other way round: God's mercy sort of impels us to feel grateful and reciprocate accordingly.
       As Jesus, on his way to Jerusalem, passes through Jericho, Jesus passes through our life, today and every day, and calls us by name. Zacchaeus had never seen Jesus before, but he had heard of him and was curious to know more about such famous master. Jesus, instead, did know Zacchaeus and the miseries of his life. Jesus was aware of the fact Zacchaeus had enriched himself to the injury of others and was, therefore, hated and rejected by his fellow citizens; therefore, He passed through Jericho, to rescue him from that well: «The Son of Man has come to seek and to save the lost» (Lk 19:10).
       The encounter between the Master and the tax collector totally changed the latter's life. After having listened to this Gospel, ponder over the opportunity God is offering you, which you cannot neglect Jesus Christ passes through your life and calls you by name, because He loves you and He wants to save you. Which well did you fall in? As Zacchaeus climbed up to that tree better to see Jesus, you can now climb up to the Cross along with Jesus and you will know who is He, you will know the immensity of his love, inasmuch as if «The chief among the Publicans is here fitly introduced: For who will hereafter despair of himself, now that he attains to grace who gained his living by fraud? »

(St. Ambrose).

Thirtieth Sunday in Ordinary Time

      Humility makes pleasant to God the perfume of human spirituality. In humility, we truly recognize our state and condition as mortal men and women, human beings created after the image and likeness of God. In humility, we realize how much we are in need of God and that outside His love and mercy we are empty and devoid of any meaningful content. Nothing is more endearing to God as a humble soul. May You, O Lord, create within us a humble spirit and contrite heart, Amen.
      The depth of our relationship with God and the profundity of our spirituality depends a great deal on how humble we are. Humility reminds of our emptiness and of our poverty and of our great need of God;

"the poor man called; the Lord has heard him"

(Ps 34:6). God is always pleased with the humble for His

"eyes are drawn to the person of humbled and contrite spirit"

(Is 66:2). On the contrary, a proud fellow is an eyesore before God. A proud man is he who presents his credentials to God for approval thinking of himself to be better than others and that it all depends on his human effort, whereas a humble man is he who knows that it is God who certifies us out of His graciousness and mercy. This was the difference between the Pharisee and the Tax Collector in the Gospel Reading of today (Luke 18:9- 14). In prayers, the Pharisee condemned others and presented himself to be the model who has no need of improvement, as such already self-justified. The Tax Collector, on the other hand, condemned himself trusting that the grace and mercy of God can transform him into a better person. Because of his pride, the supposedly good deeds of the Pharisee were turned into ash. Certainly, "everyone who is proud in heart is detestable to the Lord" (Prov 16:5). On the contrary because of his humility, the Tax Collector received pardon for his sins and reconciliation with God. "Demons flee before humility"

(cf. Pope Francis),

especially the demons of sin and pride. In his noble words Saint Augustine wrote that

"it was pride that changed angels into devils; it is humility that makes men as angels."

Humility brings us to the knowledge of our human fallibility and imperfection. Humility helps us to realize the insufficiency of human effort and how poor and in lack we are. Humility brings us to recognize our sins and to seek pardon for them. Humility also teaches us of the possibility to be better and to grow in perfection. Humility makes us pliable and brings us the graces we need to allow ourselves to be molded by God into the best version of ourselves that can ever be! It is this knowledge that leads us to seek pardon and mercy like the Tax Collector in the Gospel Reading of today. It is this knowledge that disposes us to pray in humility of heart as we were instructed in the First Reading (Ecclesiasticus 35:12-14, 16-19), conscious of the fact that "the humble man's prayer pierces the clouds; until it arrives, he is inconsolable. And the Lord will not be slow, nor will He be dilatory on their behalf." It is this knowledge that brings us to profess our dependence on God and on His graces and to rely on Him because

"the Lord will surely rescue us from all evil attempts on us and bring us safely to His heavenly kingdom. To Him be glory for ever and ever; Amen"

(cf. 2 Tim 4:6-8, 16-18). It is only in being humble that we can be exalted "for everyone who exalts himself will be humbled, but the man who humbles himself will be exalted."
     

Heavenly Father, give us the grace to recognize who we truly are and the humility to trust ourselves in your never-failing grace and presence, that in our humility of heart, we may find favor and pardon in Your sight, Amen.

Deacon Ken's 
Twenty – Nineth Sunday in Ordinary Time
Homily
ho could forget Tevye in the musical "Fiddler on the Roof". He was a Jewish man with a wife and three daughters. He was a milkman, delivering and selling milk and butter to the townspeople. He used a horse drawn cart to deliver his goods. Tevye and his family were living in the Russian Empire in a fictional village named Anatevka. Tevye and his Jewish friends were being forced into exile by the Russian Government. If you've never seen it, I recommend you do see it. Tevye was the ultimate prayer warrior. He had conversations with God as if God was standing right next to him, all day… every day. He made it look so easy. If it is that easy, then why aren't more people conversing with God in prayer?
Here are some of my favorites Tevye conversations with God:
     

 Tevye, pulling the milk cart and looking up to heaven says: "Did you have to make the horse go lame?
     

"Sometimes I wonder, when it gets too quiet up there, if You are thinking, "What kind of mischief can I play on My friend Tevye?"
     

"It may sound like I'm complaining, but I'm not. After all, with Your help, I'm starving to death. Oh, dear Lord. You made many, many poor people. I realize, of course, it's no shame to be poor… but it's no great honor either. So, what would be so terrible… if I had a small fortune?"
     

"I know, I know. We are Your chosen people. But, once in a while, can't You choose someone else?"
While this is not a conversation between God and Tevye, I believe it is a recommended way to pray for our enemies. The townspeople ask the Rabbi:
"Is there is a correct way to pray for the Czar who is forcing us into exile?" The Rabbi responds: "Yes there is…Lord bless and keep the Czar far, far away".
The church has a beautiful definition of prayer. "Prayer is the raising of one's mind and heart to God or requesting of good things from God"

(CCC 2559)

. Jesus begins the Gospel by telling his disciples that the parable is about prayer.

In the parable, Jesus is teaching his disciples the need to pray persistently so that their faith and trust in Him might increase. Jesus tells them that God will secure the rights of the chosen ones who call out to him day and night. He's saying:

"Knock and the door will be opened for you, seek and you will find" (Mat 7:7).
Picture yourself with Moses on a hillside observing the action below. The soldiers meet at the battle line, the place where both forces meet face to face' As Moses lifts his arms the battle line moves forward, five yards, then two yards.
When Moses arms weary and begin to fall, the battle line moves back, two yards, one yard. Aaron and Hur support Moses arms and the battle line moves forward again. The posture of Moses suggests that Moses was praying. Praying that God's mercy and grace would be with his fellow Israelites. Praying that God would be with them in the struggle. Moses was praying for victory over Amalek, who waged war against them. The church calls praying for others "intercessory prayers".
Reading or hearing scripture should always lead us to pray. Prayer is the beginning of dialogue between God and humans. We speak to God through our prayers, and he answers us through scripture. When we pray using scripture as our guide, we often find that we are who the scriptures are speaking of. We are Amalek when we are hostile to those who are different than us and are unloving to our neighbor. We are Moses when we pray for the good of others to the point of exhaustion. We are the widow when we pray seeking justice for a wrong done to us or others, and we keep "knocking and seeking". We are the unjust judge filled with pride and arrogance. We are Jesus when we share the Word with others
and love them unconditionally. We discover we have many things to pray for.
Paul says to remain faithful to what you have learned and believed because you know from whom you learned it. You have known the Sacred Scriptures, which have given you wisdom for salvation through faith in Christ Jesus. Persistent praying leads to praying in faith.
May we pray for endurance in trial, strength in temptation, and gratitude in prosperity, so that when Jesus returns, He will find in us a praying community, steeped in faith

.
Deacon Kenneth Stewart

Twenty – Seventh Sunday in Ordinary Time
If you have faith like the grain of the mustard seed…

Twenty – Sixth Sunday in Ordinary Time
Sin of Omission
       The Gospel of today talks about the Rich man and Lazarus. The rich man who was clothed in purple and fine linen and who feasted sumptuously every day. There was a poor man named Lazarus, a poor man covered with sores, who longed to eat just the scraps falling from the rich man's table. The rich man did not pay attention to the poor man's condition. Both died and judgment was made. The poor man was kept at Abraham's bosom while the Rich (Dives) was put in hell (Hades) as his reward. The Rich fine linen (verse 19). The word for

" clothed"

indicates that this man was described as the one being clothed in purple and was his habitual attire; he characteristically dressed this way.
      The Dives was used, and it is a Latin word meaning Rich. The name Lazarus is Greek version of the Hebrew name

"Eleazar"

which means

" God is my help"

. Lazarus was a poor man who believes and trust in God. That is why he found himself in the bosom of Abraham. Abraham's bosom is used in various ways in extrabiblical sources and in the old and New Testament. It could refer to mother's womb. The Old Testament of this occurrences of this word concern: taking a child into the bosom and nursing the child, conjugal love, the Lord carrying the lambs in His bosom.
       The rich man committed the sin of omission, the sin of neglecting the poor that came to his house, he took no notice and care of Lazarus. Despite being poor and sick, the expectations of Lazarus were minimal. He wanted to eat only the crumbs, which fell from the rich man's table. But the rich man did not take notice of him. The love the rich man had for his dogs, he did not have it for Lazarus, a human being like him.
      When Lazarus died, people did not attend his funeral, but angels carried him away to the bosom of Abraham. The rich man died and went to hell. The rich man in his agony made two prayers: He prayed to Abraham that Lazarus may dip his finger in the water and cool his burning tongue. Secondly, he prayed again that Lazarus may be sent to his father's house to warn his brothers. His prayers were not accepted.
       We are like the rich man. God gave us gifts, talents, resources, and possessions, in different measures as servants. The way we use them will determine where God will place us at the end of our lives. Let's consider our ways. Heaven or hell matters not wealthy or being poor.

Twenty – Fifth Sunday in Ordinary Time Homily
Sunday September 18th.
      After hearing these readings, my first thought was: There sure are a lot of shady people in the scriptures Wow! They are still running around in the world today. My vehicle warranty is not about to expire, it expired years ago. Additionally, I am not going to purchase nine one-hundred-dollar Amazon gift cards and send the card numbers to a poser claiming to be Father Francis for him to give as "incentive" gifts. We've heard much about shady people and most probably some of those shady people have tried to hoodwink us. In 1986, Susie and I were living in the high desert. I was ordered to attend the Military Police Investigator's course at Fort McClellan Alabama. And just as a side note, one of the attendees
was from Ghana. Susie drove me to the Los Angeles airport so I could catch a flight. While waiting for my flight, we were approached by a man wearing a trench coat. This man opened one side of his trench coat, and I kid you not, said:

"Want to buy a watch"?

The inside of his coat was lined with all kinds of different watches. I thought that only happened as a funny gag in the movies. I laughed so hard that the man looked about nervously and just kind of shrunk away.
      Jesus says,

"Never will I forget a thing they have done"

! Jesus has much to say about how the poor are to be treated. He has blessed us greatly, so that we can bless those who are less fortunate than us. "All Christians should be ready and willing to come to the help of the needy and of their neighbors in want A Christian is a steward of the Lord's goods" (CCC952). Those goods are people, like the poor and the needy. We cannot disregard the poor and needy, or skim off the top from the rich man, and still be Christians. We either serve God, or we don't. We are not children of the dark, we are children of the light. We are not people of this world, we are people of the kingdom, not just any kingdom, we are people of the kingdom of God. We are Christians 24 hours a day, each and every day, and not just on Sunday's and feast days. We are not people who look at all that is wrong in the world today and say:

"Oh well, that just the way it is".
      Saint Paul tells us to pray. Pray for those in bondage. Pray for those who have placed others in bondage. Pray for leaders to make laws that are fair and just. Pray that people won't have to leave their families and homelands to earn a living wage. Saint Paul says: "Pray brothers and sisters without ceasing (1 Thes 5: 17), because God wills that everyone comes to be saved and comes to the knowledge of the truth. Pray for each other's salvation.
       Sometimes as Catholics, we are accused of being shady people, though we are not. Not long ago, my nephew Josh and Susie were having a conversation about

"One mediator between God and man."

Susie said to Josh:

"Josh, if you ask me to pray for you, what does that make me"?

Thinking for a moment, Josh responded: "A mediator". So, it is when we ask those in heaven to pray for us. They're in Heaven, they're not dead and are much more alive than we are! The twenty-four elders and the angels in heaven all hear and take our prayers to Jesus. (Rev 5:8 and Rev 8: 3-4) We are in a constant transition, passing between life on earth, and life in either heaven or hell. We need to put our affairs in the proper perspectives.
Our eyes need to stay focused towards our eternal salvation. God depends on us to be trustworthy in small and large things. One day we will have to give an account on how we managed all that God has given.
Deacons Kenneth Stewart
BIOGRAPHY
OF FR. FRANCIS TANDOH C.S.Sp.
I am Fr. Francis Tandoh. I was born to the parents of Mr. Andrew Tandoh & Mrs. Dorothy (Payne) Tandoh. I am the fourth child from a family of 12 children with ten surviving. I pursued my elementary and high school education in Kumasi, Ghana. I received my call to the priesthood at an early age. I attended St. Hubert's Seminary in Kumasi. I left the seminary to continue my Sixth Form (at a time high school was seven years in Ghana) education in T. I. Ahamadya Islamic School, in Kumasi. I entered the teaching career and taught in St. Benedict Middle School, Kumasi, Ghana, from 1981-83.
          I decided to join the Missionary and Religious Order of the Holy Spirit Congregation and entered into the Postulancy in 1983. I completed my Novitiate and started my philosophical studies in 1985, at the School of philosophy Insukka, Nigeria. I took some time off reflecting on my vocation to the priesthood. During this time, I taught Social Studies in St. Anthony Junior High School, in Kumasi Ghana. At the same time, I was engaged in a rural ministry for young adults.
          I went to continue my studies for the Priesthood and missionary life in the Spiritan International School of Theology, Enugu, Nigeria. I was ordained in the Star of the Sea Catholic Cathedral by the late Most Rev. Charles Kweku Sam on July 24, 1993, in Takoradi, Ghana, my home Diocese, after completing my theological studies.
           I hold a degree in Religious Education; master's in educational administration/Leadership. I hold a certificate in Pastoral Counseling; I am a certified Clinical Chaplain with CPSP. I suspended my candidacy as a student in licentiate/Doctoral degree with Marian Research Institute, University of Dayton, due to my parish workload, but I hope to take it up very soon. Before my ordination, I was the Publicity Officer for the Kumasi Diocesan Youth Council, Bursar Holy Ghost Pre-Novitiate, Ghana.
          In my Ministry as a Priest, I single-handedly founded a benevolent group called Spiritan Friends, who support the Spiritans and their ministries. I have served at Our Lady of Fatima Parish while in residence as Religion Teacher in St. Edward's Middle School, Bwiam the Gambia and St. Peters High School; Pastor Star of the Sea Parish, an affluent Parish of 1000 families; Pastor St. Charles Luanga Parish of about 2000 in Sunday mass attendance. Rector St. Peters Seminary, all in the Gambia.
          I was transferred here to the United States in 1996 to serve as the Mission Coordinator for the Holy Spirit Fathers, West Africa Province, now Ghana Province, a position that I still served until 2016. My main work was to write grants and preach
in Catholic Churches to creating awareness about the missions, especially in Africa in soliciting funds to support the church's activities in Africa, especially in training priest for the Spiritans coming from Ghana. To support myself I was employed to be the Religious Education Director in Resurrection Catholic School, now St. Benedict the Moor Catholic School, while still being the Parochial Vicar for St. James and Resurrection Parishes in Dayton Ohio until my appointment as the Pastor of St. James and Resurrection Parishes, in December 2000.
             In 2000 soon after my appointment, I led the parish community of 400 families through a church building campaign, Vision to Victory, which finally gave them a new church edifice, with a new parish, St. Benedict the Moor. The church holds 1050
people in the sanctuary and a hall which seats 600 people, I am the first pastor of this newly created parish. In that same year, I was appointed the Pastor of St. Augustine, Germantown and St. Mary, Camden with Fr. Joshua Otusafo as my Associate.
             In July 2009 in addition to the three Parishes, I was asked to be the Pastor of St. Mary's and Holy Family in Dayton. In 2010/2011, Holy Family Parish was closed to the English Congregation due to financial constraints. I still have all these three Parishes. St. Mary's Camden was given out to the Preble County Parishes in 2014.
          Recently in 2015, I led my parishes into accepting the only Catholic school in the West side of Dayton that was closing, reasons being poor Academic Standards and Financial Constraints. Today St. Benedict the Moor School is opened and thriving academically and raising good students for the future of our community and country. Advocacy has been my passion for the ministry. I believe the word becomes more meaningful when parishioners see it reflected in the community and their life. For
more than six years I was the Co-chairperson and Chairperson of Leaders of Equality of Action in Dayton (LEAD). LEAD is an interfaith Justice Group who work with City leaders and Congregations to hold the system and Politicians accountable to bring freedom and peace into the community. In my terms we were able to have victories with the RTA busing Board to be more inclusive, the City of Dayton to change its ordinance to be friendlier to Ex-Offenders (Bann the Box), City increasing the demolishing of dilapidated buildings and many more victories.
         As I celebrate this weekend the 25 years milestone today, it is my will to work together with all of you who are my flock to expand the missionary work of God with affection and love for the good of you, my parishioners, and the community that we serve. May the good Lord who has entrusted me with his flock help me with good health, courage and good directions that comes from the guidance of his spirit to bring it to a fruitful end.
Thank you for your support during all these years
GOD BLESS