Twenty – Seventh Sunday in Ordinary Time
If you have faith like the grain of the mustard seed…

Twenty – Sixth Sunday in Ordinary Time
Sin of Omission
       The Gospel of today talks about the Rich man and Lazarus. The rich man who was clothed in purple and fine linen and who feasted sumptuously every day. There was a poor man named Lazarus, a poor man covered with sores, who longed to eat just the scraps falling from the rich man's table. The rich man did not pay attention to the poor man's condition. Both died and judgment was made. The poor man was kept at Abraham's bosom while the Rich (Dives) was put in hell (Hades) as his reward. The Rich fine linen (verse 19). The word for

" clothed"

indicates that this man was described as the one being clothed in purple and was his habitual attire; he characteristically dressed this way.
      The Dives was used, and it is a Latin word meaning Rich. The name Lazarus is Greek version of the Hebrew name

"Eleazar"

which means

" God is my help"

. Lazarus was a poor man who believes and trust in God. That is why he found himself in the bosom of Abraham. Abraham's bosom is used in various ways in extrabiblical sources and in the old and New Testament. It could refer to mother's womb. The Old Testament of this occurrences of this word concern: taking a child into the bosom and nursing the child, conjugal love, the Lord carrying the lambs in His bosom.
       The rich man committed the sin of omission, the sin of neglecting the poor that came to his house, he took no notice and care of Lazarus. Despite being poor and sick, the expectations of Lazarus were minimal. He wanted to eat only the crumbs, which fell from the rich man's table. But the rich man did not take notice of him. The love the rich man had for his dogs, he did not have it for Lazarus, a human being like him.
      When Lazarus died, people did not attend his funeral, but angels carried him away to the bosom of Abraham. The rich man died and went to hell. The rich man in his agony made two prayers: He prayed to Abraham that Lazarus may dip his finger in the water and cool his burning tongue. Secondly, he prayed again that Lazarus may be sent to his father's house to warn his brothers. His prayers were not accepted.
       We are like the rich man. God gave us gifts, talents, resources, and possessions, in different measures as servants. The way we use them will determine where God will place us at the end of our lives. Let's consider our ways. Heaven or hell matters not wealthy or being poor.

Twenty – Fifth Sunday in Ordinary Time Homily
Sunday September 18th.
      After hearing these readings, my first thought was: There sure are a lot of shady people in the scriptures Wow! They are still running around in the world today. My vehicle warranty is not about to expire, it expired years ago. Additionally, I am not going to purchase nine one-hundred-dollar Amazon gift cards and send the card numbers to a poser claiming to be Father Francis for him to give as "incentive" gifts. We've heard much about shady people and most probably some of those shady people have tried to hoodwink us. In 1986, Susie and I were living in the high desert. I was ordered to attend the Military Police Investigator's course at Fort McClellan Alabama. And just as a side note, one of the attendees
was from Ghana. Susie drove me to the Los Angeles airport so I could catch a flight. While waiting for my flight, we were approached by a man wearing a trench coat. This man opened one side of his trench coat, and I kid you not, said:

"Want to buy a watch"?

The inside of his coat was lined with all kinds of different watches. I thought that only happened as a funny gag in the movies. I laughed so hard that the man looked about nervously and just kind of shrunk away.
      Jesus says,

"Never will I forget a thing they have done"

! Jesus has much to say about how the poor are to be treated. He has blessed us greatly, so that we can bless those who are less fortunate than us. "All Christians should be ready and willing to come to the help of the needy and of their neighbors in want A Christian is a steward of the Lord's goods" (CCC952). Those goods are people, like the poor and the needy. We cannot disregard the poor and needy, or skim off the top from the rich man, and still be Christians. We either serve God, or we don't. We are not children of the dark, we are children of the light. We are not people of this world, we are people of the kingdom, not just any kingdom, we are people of the kingdom of God. We are Christians 24 hours a day, each and every day, and not just on Sunday's and feast days. We are not people who look at all that is wrong in the world today and say:

"Oh well, that just the way it is".
      Saint Paul tells us to pray. Pray for those in bondage. Pray for those who have placed others in bondage. Pray for leaders to make laws that are fair and just. Pray that people won't have to leave their families and homelands to earn a living wage. Saint Paul says: "Pray brothers and sisters without ceasing (1 Thes 5: 17), because God wills that everyone comes to be saved and comes to the knowledge of the truth. Pray for each other's salvation.
       Sometimes as Catholics, we are accused of being shady people, though we are not. Not long ago, my nephew Josh and Susie were having a conversation about

"One mediator between God and man."

Susie said to Josh:

"Josh, if you ask me to pray for you, what does that make me"?

Thinking for a moment, Josh responded: "A mediator". So, it is when we ask those in heaven to pray for us. They're in Heaven, they're not dead and are much more alive than we are! The twenty-four elders and the angels in heaven all hear and take our prayers to Jesus. (Rev 5:8 and Rev 8: 3-4) We are in a constant transition, passing between life on earth, and life in either heaven or hell. We need to put our affairs in the proper perspectives.
Our eyes need to stay focused towards our eternal salvation. God depends on us to be trustworthy in small and large things. One day we will have to give an account on how we managed all that God has given.
Deacons Kenneth Stewart

Twenty – Fifth Sunday in Ordinary Time

THE SHREWD STEWARD
Today, the Gospel of Luke 16:1-13 presents the parable of steward who in dishonesty reduced the quantum of debts of his master's tenants. Yet, his master praised his shrewdness and foresight and not his dishonesty.
As children of light or Christians, we are invited to learn this method of using what is under our custody to make heaven which is the greatest reward. The means which is more necessary than the ends should be our method.
We also observed the prodigality of the steward. Unlike the prodigal son who was guilty of wasting resources available to him, the dishonest steward had enough sense to make sure that his wastefulness did not leave him friendless and unprovided for the future. If we sacrifice our time and energy to God under our Christian religion as we do in our pursuit of worldly things, our religion and relationship with God will be the best.
May God help us to use our present time, materials possession and strength to pursue eternal life.
Happy Sunday. God is with you.BY: Fr Emmanuel Nwokeji.

Twenty – Fourth Sunday in Ordinary Time
On the

30th of November 1980

, the Saintly Pope John Paul II released his soul changing Encyclical

"Dives in Misericordia"

(Rich in Mercy). These words, taken from

Eph 2:4

, really give us the true image of our God; for "when through disobedience we lost God's friendship, He did not abandon us to the domain of death. He came in mercy to the aid of all, so that those who seek might find Him." May the ever-flowing stream of God's mercy cleanse us from every sin and bring us closer and nearer to God, Amen. Each one of us is in constant need to connect and reconnect to God everyday of our lives. This is true because often and on, we wound and break the spiritual cord that connects us to God. In fact, the history of human beings is filled with persistent attempt by us to totally cut ourselves from God. This is exactly the attitude of the Israelites in the First Reading of today

(Ex 32:7-11, 13-14).

As a result of their impatience

(Ex 32:1)

, they forgot with the shortest period of time the God that led them thus far. They forgot all the mighty things God did in their sight and how God had been with them throughout their journey.
       Like the people of Israel, we often take this path of trying to wound and cut that cord that connects us to God. Our evil and wrong actions are our different blades and sharp objects with which we attempt to damage this divine bound. Every choice made in the wrong direction is a blade; a sharp object that cuts this robe. The Prodi- gal Son in the Gospel Reading

(Luke 15:1-32)

made this wrong choice and he led himself deceptively from abundance to lack; from grace to grass; from favor to la- bour; from palace to piggery; from health to sickness; from being a giver to being a beggar! But indeed, 'Deusest dives in misericordia' (God is rich in mercy). When he rose and went back to his Father, he experienced the richness of God's mercy. One of the most excellent and noble things about God is that He is always willing to offer us a new robe; He is always available to us; He is never tired of opening His arms to us! This was also the experience of the Israelites at the intercession of Moses.
Since the beginning of her Mission, the Church has been proclaiming the mercy of God and calling each of us to experience that mercy. What is your excuse? I hear often those who claim to be ashamed to go and confess their sins and receive absolution. I often reply; if you can be ashamed of your sin in that manner, you would be a saint. You are ashamed of being forgiven but never ashamed to commit sin. Sense of shame is good and praiseworthy! But any sense of shame that does not lead you to confess and reject your sin is from the evil one.
        Every experience of God's mercy is a source of transformation and strength. The mercy of God was the hidden power behind the success and victory of the Apostle Paul

(I Tim 1:12-17)

. He is a perennial witness and example for us. I open afresh upon you and your household the ever-open Door of Mercy! May the power of God's mercy be your strength and lead you to spiritual, moral, fraternal, and material transformation, Amen. Happy Sunday.
Fr Cyril UNACHUKWU CCE

Twenty – Third Sunday in Ordinary Time
       Have you ever gone to a big supermarket like

"Everyday", "Shoprite", "Kilimanjaro",

etc., and you see so many goodies but without enough cash? The sad part is that you could spot a nice article you had want to buy but you go closer and see the price tag and look around and draw back. One day, on my friend's birthday we went to "Everyday" after shopping, I realized that I haven't bought wristwatch. We went to the jewel department. I saw a watch and pointed at it, the seller brought it to me, and I looked at the price and saw '

N79,000'

. I shouted and moved away. I know what I wanted but I didn't have what it takes to own it. Just as Jesus says in

Matt13:44

. No one here would say that he doesn't want to go to heaven. But how many of us can afford the cost. Heaven is available but entering it is costly.
       Jesus compares it to building a tower, that means it is not a cheap bungalow but tall building. The builder must check his account before embarking on building it. If the money you have could pass for a cabin or a bungalow or a story building. There are certain buildings we see incomplete for years, some one story another two or three. These buildings could have been completed had the builders considered their purses. No one is praised for starting a project without finishing it.
      He compares it to a war plan. No one wants to start a war he knows he's no prepared to fight. As at now the Igbos are not ready for war because we can't even compare to the ammunitions of the Hausa Fulani. You don't dare fight a policeman or an army, they can fire the gun at you. So, it calls for wisdom. Learn when to go for war and when to sue for peace. So, heaven is a battle, you better get armed. Arm yourself with discipline, faith, silence, kindness, etc. It will cost a cross. The audience of Jesus understand what a cross means. Crosses are linked with crimes from whether fair or false accusations. In our case, it is with falls accusations. In the second reading it was the cross of fair sentence and the cross of forgiveness. To forgive is our continuous cross as Christians.
       So yes, we must count the cost to be a disciple. The cost is total in principle and may be total in actual experience. In the end, having Jesus means gain, like Paul says:

"I count everything as loss because of the surpassing worth of knowing Christ Jesus my Lord"

(Philippians 3:8).
BY: Rev Fr Livinus Igbodekwe

Twenty – Second Sunday in Ordinary Time
Humility
     

Today's readings inform us that humility and generosity are eternal life-

giving values. Here are few of St. Francis de Sales thoughts that permeate his writings on these virtues:
        Humility is totally generous and makes us undertake with invincible courage all our tasks that we are called to do. When we are humble, we are exceedingly courageous because we place our total confidence in God, rather than ourselves. In turn, confidence in God gives birth to a generous spirit in us. Our generous heart may be full of doubts about our own capacity to do anything. Yet, we must not dwell on our doubts, but go on doing what we know will be pleasing to God. When we carry out a task, our doubts arise because we value too highly our reputation. We wish to be masters who never make mistakes. Our dear imperfections that force us to acknowledge our deficiencies give us practice in humility, self-giving love, patience and watchfulness. In the end, our trials amidst pain enlarge our heart and increase courage. God always rejoices in raising us up in our weaknesses. We should not be troubled at finding ourselves always novices in the exercise of virtue. The whole of our life is destined to be an apprenticeship of learning how to love divinely. The obligation of serving God and making progress in God's love always lasts until death. While God has ordered us to do all we can to acquire holy virtues, it is for us to cultivate our souls well. Therefore, we must faithfully attend to them. But as for plentiful crops and harvests, let us leave care of that to our Lord. The laborer will never be blamed for not having a fine harvest unless he did not carefully till and sow his fields. Thus, let us patiently wait for our advance, and instead of disturbing ourselves because we have made so little progress in the past, let us diligently strive to do better in the future.
The Oblates of St. Francis de Sales, Wilmington-Philadelphia Province

Twenty First Sunday in Ordinary Time
     

"Someone asked Jesus, 'Lord, will only a few be saved?' He said, 'Indeed, some are last who will be first, and some are first who will be last.'"

(Luke 13:23, 30)

Today, the Gospel raises the theme of the salvation for our souls. This is the essence of Christ's message and the "supreme law of the Church" (in fact, this is also mentioned like that by the very Code of Canon Law). The salvation of our soul is an actual fact insofar a gift from God, but for those of us that have not yet crossed the threshold of death, is only a possibility. To be saved or to be damned to hell! That is, to accept or to reject God's everlasting offer of love. St. Augustine said,

«the man who self-annihilated his goodness, which could have been eternal, deserved the eternal damnation». We have only two possibilities in our life: either God or the void, for without God nothing has any meaning. In this sense, when they do not participate of the essence of God, life, death, joy, pain, love, etc., are just concepts without any logic. When the man sins, he avoids the Creator's glance to center it upon himself. God is constantly looking at the sinner with love, and in order not to force his freedom, He expects a minimum gesture of been willing to get back to him. «Lord, is it true that few people will be saved?»

(Lk 13:23).

Christ does not respond to this question. Therefore, it remained unanswered, just as it is today, for «it is an inscrutable mystery between the saintliness of God and the conscience of man. The silence of the Church is, therefore, Christians' only opportune position»

(John Paul II).

The Church does not state any opinion about those who dwell in hell, but —basing itself in Christ's words- it does state an opinion about its existence and the fact there will be many damned in the Final Judgment. And whoever denies this, whether clerical or lay, incurs, without further ado, in heresy. We are free to turn the stare of our soul towards the Savior, and we are also free to stick to our refusal. Our death will simply petrify our option forever.
Fr. Pedro IGLESIAS Martínez

Twentieth Sunday in Ordinary Time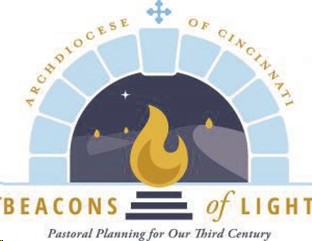 Last week we published the summary of the Family of Parishes NE 8 Council meeting. Below here is the summary of the Minutes of the Worship Commission.
    Fr. Francis welcomed all. He noted the Worship Committee was the group that would be needed to give recommendations or matters concerning our liturgy and worship.
     He presented the Pastoral Planning – Roadmap to Pastoral Vitality- Archdioceses of Cincinnati 2020-2027 document for Committee review. The document presented the Why, What and How of Beacons of Light. The document showed a Roadmap to Pastoral Vitality that would be a gradual movement towards each Family of Parishes becoming one canonical parish that would include the following: Adjust Mass schedules; combine councils; merge staff; build community; discern use of buildings/
resources.
Fr. Francis also presented the Beacons of Light Milestones. The Pastoral Planning is a five (5) year process with Milestones that are to be accomplished in five (5) Phases with six (6) principles in each phase.
Fr. Francis reminded us we are Northeast 8. Since Phase 1 is Leadership, he discussed the Biblical Foundation for Leadership structure under Beacons of Light as the following: Pastor, Family of Parishes Leadership Team, Parish Staff, Parish Councils, Committees, Key volunteers, and Parishioners. He discussed the process and the importance of Leadership Team. He noted that he has met with staff, Finance Committee and Parish Council from each Parish.
The goal for Northeast 8 is to build one (1) vibrant church (Parish). As one Parish all collections will be as one. All Human Resources are to work together to build the church. Some buildings may close at some point which will be decided by the community. Next step will be to determine use of each building. Staff in various Parishes will be merged.
Fr. Francis asked groups to meet and discuss the following:
1. What have been our Advent and Lenten Practices as a Region before the creation of the Family of Parishes?
What kind of things were you coming together to share?
2. What have been our Liturgical or Paraliturgical practices around Christmas or the Triduum as a Region before the creation of the Family of Parishes? How did you celebrate masses on Holy Thursday, Good Friday, Holy Saturday, and Easter?
3. Any suggestions of what we can do together as a family of Parishes as we look forward to Advent and Christmas 2022.
Question #3 Some Suggestions

• May Crowning (OLOM, QM, SA, SB)
• Blessing of the Bread (SA, SB)
• Mardi Gras (OLOG)
• Live Nativity (OLOG/QM)
• Family Movie Nights (OLOG)
• Family Game Nights (OLOG)
• Karaoke Night
• Chili Cook-off (SA, SB)
• Dinner Dance fund raiser (SB)
• Marriage Liturgy Mass/Dinner (OLOG)
• Women's retreat (SB)
• Christmas cards sent out to all parishioners (OLOG) We have a bulk mailing account
• Blessing of the Pets (OLOG)
• Breakfast Club Speaker series (OLOG)
• Coffee Klatch (OLOG)
• St. Peter Claver/June scholarship (SA, SB)
     Perhaps you can add your suggestions to these lists by passing it on to any member of worship Commission
August 16, 2022,

Family of Parishes NE #8 Worship Commission meeting at 6pm at St. Benedict Church 519 Li scum Dr Dayton Oh 45417


August 26, 2022,

Family of Parishes Combined Council meeting 6pm at Our Lady of Grace Mercy location 220 West Siebenthaler Ave Dayton Oh 45405

Nineteenth Sunday in Ordinary Time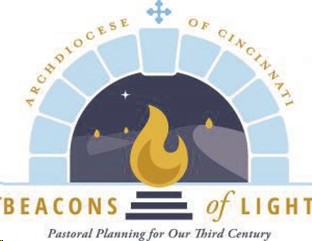 Thank you to all those who were able to make it to all these meetings of Beacons of light last Month. Some attend about three others two or more. Right now, some of you have experienced the distances among us as family. But I believe that is not going to deter us but rather going to energize us for better communication among us.
At the Parish Council Meeting Fr. Francis Tandoh, C.S.Sp. passed out the Pastoral Planning Roadmap to Pastoral Vitality document from the Archdiocese of Cincinnati, that points out to the following.
• Adjust mass schedules (ours is fine)
• Combined the councils
• Merge staffs
• Build Communities
• Decern use of Buildings
Father Francis stated we have been brought together to see what we are going to do as a family concerning the areas above. Various groups, and pockets of people will form think tanks to decide how we will best be together as a family. We will share our stories.
Fr. Francis intend to move on with all the Councils coming together perhaps until sometime October/November time frame when a new Council will be formed with representatives from all the parishes.
Below are some questions that were discussed at the tables maybe it will be good for you to try to answer by yourself.
Table Discussion
1. Since we began talks about family of parish- es what has been your biggest challenge (i.e. Silo, resistance to change, downward spiral, etc.)
2. What is your greatest opportunity as a parishioner/parish leader to contribute to parish vitality of Beacons of Light phase 1?
3. What comes to mind? (Share some of your positive and negative anxieties)
4. What are some of the things in your parish you believe can be shared along among the family?
August 16, 2022

, Family of Parishes NE #8 Worship Commission meeting at 6pm at St. Benedict Church 519 Li scum Dr Dayton Oh 45417


August 26, 2022

, Family of Parishes Combined Council meeting 6pm at Our Lady of Grace Mercy location 220 West Siebenthaler Ave Dayton Oh 45405

Eighteenth Sunday in Ordinary
Time

    In today's Gospel Jesus gives a lesson on greed. He told a disturbing story of one who tried to ensure his future by storing instead of sharing his bountiful produce. He received the bad news on the night that he thought he had secured himself that he
would die and thus not able to savor what he saved.
     Possessions are not what defines life. We need to share the goods of the earth. God gave us gifts not for ourselves but for the service of the community. We can only consume and use so much. We tend to over secure our future that we deprive our present. We tend to forget that tomorrow may never come. I have known of a lot of people who worked so hard, deprive themselves of a lot of things, save what they can, and retire using only the interests of their savings. Many of them die leaving so much unused riches. They failed to spend them according to how God wanted them to be spent. The heirs were left to
decide for it. The opportunity to be of service to others was lost.
     There is nothing wrong with preparing for the future but not at the expense of the present. The attitude of possessing and possessing or better called greed, must be curtailed. The greedy is never contented. It is a question of attitude towards things
rather than the quantity of things wanted. Human wants have been proven to be insatiable. Our wants increase progressively that they tend to enslave us. It should be the reverse. Wants are normal but we must manage them to our advantage.
      A story is told about how Eskimos catch some Alaskan wolves. They use two-edged knives with frozen blood. They look like ice drops ready to be eaten. The catch is for the wolves to lick them. The licking is expected to become vigorous as the frozen blood
is thawed. Later, without the wolves knowing, when the frozen blood had been consumed, they were already licking their own blood which comes from their slit tongue. Due to the cold weather, they could not notice it. Slowly, the wolves become weak
and die due to the loss of too much blood. Greed took its toll on them.
     That is what greed will do to us. Possessions can only satisfy us to a point. In the end, only One can only satisfy us, and He is God! Also, as the story says, we will never know when our life will be demanded. We may not be able to savor the results of
our greed. We have squandered our time to gain riches for heaven.
How much is enough for us? God should be our enough

Seventeenth Sunday in Ordinary Time

Seek and You Shall Find
      A man had a minor heart attack and was rushed to the nearest hospital for immediate coronary surgery. A congregation of religious sisters runs the hospital. The operation was successful, and the next day, the nun visited him in his room.

"Mr. Jones, you're doing just fine,

" the nun said with a big smile as she gently patted his hand.

"But we have to know who will pay for your medical bills. Do you have a medical insurance?" "No, I don't have,"

the man said in a weak voice.

"Are you going to pay in cash, then?" "I don't think I can, Sister. I have no money." "Do you have a family or any close relatives around here?" "Yes, I have. But she is an old maid, a spinster nun assigned in Florida,"

said the man. The nun's smile vanished, and quickly corrected him,

"I beg to disagree, sir. Nuns are not spinsters! They are married to Jesus."

The man's face brightened up and said,

"Really? Then, you may send the bill to my brother-in- law!"
     This story reveals a profound truth. When Jesus taught his disciples to pray, he started with the word

"Abba"

, which, in the English language, is equivalent to how a child would call his father, as in

"Daddy"

or

"Papa".

Jesus is telling us that we are closely related to God. He, in fact, is our loving Father! In the Gospel this Sunday, Jesus is not merely giving us a formula of prayer that is easy to memorize and recite. Rather, in giving us the prayer

"Our Father",

Jesus is offering a three-fold invitation to us. In the first place, he is inviting us to enter into an intimate relationship with God. St. John pointed it out in his letter: "See what love the Father has bestowed on us that we may be called the children of God. Yet so we are" (1Jn 3:1). Hence, we are reminded that when we pray, our only and best disposition is to be like little children. That is why Jesus insisted,

"Amen, I say to you, unless you turn and become like children, you will not enter the kingdom of heaven"

(Mt. 18:3). God wants us to relate to Him as a child relates to his own father – with love, trust, honesty, humility and total dependence. Many times, when parishioners come to me asking for prayers, they would invariably say,

"Father, please pray for my intention. I know you are close to God and you are an expert in praying."

I am not even sure if this is a compliment. Contrary to popular belief, praying is not the monopoly of priests. It is supposed to be the main priority in the life of every follower of Christ. In the Gospel last Sunday, Jesus told Martha:

"Mary has chosen the better part, and it will not be taken from her"

(Lk 10:42).
      Prayer is the lifeblood of our soul. Saint Padre Pio calls it the "oxygen of our soul". We cannot live without it. All of us need and are expected to pray. And if we love God, we will find time to pray. Prayer is an expression of our relationship with God. We pray, not because we like to be close to God. Rather, we are close to God, and so we pray. A child who does not have close relationship with his father will not talk to him in an intimate way. Prayer is the fruit of our relationship with God. The more we love God, the better our prayer will be. Therefore, there are no experts in prayer, but only true lovers of God. Likewise, seniority does not matter in prayer, but only the ability to become like little children. Secondly, in teaching the

"Our Father",

Jesus also invites us to enter a more meaningful relationship with Him and with one another. If we call God "Father", then Jesus is our brother. Perhaps, nobody among us here will object to that. But Jesus has identified himself with our fellowmen, especially those considered the least, the lost and the last. In the parable on the Last Judgment, Jesus concluded: "Whatsoever you do to the least of my brothers, you do unto me" (CF Mt 25). He demands that we also accept His brothers and sisters as our own. That is why the prayer starts with the first-person pronoun "our". It is never

"My Father".

A selfish person has no right to pray the

"Our Father".
     In his book

"Jesus of Nazareth"

, Pope Benedict XVI said:

"Only within the 'we' of the disciples can we call God 'Father', because only through communion with Jesus do, we truly become 'children of God.' In this sense, the word "our"

is really demanding: It requires that we step out of the closed circle of our

'I'.

It requires that we sur- render ourselves to communion with the other children of God. It requires that we accept the others – that we open our ears and our hearts to them. When we say the word out, we say Yes to the living Church in which the Lord wanted to gather his new family. The Our Father overcomes all boundaries and makes us one family." Finally, in teaching us the

"Our Father"

, Jesus is inviting us to share His vision of this world. The Lord's Prayer is not as simple as it looks. It is radical and revolutionary: it is a prayer that demands a fundamental change of the world – from being a world of injustice, selfishness, and misery, into a world of justice, peace and happiness. It is a prayer that impels us to obey God's will so that we can be instruments for the transformation of this world into becoming God's kingdom on earth: "Thy kingdom come, thy will be done on earth as it is heaven." In the Our Father, Jesus is offering us His threefold invitation: to become God's children, to become brothers and sisters of Jesus and of one another, and to become instruments for the coming of God's kingdom on earth. There is an RSVP attached to this invitation. We have to reply, and it should be:

"Amen-"
Fr. Mike Lagrimas

Sixteenth Sunday in Ordinary Time
Biography of the Late Rev. Fr. Matthew Amoako
Atta, C.S.Sp
     The late Rev. Fr. Matthew Amoako-Atta, C.S.Sp was born on 4th January, 1956 at Bosomadwe in the Central Region of Ghana to Mr. Paul Piadu and Madam Grace Tsema, both of blessed memory. He was a twin. He attended Primary and Middle School at Assin Bosomadwe from 1962 to 1972. From there he proceeded to St. Theresa's Seminary in Amisano and completed in 1979.
       In the latter part of his studies at the minor seminary, Fr. Matthew expressed interest in the Congregation of the Holy Spirit and applied to Join the Holy Ghost Fathers and Brothers (Spiritans). In 1980, after he had finished Sixth Form, Fr. Matthew became a Spiritan Postulant and was sent to Cameroon for French language studies for few months together with John Bonaventure Kwofie (now Most Rev. John Bonaventure Kwofie) and Francis Ato Hammond (now Fr. Francis Ato Hammond). They became the first batch of Ghanaian Spiritan Postulants who eventually became priests. In that same year, Fr. Matthew began his Novitiate Formation in The Gambia and took his first religious vows on 15th August 1981. He proceeded to do a two-year philosophical study at the Spiritan Institute of Philosophy in Isienu, Nigeria and completed in 1983. Upon completion of Philosophy, he re- turned to Ghana and did one-year Apostolic Work at Cor- pus Christi Parish, New Tafo, Kumasi. He served at Old Tafo, formerly an outstation of Corpus Christi Parish. In 1984, he went to Liberia to study Theology at St. Paul's Seminary, Gbarnga. In his third year of Theology, Fr. Mat- thew took his final vows of religious profession as a Spiritan on 2nd August 1987 and was ordained priest a year later on 23rd July by Most Rev. Peter Kwasi Sarpong at Holy Spirit Parish, Bantama.
     After his ordination, Fr. Matthew was sent on mission to The Gambia with Fr. John Bonaventure Kwofie. They served at a place called Basse under Fr. Brendan Smith, C.S.Sp, who gave them a solid missionary foundation. Fr. Matthew returned to Ghana in 1992 and was appointed Parish Priest of St. Maurice Parish, Labadi (now LA) in the Archdiocese of Accra. After faithfully serving for five years, Fr. Matthew went on sabbatical in the United States. On his return to Ghana, Fr. Matthew was appointed Parish Priest of St. Paul's Parish, Nyinahin in the Archdiocese of Kumasi. He served the Parish for three years and in 2004, was transferred to St. Peter's Catholic Church, Barekese in the same Archdiocese to become the first Parish Priest of the newly created parish. In that same year, Fr. Matthew was appointed Regional Superior of the Spiritans of the Region of Ghana in the West African Province (WAP) of the Congregation of the Holy Spirit. He served as Regional Superior for three (3) years (2004-2007) and as Parish Priest for six (6) years (2004-2010).
     In 2010, Fr. Matthew left for pastoral ministry in the United States following his appointment to the Spiritan Province of the United States. He engaged in parish ministry, mostly in the Archdiocese of Cincinnati. He was the Parochial Vicar in St Benedict the Moor Catholic Church, St. Augustine Germantown, St. Mary's Dayton, 2010-2014: Pastor Church of Visitation, Eaton, St. Mary Camden, and St. Johns New Paris, 2014-2019. He was the Pastoral Administrator for Our Lady of Mercy, Corpus Christi and Queen of Martyrs July Through September 2019 before leaving for St. Edwards Catholic Church, Baltimore, Maryland. Fr. Matthew had a major surgery that nearly claimed his life while working in the United States. With time, he bounced back from the surgery and continued his pastoral ministry in the spirit of love and service.
     Having served for ten (10) good years in America, Fr. Mat- thew returned to his home Province of Ghana in 2020. In 2021, he was appointed Assistant Priest of St. Anthony's Parish, Elubo in the Diocese of Sekondi-Takoradi.
Fr. Mathew's health began to deteriorate over the last year when he was serving at Elubo. He peacefully breathed his last in the early hours of 30th June 2022 at the St. Martin de Pores Hospital, Ekwe in the Western Region of Ghana.
Of course, like all of us, Fr. Matthew had his Achilles' heel in life, but that did not deter him from loving and serving God and humanity. He was warm hearted and generous in a natural spontaneous way. He was very hearty and cheerful when it comes to group gatherings and celebrations. He won the admiration of many people with his simple, easy and social life. One remarkable thing about him was his involvement in the playing of draught with the local people of Barekese when he was stationed there. They loved him for that. He will forever be remembered.
May he rest peacefully in the bosom of Father Abraham till we meet again.
Asuo, nantsew yie!
Requiescat in pace!

Fifteenth Sunday in Ordinary Time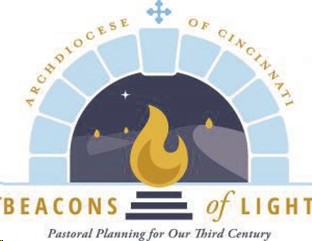 Meetings of Family of Parishes Northeastern #8 Below are the times and dates for various group meet- ings.
• First meeting July 15, 2022, 6 pm Queen of Martyrs, McAuley Hall. 4134 Cedar Ridge Rd, Dayton, OH 45414
• Finance will be meeting individually for the first time, and subsequent times will meet like the parish council
• Monday, July 13, 2022, 11 am Our Lady Grace Finance Council
• July 13, 2022, Queen of Martyrs Finance Council 5 pm
• Worship commission: All Commission members within the Family will meet at St. Augustine Parish 6939 Weaver Road, Germantown, OH 45327 July 19, 2022, 6 pm refreshments
6:30 meeting starts.
Please try to visit any of the parishes and churches with- in our Family 5NE 89
Have a wonderful week
By Fr. Francis Tandoh, CSSp

Fourteenth Sunday in Ordinary Time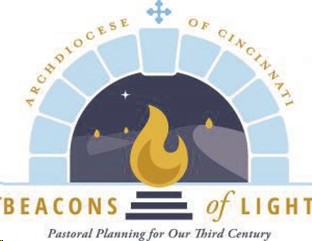 In Fall 2020: The Beacons of Light project was launched and announced. Archdiocese collected data from Parishes and schools. The Archdiocese established six principles of Beacons of light and designed the parish planning process (including vision points).
Spring 2021: Parish and school data were analyzed, and the Archdiocese assessed the reality on the ground
Summer 2021: Families of Parishes modeling was started by the Archdiocese, producing draft models for comment by the Archdiocese Parish Planning process (including vision points)
Winter 2021/2022: Families of Parishes were finalized and announced
Spring 2022: Pastors and Parish leaders began preparing for the parish planning process.
Summer 2022: We begin the implementation of Families of Parishes.

Starting July 1

, all Families of Parishes, including our own Family – St. Augustine, St. Benedict, Our Lady of Grace, and Queen of Martyrs begin their process of planning.

It doesn't mean parishes are closed. Every Parish continues as usual in its operations as all of us try to reach out to the other parishes within the Family
Plans for Family of Parishes Northeast #8



• That all Parishes in the Family remain Opened
• That mass times of parishes remain the same until otherwise announced.
• The staff of the various parishes within the Family may kiss across to work in each other's Parishes.
• That all current Parish Council members within the Family remain but will meet together as a Family until otherwise announced
• That current Worship Commission members remain but will meet together until otherwise announced. Below are the times and dates for various group meetings.
• First meeting July 15, 2022, 6 pm Queen of Martyrs, McAuley Hall. 4134 Cedar Ridge Rd, Dayton, OH 45414
• Finance will be meeting individually for the first time, and subsequent times will meet like the parish council
• Monday, July 13, 2022, 11 am Our Lady Grace Finance Council
• July 13, 2022, Queen of Martyrs Finance Council 5 pm
• Worship commission all Commission members within the Family at St. Augustine Parish 6939 Weaver Road, Germantown, OH 45327 July 19, 2022, 6 pm refreshments 6:30 meeting starts.
Please try to visit any of the parishes and churches within our Family (NE 8) Have a wonderful week.
By Fr. Francis Tandoh, CSSp

Thirteenth Sunday in Ordinary Time
      It is beautiful to observe a creative ritual at some weddings where the groom and bride come to the wedding ceremony, each holding a candle. At the ceremony they are asked to use their two candles and light a single candle. Afterwards, they blow off their candles to leave the single one burning. This creative rite is symbolic to show that they are no longer two but one. What is more, it is a sign of a break with past life, and embracing a new life, and a permanent decision to remain one.
     Similarly, Elijah called on Elisha to make a permanent decision. Elijah came upon Elisha, as he was ploughing the field with twelve yoke of oxen. Elijah went over to him and threw his cloak on him. Elisha immediately got the message.
     Throwing the cloak on Elisha meant that Elijah was passing over the mantle of authority upon him and calling him to take on a new responsibility to be a prophet. Elisha sought to go and say farewell to his father and mother. Without hesitation, Elisha accepted the new vocation by taking the yoke of oxen and slaughtered them and used the ploughing equipment to boil the flesh of the oxen and distributed it to the people to eat. In- deed, Elisha displayed a rare courage by not hesitating to break away from his past life and farming profession. He slaughtered the animals he used for farming and burnt the yoke of wood, which was his farming equipment. In doing so, he blocked the chances of reverting to farming in the near or distant future.
     Like Elisha, Jesus demonstrated a dogged determination in making a resolute decision to accept the road of the cross. "When the days for his being taken up were fulfilled, he resolutely determined to journey to Jerusalem." Even though Galilee was a more comfortable zone, Jesus decided to go to Jerusalem, a danger zone, where he would suffer grievously and die. There were several obstacles that were mounted to prevent Jesus from going to Jerusalem. These obstacles began even while he was an infant. First, there was an attempt to kill him by Herod soon after his birth (Matthew 2:13:16-18; Revelation 2:24). Second, before he set out for public ministry, Satan met him in the wilderness and attempted to make him be a sensational Gospel preacher by performing some cheap miracles instead of proclaiming the Good News of salvation (Matthew 4:1-11); third, one of his disciples made an attempt to stop Jesus from going to Jerusalem. When Jesus spoke to his disciples that the Son of Man must suffer, be rejected and killed, Peter took him aside to rebuke him and express his disapproval of the cross (Mark 8:31-32); More still, during his prayer in the garden of Gethsemane as the hour of the cross was fast approaching, Jesus naturally felt the urge to reject the cross, but his spirit was resolute to take up the cross. He prayed: "Father, if you are willing, take this cup from me; yet not my will, but yours be done" (Luke 22:42). Despite all odds and oppositions, Jesus resolutely went to Jerusalem to take up the cross.
     The road to Jerusalem is that which all Disciples of Christ must follow. We often wish to remain permanently in some comfort zones, but we are called to leave our comfort zones when we are entrusted with some responsibilities or tasks. Sometimes, the movement from our comfort zones to any area of discomfort depends on our free choice as in the case of Elisha and Jesus. We exercise this freedom by making responsible choices. Often, we are confronted with the choice of either departing from our old ways of life or clinging to it.
     The world is full of liberation movements and freedom fighters that use guns and bombs to fight for freedom. This is not the kind of freedom that Paul speaks about in his letter to the Galatians. The freedom that he proclaims is that which sets us free from the yoke of slavery to destructive habits and the freedom that enables us to serve one another through love; the freedom which the Apostle Paul proclaims is a life in the spirit that enables us to break free from the old, unredeemed, unrefined and raw self to embrace a new and transformed nature

(Galatians 5:16-18).
      We all long and wish to embrace a new and transformed life, but we are often caught in the traps of procrastination and hesitation when we are in a valley of decision. The Prophet Joel says,

"Thousands and thousands are waiting in the valley of decision"

(Joel 3:14)

. Jesus en- countered some three people who demonstrated three practical facts about decision-making. The first person made a decision out of his free will to follow Jesus, but Jesus simply told him

"Foxes have dens and the birds of the air have nests, but the Son of Man has nowhere to rest his head"

(Luke 9:58).

Jesus wanted him to be aware of the implication of his decision and to make him realize that discipleship is not a bed of roses.
Jesus personally invited the second person, saying, "Follow me." This person replied:

"Let me go first and bury my father. Jesus answered him, "

Let the dead bury the dead.
But you go and proclaim the kingdom." This is to say that the proclamation of the kingdom is an urgent duty that leaves no room for procrastination. Procrastination is another name for unnecessary delay. Procrastination kills time and self-motivation. It makes us delay that which we can do today to an unending tomorrow
The third person decided to follow Jesus but requested to go and say farewell to his family at home. Jesus responded:

"No one who sets his hand on to the plough and looks to what was left behind is fit for the kingdom of God"

(cf. Luke 9:57-62).

Jesus wanted this third person to understand that discipleship requires a firm decision for commitment and fidelity.
An English proverb says, time and tide wait for no one. When we are to make some hard and difficult decisions, we often say,

"I have no time today,"

or

"Not now."

The scriptures gently reminds us,

"Behold, now is the accepted time, now is the day of salvation"

(2 Corinthians 6:2).

"Today, if you hear his voice, harden not your hearts"

(Hebrews 3:15).
In making lasting decisions we need to take time to pray. The Book of Proverbs advises: "Trust in the Lord with all your heart and lean not on your understanding; in all your ways acknowledge him and he will direct your paths

(Proverbs 3:5-6).

In our moments of confusion, we could seek for wise counsel before making important decisions. We also need to put in efforts to make enough inquiries and seek for necessary information to help us make an 'informed-decision.' Lastly, when it is convenient, we could carefully examine the different options available before making a wise choice or decision

Pentecost Sunday

    The Most Holy Trinity celebrated Sunday after Pentecost is one of the sublime mysteries of the
Church.
It does not call from the obedient and faithful member of the Church arguments or rationalization but faith and submission to the teaching authority of the Church.
       Most often, people argue on terminologies and 'nomenclature and not on the reality. It is obvious that there exists only one true God

(Monotheism);

it is as well obvious that God manifested himself to humanity in the course of history as God the creator

(Father)

, God the Son (Word made flesh) and God the Holy Spirit. No one can teach three Gods

(polytheism)

but one God who has revealed Himself in three forms which is scripturally proved. Originally today is called Trinity Sunday.
       The solemnity of the Holy Trinity challenges humanity a lot in our living in this world, in our working places in our schools and everywhere we find ourselves as a group of humans. The Holy Trinity as a mystery was made a bit understandable to me when I met a man called Okechi who was A Catechist of a young parish and was also a teacher as well as a good footballer in the town Team and was popularly called Terres. Once I went out with him to a Diocesan ceremony, his colleagues were calling him Cate,

(short form of Catechist)

and all knew him and called him Catechist. As we stepped out to the cathedral gate, he met his students who were shouting teacher! Teacher! Teacher! And some catechists who did not know he was a teacher were surprised that he was not known and called Catechist by these students but called teacher. When we entered our town pack to pick a car, his fellow teammates started pouring accolades on him saying: Great footballer Terres. Then dawned on me that the same person I know too well is having three identities. It can be confusing and not understandable. Then I said Okechi is the same one person who is

"three persons"

in one man. Oh, I can see that One God is three persons.
       This is an imperfect representation of the issue. The Trinitarian doctrine makes us see perfect unity, perfect oneness, and perfect collaboration; we see perfect respect of personages, and division of labor in one accord not leaving each to do it alone at a time but actively behind its success by all the persons; lending support and cooperation. There is singleness of purpose and perfect achievement of goal and objective by all at the same time.
       Beloved, the readings put us in the serious thought of the mystery of what we celebrate today. The voice we heard in the first reading from the book of Proverbs claim not created but same existence with God; was together with him when the world was made and gave him support. That voice was giving power and reality to what God was doing. That voice speaking is in him and working with him. This gives us a thought about God's Spirit working in him from within his being

(Holy Spirit).

The words he pronounced that made all things was later made flesh and dwelt among us (Jesus Christ). It was full of power and emanating from Him. In the same vein St Paul admonishing the Roman Christians made them understand that they received their faith in God the Father through Jesus Christ who poured love of God the Father into their hearts through the Holy Spirit which has been given to them. St John followed in the same irrefutable doctrine by presenting Jesus Christ

(Second Person)

who as Word of the Father has a lot to give the people but reserved the fullness and completion of that mission to the Holy Spirit (Third Person) who is of truth and will glorify Him. This Holy Spirit would take his scheme of teaching from Jesus Christ who has everything in him gotten from the Father (First Person). What a sublime mystery beyond the human intellectual grasp and fathoming. It is in praise of this mystery that the Psalm speaks
of the greatness of God and his name through all the earth. The arrangements and creation of the things by God leave the psalmist in greater wonder. He is surprised about what great dignity God bestowed on man and subjected everything to his control even to the extent of making man a little less than himself. Man, indeed, is Trinitarian in nature: this is the greatness of God the psalmist praised.
      As we celebrate this solemnity, we are challenged to destroy all obstacles to unity, and the cooperative achievement of a single purpose. Remove obstacles to unity that creates chasm and broods' disunity. We must fight against things that promote lack of collaboration, situations and life that insult persons and degrade the dignity of others. Today in the world human beings that are made in Trinitarian spirit and nature behave as if we are enemies of each other raining insults and abuses on each other; killing each other violently as if man is an animal and things.
       Beloved, let us learn the lessons of the Most Blessed and adorable Trinity. Let us learn to live in perfect love, in due respect for each person around us, working with each other to achieve a common purpose of life for humanity. Let us learn to live in respect for God and feel the closeness of God in our life and appreciate that we are brothers of Jesus, carrying the Spirit of the Father who with Jesus our brother will inherit from God his Father.
        May we remain blessed as the people God has chosen as his own and cherish our life in the Trinitarian component of our lives, Amen.
Rev. Fr. Callistus Emenyonu, c
AUTOBIOGRAPHY
OF FR. FRANCIS TANDOH C.S.Sp.
I am Fr. Francis Tandoh. I was born to the parents of Mr. Andrew Tandoh & Mrs. Dorothy (Payne) Tandoh. I am the fourth child from a family of 12 children with ten surviving. I pursued my elementary and high school education in Kumasi, Ghana. I received my call to the priesthood at an early age. I attended St. Hubert's Seminary in Kumasi. I left the seminary to continue my Sixth Form (at a time high school was seven years in Ghana) education in T. I. Ahamadya Islamic School, in Kumasi. I entered the teaching career and taught in St. Benedict Middle School, Kumasi, Ghana, from 1981-83.
          I decided to join the Missionary and Religious Order of the Holy Spirit Congregation and entered into the Postulancy in 1983. I completed my Novitiate and started my philosophical studies in 1985, at the School of philosophy Insukka, Nigeria. I took some time off reflecting on my vocation to the priesthood. During this time, I taught Social Studies in St. Anthony Junior High School, in Kumasi Ghana. At the same time, I was engaged in a rural ministry for young adults.
          I went to continue my studies for the Priesthood and missionary life in the Spiritan International School of Theology, Enugu, Nigeria. I was ordained in the Star of the Sea Catholic Cathedral by the late Most Rev. Charles Kweku Sam on July 24, 1993, in Takoradi, Ghana, my home Diocese, after completing my theological studies.
           I hold a degree in Religious Education; master's in educational administration/Leadership. I hold a certificate in Pastoral Counseling; I am a certified Clinical Chaplain with CPSP. I suspended my candidacy as a student in licentiate/Doctoral degree with Marian Research Institute, University of Dayton, due to my parish workload, but I hope to take it up very soon. Before my ordination, I was the Publicity Officer for the Kumasi Diocesan Youth Council, Bursar Holy Ghost Pre-Novitiate, Ghana.
          In my Ministry as a Priest, I single-handedly founded a benevolent group called Spiritan Friends, who support the Spiritans and their ministries. I have served at Our Lady of Fatima Parish while in residence as Religion Teacher in St. Edward's Middle School, Bwiam the Gambia and St. Peters High School; Pastor Star of the Sea Parish, an affluent Parish of 1000 families; Pastor St. Charles Luanga Parish of about 2000 in Sunday mass attendance. Rector St. Peters Seminary, all in the Gambia.
          I was transferred here to the United States in 1996 to serve as the Mission Coordinator for the Holy Spirit Fathers, West Africa Province, now Ghana Province, a position that I still served until 2016. My main work was to write grants and preach
in Catholic Churches to creating awareness about the missions, especially in Africa in soliciting funds to support the church's activities in Africa, especially in training priest for the Spiritans coming from Ghana. To support myself I was employed to be the Religious Education Director in Resurrection Catholic School, now St. Benedict the Moor Catholic School, while still being the Parochial Vicar for St. James and Resurrection Parishes in Dayton Ohio until my appointment as the Pastor of St. James and Resurrection Parishes, in December 2000.
             In 2000 soon after my appointment, I led the parish community of 400 families through a church building campaign, Vision to Victory, which finally gave them a new church edifice, with a new parish, St. Benedict the Moor. The church holds 1050
people in the sanctuary and a hall which seats 600 people, I am the first pastor of this newly created parish. In that same year, I was appointed the Pastor of St. Augustine, Germantown and St. Mary, Camden with Fr. Joshua Otusafo as my Associate.
             In July 2009 in addition to the three Parishes, I was asked to be the Pastor of St. Mary's and Holy Family in Dayton. In 2010/2011, Holy Family Parish was closed to the English Congregation due to financial constraints. I still have all these three Parishes. St. Mary's Camden was given out to the Preble County Parishes in 2014.
          Recently in 2015, I led my parishes into accepting the only Catholic school in the West side of Dayton that was closing, reasons being poor Academic Standards and Financial Constraints. Today St. Benedict the Moor School is opened and thriving academically and raising good students for the future of our community and country. Advocacy has been my passion for the ministry. I believe the word becomes more meaningful when parishioners see it reflected in the community and their life. For
more than six years I was the Co-chairperson and Chairperson of Leaders of Equality of Action in Dayton (LEAD). LEAD is an interfaith Justice Group who work with City leaders and Congregations to hold the system and Politicians accountable to bring freedom and peace into the community. In my terms we were able to have victories with the RTA busing Board to be more inclusive, the City of Dayton to change its ordinance to be friendlier to Ex-Offenders (Bann the Box), City increasing the demolishing of dilapidated buildings and many more victories.
         As I celebrate this weekend the 25 years milestone today, it is my will to work together with all of you who are my flock to expand the missionary work of God with affection and love for the good of you, my parishioners, and the community that we serve. May the good Lord who has entrusted me with his flock help me with good health, courage and good directions that comes from the guidance of his spirit to bring it to a fruitful end.
Thank you for your support during all these years
GOD BLESS
catholicsmart.com/…/Pastor-Corner-Logo.jpg