Saturday 4:30 Pm Father Francis's Mass will be available live stream

click below
then click

"LIVE"
Sunday 10:00 Am Father Francis's Mass now available live stream click below
then click

"LIVE"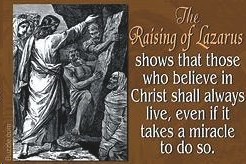 Even though today's gospel reading is the account of the resurrection of Lazarus, I am choosing to take the gospel reading of the last three weeks into account. The story of the Samaritan woman, the blind born blind and the story of the resurrection of Lazarus have common themes that run through them. In these common themes, I would like to draw the practical implication for us today.
       1. The first common theme in each of these stories is the fact that there is the main characters of these stories come to recognize Jesus very gradually. Jesus is first thought of as an ordinary man, then a prophet, and finally the messiah. In the end, Jesus asks Martha the same question he asked the Samaritan woman and the blind man, "Do you believe?" And each of them says,
"Yes Lord, I believe."

For each of them that was a life-changing and a life- transforming moment. It was their experience of salvation! They experienced hope, love, and life as God lifted them out of their despair. My dear friends, we are here at this Eucharist and the same Jesus is here both in Word and Sacrament. The gospels today are posing the same question to us:

"Do you believe this?"

This Eucharist is our chance to make our confession. This Eucharist is our chance to experience God's love, hope and life. This can be our salvation experience! Let us allow Jesus save us.
       2. The second common trend in each of these stories is that there are challenges to the profession of the Samaritan woman, the blind man and Martha. The Samaritan woman had to face her past. She had to overcome her insecurities, her sinful life, her pretensions, and her self- sufficiency in order to confess Jesus. Her demons were within her. The blind man, on the other hand, faced obstacles from the outside. The Pharisees grilled him numerous times about the healing. He was insulted, called names and even thrown out of the synagogue because he defended Jesus and the miracle. But it was Martha who faced the greatest obstacle death. I think that the Gospel readings are saying to us that nothing – not our inner demons, not outside opposition, not even death can come between God and us. Jesus is presented as the hope of the entire human race. Jesus is our healing, Jesus is our peace, Jesus is our reconciliation, Jesus is our life, Jesus is our resurrection. Jesus eliminated the most hopeless words from the dictionary – death and despair. For those who believe, there is only life and hope.
      3. The third common theme is the interaction between Jesus and the characters involved. Jesus offered to the Samaritan woman
"living water."

In Jesus God intervened to save her. Jesus healed the blind man. In Jesus God intervened to save him. At the tomb of Lazarus, Jesus wept. Imagine that! Jesus wept. That is the entire incarnation story. Each of us like the Samaritan woman, like the blind man, like Martha has a story. Some of it is good, some of it is sad; some of it is sinful, some of it is holy; some of it is tragic, some of it is heroic; some of it is shameful, some of it is heroic. Jesus embraces it all. In that weeping at the tomb of Lazarus God tells us how much he loves us. We see God's weeping most of all on the cross. The Cross is God's tears. The cross is God's tears for our sins, for our selfishness, for our death. And having nailed our sin and shame and death itself to the cross, he invites us into his own eternal life. Just like Lazarus is brought to life at the tomb, we are brought to life at the cross. And that is our hope.
      This Eucharist captures the entire depth of these three events. Here Jesus transforms our lives; here Jesus heals our soul of its blindness; and here Jesus offers us eternal life. May we come to Jesus like each of these three people in total surrender and in total trust. Amen.
Fr. Satish Joseph

      Today, in the gospel reading we have one of those many passages in scripture that makes faith really what it is all about the mercy and love of God. The story of the Samaritan woman is one of the most powerful stories of God entering into the lives of individuals and transforming them and the meaning of their lives.
       1. To think Big. The Samaritan woman reminds me of me. I think of how she came to the well with a jar. A well is bottomless pit of water. A well never runs dry. A well is refreshed by an ever-flowing spring. A jar on the other hand can hold only so much water. Sooner or later, it empties out and the water gets stale. The story of the Samaritan woman is about God who is like a well and we who come to God with our little jars. And we hold on to the jar as if it is the well. This is exactly what happens in today's first reading. When the Israelites got thirsty in the desert, they lost sight of what God had done in the past and where God was leading them into the future. They forgot that God was the well that could quench every thirst. Sometimes we make God as small as the jar they hold. God is about so much more offers us so much more. God is the very font of love. God's name is mercy. God does not just fill our little jars but rather God opens a spring within us. This is exactly what Paul means when he says in today's second reading that,
"the love of God has been poured out into our hearts."

Today, let us drop our jars; let us allow Christ to pour God's love into our hearts.
      2. Faith – an encounter with Christ. What does faith mean for us today? When Jesus spoke faith to the Samaritan woman, she began to engage him intellectually. She talked about who drew from which well and who worshipped on which mountain. For her, all these things were important until she encountered Christ. Once she met Christ, every other thing moved to the periphery. So, here is my question again. What does faith and religion mean for you? Is it a set of doctrines? Is it about intellectual ideas? Ts it about laws and sacramental obligations? It is a way to somehow get to heaven? Is it about saying prayers? Is it a way to get through life? I am not saying that all these things do not have a role in faith and religion, but faith and religion first and foremost is about standing face to face with Christ. When faith and religion is about what we can get out of it, then we are like the Samaritan woman who came to the well with jar. At some point of our lives and let Christ touch us at the very core of our being. Until this happens, faith is
'something.'

Once we stand face to face with Christ, then faith is

'somebody.'

Once we meet Christ, the sacraments are not something we do but somebody we meet. Once we meet Christ, scripture is not a book but it is God speaking with us.
      3. New Evangelization. These days there is a lot of emphasis on new evangelization. I love this passage for helping us understand what evangelization is all about. For very long, by evangelization was meant getting other people to accept Christ. Sometimes, it was done by compulsion. Even today, for many people evangelization is about getting other people to agree to my point of view. But evangelization is not a contest. Evangelization is to act out the love and mercy of God. The Samaritan woman teaches us that Evangelization is letting others know our experience of God's love and mercy. The Samaritan woman merely said,
"Come and meet this man who told me everything I have done."

She did not compel anyone, argue with anyone, tell them why she was right and they were wrong or try to give them some doctrine. She merely told them her story and introduced them to Christ. The gospel does not tell us what happened after that. It is not for us to determine the outcome. That is between Christ and the people we introduce to Christ. Our responsibility is to tell our story.
Fr. Satish Joseph

WITH GOD THERE IS ALWAYS A DIALOGUE OF THE HEART
       The Vatican released Pope Francis' Message for Lent 2020, in which the Holy Father invites the faithful to embrace the paschal mystery as the basis for conversion.
        In his Message for Lent 2020, Pope Francis points to the paschal mystery – the mystery of Jesus' Passion, Death, and Resurrection – as the basis of conversion. The Message bears the title
"We implore you on behalf of Christ: be reconciled to God"

, a quote from St Paul's Second Letter to the Corinthians.
An invitation to a relationship with God
"This fundamental proclamation of the Gospel message sums up the mystery of a love 'so real, so true, so concrete, that it invites us to a relationship of openness and fruitful dialogue",

the Pope writes.

"Whoever believes this message rejects the lie that our life is ours to do as we will".

Pope Francis says that during this season of Lent, he wants to invite the faithful to fix their eyes on the crucified Lord, and allow ourselves

"to be saved over and over again"

. 

"Jesus' Pasch is not a past event; rather, through the power of the Holy Spirit it is ever present, enabling us to see and touch with faith the flesh of Christ in those who suffer".
The importance of prayer
      The Holy Father emphasizes the importance of prayer during Lent, as a means of responding to God's love,
"which always precedes and sustains us"

. We are also called to hear and respond to the Word of Jesus, in order to experience

"the mercy He freely gives us"

.
God is always engaged in a

"dialogue of salvation with us"

, despite our weaknesses and failings, the Pope says. This desire to save us "led the Father to burden His Son with the weight of our sins, thus, in the expression of Pope Benedict XVI, 'turning of God against Himself'.
A commitment to building a better world
"Putting the paschal mystery at the center of our lives means feeling compassion towards the wounds of the crucified Christ present in the many innocent victims of wars, in attacks on life, from that of the unborn to that of the elderly, and various forms of violence".

This means being personally committed to and involved in

"the building of a better world"

, the Pope says. In commending charitable giving, the Pope notes the meeting he has convened for the end of march

"with young economists, entrepreneurs and change-makers, with the aim of shaping a more just and inclusive economy".
      Pope Francis concludes his message with a prayer to the Blessed Virgin Mary "that our Lenten celebration will open our hearts to hear God's call to be reconciled to Himself, to fix our gaze upon the paschal mystery, and to be converted to an open and sincere dialogue with Him
      
      In these Sundays of Ordinary Time coming after Christmas Time, we can hear so clearly the radical call of following the Lord Jesus Christ. Being a nice person is not what the Gospel is about. The Gospel is about following the Lord Jesus, becoming His disciple, spending our lives in serving Him and allowing ourselves to be formed by Him. Perhaps none of us wants to be a fanatic. On the other hand, it is clear that Jesus invites us to follow Him in a very radical kind of way.
       Today's first reading from the Book of Leviticus invites us to be holy as God is holy. An invitation from the Lord probably needs to be taken seriously. We humans often take our time responding to God, even when we have the best of will. A few saints seem to respond completely and immediately to the Lord. Most of us say yes to God and then take our time giving our whole self. We give in bit by bit. Perhaps that is why Jesus in today's Gospel presents His teaching so starkly. He does not want us to misunderstand what it means to follow Him. We must be willing to give up everything.
       We are called to be holy and called to be perfect. These are terms that can cause all kinds of scrupulosity and rigidness in some people, so we must make sure that we understand these words. Holiness is simply living for God in every aspect of our lives. Perfection is not in doing everything perfectly, but in loving others in God as we love God Himself. We shall never be without our imperfections at the level of doing, but in the level of loving, the more we let God's love go through us to others, the more wonderful it is.
        We are called to live as temples of the Lord, The First Letter to the Corinthians, from which we get today's second reading, is really clear that all that is good in us comes from the Lord. If we are to be wise, it can only be as God is wise. If we are to boast, it can only be about what God has done in us, in others and in our world.
       Let us give thanks to God today that we have been given the gift of faith. Let us ask that our faith may be lively and draw us deeper and deeper into the mysteries of God. Let us become radical in our living and gentle in our loving.
     
AUTOBIOGRAPHY




OF FR. FRANCIS TANDOH C.S.Sp.
         I am Fr. Francis Tandoh. I was born to the parents of Mr. Andrew Tandoh & Mrs. Dorothy (Payne) Tandoh. I am the fourth child from a family of 12 children with ten surviving. I pursued my elementary and high school education in Kumasi, Ghana. I received my call to the priesthood at an early age. I attended St. Hubert's Seminary in Kumasi. I left the seminary to continue my Sixth Form (at a time high school was seven years in Ghana) education in T. I. Ahamadya Islamic School, in Kumasi. I entered the teaching career and taught in St. Benedict Middle School, Kumasi, Ghana, from 1981-83.
          I decided to join the Missionary and Religious Order of the Holy Spirit Congregation and entered into the Postulancy in 1983. I completed my Novitiate and started my philosophical studies in 1985, at the School of philosophy Insukka, Nigeria. I took some time off reflecting on my vocation to the priesthood. During this time, I taught Social Studies in St. Anthony Junior High School, in Kumasi Ghana. At the same time, I was engaged in a rural ministry for young adults.
          I went to continue my studies for the Priesthood and missionary life in the Spiritan International School of Theology, Enugu, Nigeria. I was ordained in the Star of the Sea Catholic Cathedral by the late Most Rev. Charles Kweku Sam on July 24, 1993, in Takoradi, Ghana, my home Diocese, after completing my theological studies.
           I hold a degree in Religious Education; master's in educational administration/Leadership. I hold a certificate in Pastoral Counseling; I am a certified Clinical Chaplain with CPSP. I suspended my candidacy as a student in licentiate/Doctoral degree with Marian Research Institute, University of Dayton, due to my parish workload, but I hope to take it up very soon. Before my ordination, I was the Publicity Officer for the Kumasi Diocesan Youth Council; Bursar Holy Ghost Pre-Novitiate, Ghana.
          In my Ministry as a Priest, I single-handedly founded a benevolent group called Spiritan Friends, who support the Spiritans and their ministries. I have served at Our Lady of Fatima Parish while in residence as Religion Teacher in St. Edward's Middle School, Bwiam the Gambia and St. Peters High School; Pastor Star of the Sea Parish, an affluent Parish of 1000 families; Pastor St. Charles Luanga Parish of about 2000 in Sunday mass attendance. Rector St. Peters Seminary, all in the Gambia.
          I was transferred here to the United States in 1996 to serve as the Mission Coordinator for the Holy Spirit Fathers, West Africa Province, now Ghana Province, a position that I still served until 2016. My main work was to write grants and preach
in Catholic Churches to creating awareness about the missions, especially in Africa in soliciting funds to support the church's activities in Africa, especially in training priest for the Spiritans coming from Ghana. To support myself I was employed to be the Religious Education Director in Resurrection Catholic School, now St. Benedict the Moor Catholic School, while still being the Parochial Vicar for St. James and Resurrection Parishes in Dayton Ohio until my appointment as the Pastor of St. James and Resurrection Parishes, in December 2000.
             In 2000 soon after my appointment, I led the parish community of 400 families through a church building campaign, Vision to Victory, which finally gave them a new church edifice, with a new parish, St. Benedict the Moor. The church holds 1050
people in the sanctuary and a hall which seats 600 people, I am the first pastor of this newly created parish. In that same year, I was appointed the Pastor of St. Augustine, Germantown and St. Mary, Camden with Fr. Joshua Otusafo as my Associate.
             In July 2009 in addition to the three Parishes, I was asked to be the Pastor of St. Mary's and Holy Family in Dayton. In 2010/2011, Holy Family Parish was closed to the English Congregation due to financial constraints. I still have all these three Parishes. St. Mary's Camden was given out to the Preble County Parishes in 2014.
          Recently in 2015, I led my parishes into accepting the only Catholic school in the West side of Dayton that was closing, reasons being poor Academic Standards and Financial Constraints. Today St. Benedict the Moor School is opened and thriving academically and raising good students for the future of our community and country. Advocacy has been my passion for the ministry. I believe the word becomes more meaningful when parishioners see it reflected in the community and their life. For
more than six years I was the Co-chairperson and Chairperson of Leaders of Equality of Action in Dayton (LEAD). LEAD is an interfaith Justice Group who work with City leaders and Congregations to hold the system and Politicians accountable to bring freedom and peace into the community. In my terms we were able to have victories with the RTA busing Board to be more inclusive, the City of Dayton to change its ordinance to be friendlier to Ex-Offenders (Bann the Box), City increasing the demolishing of dilapidated buildings and many more victories.
         As I celebrate this weekend the 25 years milestone today, it is my will to work together with all of you who are my flock to expand the missionary work of God with affection and love for the good of you, my parishioners, and the community that we serve. May the good Lord who has entrusted me with his flock help me with good health, courage and good directions that comes from the guidance of his spirit to bring it to a fruitful end.
Thank you for your support during all these years
GOD BLESS