ST. AUGUSTINE PARISH NEWS
Mission Cooperative Plan
      We welcome Fr. Jim Meade, who is here

Sunday October 9th

sharing his experiences with us about the Diocese of Mandeville in Jamaica. Read more from the bulletin insert. Please be generous as usual.
Thank you.
ST. AUGUSTINE PARISH NEWS
Thank You
A big thank you to Sam and Renee Raisch for the beautiful job they did at the rectory. They weed and trim the plants and the beautiful shrubs.
ST. AUGUSTINE PARISH NEWS

SYNOD LISTENING SESSIONS SUMMARY REPORT
In January and February 2022, we conducted numerous meetings in support of the synod process. These meetings were held in every deanery across the archdiocese as well as by several prayer groups, religious orders, and universities. There were many ideas and thoughts expressed in the meetings, and this report, which has been submitted to the United States Conference of Catholic Bishops (USCCB), is a synthesis of these. To read the report go to: http://www.catholicaoc.org/synod
ST. AUGUSTINE PARISH NEWS
Our very own Deacon Ken is featured in today's (May 1st) Daily Divina! Happy St. Joseph's Day everyone!
The Catholic Telegraph <CTeditorial@catholicaoc.org>
Date: Sun, May 1, 2022, at 5:00 AM
Subject: Your Daily Divina for May 1st
Your daily scripture meditation brought to you by The Catholic Telegraph
ST. AUGUSTINE PARISH NEWS
 

Pray for our sick and Shut-Ins
Mae Wilkinson, Kenneth Bronston, Jessie Campbell Helen Spanish, Pat bell, Betty Jones, Susie Roberts, Angela Matins, Nancy Green, Mary Dudley, Priscilla Moon, Annena Young, Keno Hampton, Sherman Mosley, Juanita Newell, Rita Ellicott, Renee' Raisch, Don Hoog and Ray Metzger.
ST. AUGUSTINE PARISH NEWS
Sacristans Needed
Is anyone interested in becoming a Sacristan? Please contact Sylvia Hess or Fran Delegato. Thank you!
ST. AUGUSTINE PARISH NEWS
Learn more at

http://www.CatholicAOC.org/Synod. Want to participate? On the website you will find an opportunity to sign up for one of our local meetings near you. We hope to see you there! And, if you know someone who has left the faith, please invite them to participate too!
 If you would prefer to chat by phone, I can be reached at 937-657-5407.  http://www.catholicaoc.org/synod.
ST. AUGUSTINE PARISH NEWS
We are going to start collecting plastic for a second bench for the Marian Garden. Please bring the plastic to church and give it to Marie or Randy Klotz. Acceptable plastic are grocery bags, case over wrap, dry cleaning bags, newspaper sleeves, ice bags, salt bags, product wrap, retail bags, air pillow cushions, bubble wrap, plastic shipping envelopes, and cereal box liners. Bread bags, ziploc bags, and produce bags are acceptable as long as they are clean and dry.
Thank you.
Randy Klotz
ST. AUGUSTINE PARISH NEWS
New Family of Parishes
NE-8 (2 priests)
• St. Augustine, Germantown
• Queen of Martyrs, Dayton
• Our Lady of Grace, Dayton
• St. Benedict the Moor, Dayton
For a complete list of Family of Parishes go to
ST. AUGUSTINE PARISH NEWS
St Augustine Catholic Church Annual Report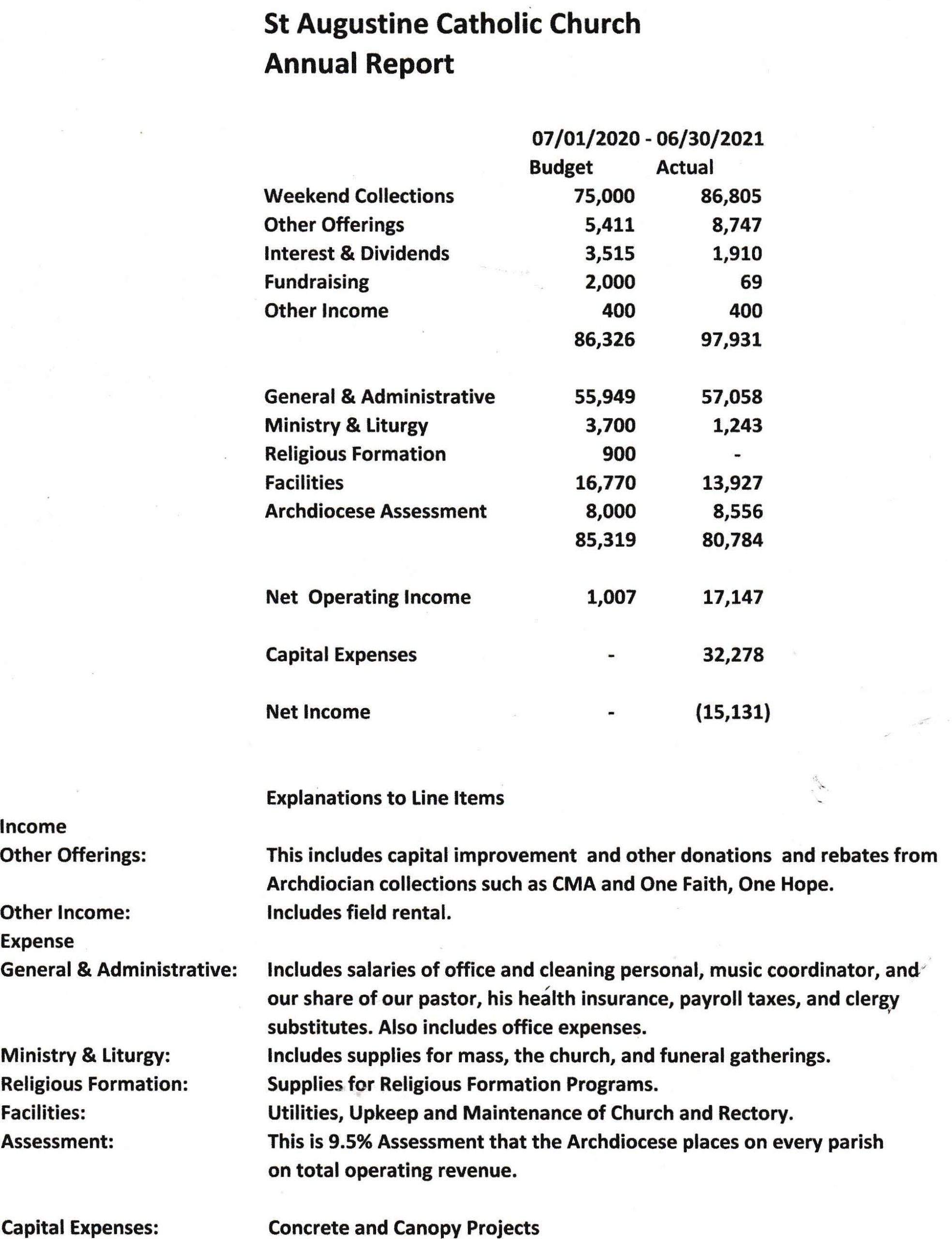 St Augustine Catholic Church Annual Report
ST. AUGUSTINE PARISH NEWS
ST. AUGUSTINE SVDP REPORT
 The St. Vincent De Paul St. Augustine Conference provided help to 5 families during the 3rd quarter of 2021. Donations supported these families in the following ways:
• $300 for Rent
• $430 for Utilities
Parish donations along with donations from the Germantown Lions, Senior Citizens Center, and Kroger Community Rewards Program has allowed this conference to continue our mission of assisting neighbors in need. Many thanks for your continued monetary support and prayers to help the St. Vincent De Paul Society help others in our Germantown/Farmersville/New Lebanon community.
If anyone who is not participating in the Kroger Community Rewards program is interested in signing up, please contact Barb Maichle for additional information.
Saint of the Week 
October 2nd
St. Francis of Assisi 1182 – 1226
Feast Day October 4
Patron Saint of animals, ecology & merchants. Co-patron of Italy

A merchant's son of eccentric sensibilities goes radical
        Though originally baptized by his mother as Giovanni (John) in honor of Saint John the Baptist, today's saint was renamed Francesco, or "Frenchy," by his father Pietro de Bernardone after Pietro returned home from trading in France. Pietro loved France, and his son's romantic, troubadour spirit likely flowed from that same cultural source. Francesco grew up in a middle-class home that engaged in the sale of fine cloth. Francis was a skilled merchant in the family business, but he enjoyed spending money more than earning it. He was a man about town, a leader among his friends, and well liked for his concern for others. He was also a failed knight. When he was twenty, Francis joined a civic-minded Assisi militia in a battle against a neighboring city. When the militia was routed, Francis was spared death and instead held for ransom due to his fine livery. He was held prisoner in a rank dungeon for a year before the ransom was paid. He returned to Assisi a more reflective man. Subsequent military service for the Papal States ended abruptly when Francis heard a voice tell him, "Follow the master rather than the man." He sold his expensive armor and horse, returned home, and began to spend hours in prayer.
        Shortly after this turning point, Francis met a leper on the outskirts of Assisi. He initially recoiled, but then dismounted, gave the man some money, and kissed his putrid hand. This was the start of his frequent visits to leper houses and hospitals. When Francis heard a voice from the cross say to him, "Francis, go and repair my church, which as you can see is in ruins," he sold a large amount of cloth and his father's horse at a neighboring market town. Coming back to Assisi, he donated the proceeds to a priest at the church of San Damiano on the outskirts of Assisi. Francis' father was irate. His son had sold cloth from the family store, and a horse, and had then given away money that was not his. This was stealing, and Francis was put in prison. A dramatic scene then unfolds between Francis and his father in a church square, in the presence of Bishop Guido of Assisi and his court. Pietro demands the return of his money. The Bishop supports him and says the Church cannot accept stolen money. Francis returns the coins. But then Francis goes further. Piece by piece, he removes his clothing until he is naked before everyone's eyes. He then says, "From now on I will not say 'My Father, Pietro Bernardone' but 'Our Father, who art in heaven.'" There is not a single reference in any contemporary Franciscan document to Pietro after this dramatic incident. Francis was now cut off, disinherited, and on his own.
       Francis eventually begins to wear a rough smock which he ties around his waist with a cord. He lives alone in absolute poverty, prays, helps the sick, rebuilds nearby run-down chapels, and preaches and begs in Assisi. Men begin to follow his lead, and the first fire of the worldwide Franciscan order ignites. The "Lesser Brothers of Assisi" is recognized by the Pope, Francis is ordained a deacon, and the Order's explosive growth can only be called miraculous. Saint Francis is the first great founder of a religious order since Saint Benedict in the 500s. By sheer allure of personality, holiness, and vision, not intellect or organizational skill, he imparted a mysteriously powerful charism to his followers. He was ardent in his love for the Holy Eucharist and insisted that churches be well kept in honor of the Lord's physical presence. Francis died in his forty-fourth year and was canonized just two years later, in 1228. Saint Francis may be the most well-known person of the second millennium. A measure of his massive impact can be gauged by observing that it is not uncommon for Saint Francis to be seen as the ideal of Christian virtue and poverty, even over and above the religion's very founder.
      Saint Francis of Assisi, you held the Holy Eucharist in such holy reverence you dared not be ordained a priest. Your love of the Word of God complimented your love of His creation. Help all Christians to have your same balance of love for God, the Sacraments, and all God's creation.
Saint of the Week 
September 18th
St. Pio of Pietrelcina (Padre Pio), Priest 1887- 1968
Feast Day September 23
Patron Saint of civil defense volunteers and adolescents
A humble friar's love for Christ burns holes through the palms of his hands
     Long-married spouses often develop similar patterns of speech. A boy might learn to walk just like his father, and a girl might favor the same hairstyle as her mom. Teenagers in the same cliques dress alike and cut their hair in a similar fashion. It is natural to adopt the traits of the one you love, to mimic their behavior, dress, speech, and habits, consciously or unconsciously. Lover and beloved converge, master and disciple unite, leader and follower bond. Today's saint did not have a reference group apart from Christ Himself. Jesus Christ inhabited every corner of the mind, soul, and imagination of Saint Pio of Pietrelcina. Pio's life fused with Christ's so totally that Pio's very body bore the marks of his beloved. Not the same haircut, clothes, or gait, but the same nail marks and bloody wounds. Father Pio merged with Christ such that to look upon the friar's hands was to see the crucified palms of the Son of God on Calvary.
     Padre Pio grew up dirt poor and uneducated in a village near Naples, Italy, in 1887. Neither his parents nor his grandparents could read or write. He was baptized as Francesco and helped on the family's small plot of land as a boy. The family was deeply religious, in the good, medieval way that perdured in rural, southern Europe far longer than it did in northern lands. Saints, feast days, devotions, processions, fasts, the Mass, angels, saints, the Virgin, and God saturated the atmosphere of Pietrelcina. Little Francesco and his family breathed Catholic air. It entered their bloodstream, circulated in their veins, and oozed out of every corpuscle. When he was about ten years old, Francesco decided to dedicate his life to God as a Franciscan friar. After completing some schooling and being privately tutored, he entered a nearby Franciscan friary at age fifteen. He took the name Pio (Pius) in honor of a saint honored in his hometown. He was ordained a priest in 1910.
        Padre Pio lived virtually his entire priestly life at a modest Franciscan friary in the rural town of San Giovanni Rotondo. Beginning in 1918 he began to experience the stigmata, or marks of the sufferings of Christ. He bled where Christ bled. Holes perforated his hands. He had sharp pains in his side. He also began to display supernatural gifts: bilocation, prophecy, miracles, and healings. His personal routine of prayer and mortification was itself stupefying. He did not want his private passion to play out in public, but it did. He became famous in Italy for being holy. Then he became widely known the world over. By the time of his death in 1968, Padre Pio was a bona fide Catholic superstar.
       Padre Pio had mystique. That mystique was not rooted in good looks, a chateau on the Côte d'Azur, or in movie roles. It was how he said Mass. People flocked to witness Padre Pio say long, intense, devotional Masses. In the modern world, sin has mystique. It's cool, retrograde, impulsive, and "edgy." A life of sin and vice is seen as more authentic than a life of goodness and virtue, because the sinner does not hide his real self behind a social curtain. Padre Pio hid nothing. He was totally authentic, totally sincere, and totally holy. His life was a rebuke of sin. He did not fake "share" others' burdens by joining them in sin. He entered into the real drama of life by embodying Christ. A true Christian is authentic when he separates himself and his friends from sin, when he creates the mystique of Christ around him, and, like Christ, draws all men to himself.
     Saint Pio, your intense love of God was communicated to the faithful in your celebration of Mass, your wise counsel in the confessional, and in your mystical experiences. What was so manifest in you was rare but lies latent in every priest. Help every priest to be an icon of Christ.
Saint of the Week 
September 11th
Saint Hildegard of Bingen, Virgin and Doctor 1098–1179
Feast Day September 17
Patroness of philologists
A one-woman magisterium orchestrates a life in tune with the Creator
      In the High Middle Ages, she was New Age. Before farm-to-table was a term, she lived organically. Before alternative medicine was de rigueur, she catalogued the medicinal benefits of herbs, plants, minerals, and potions. And before anyone ever

"went green"

to save planet earth, she talked about the

"viriditas,"

or greenness, of God, meaning how His graces watered a desiccated soul until it flowered with fresh, green life. Hildegard of Bingen was far, far ahead of her time, even though, from an external perspective, she lived the austere, rigorous, cloistered life common to the female religious of her era.
       Hildegard was born in the Rhineland, the very western region of modern Germany, to a minor noble family. Her mother and father placed her in the care of a well-known local abbess for her education at the tender age of eight, where she learned Latin and the teachings of the Catholic religion. Her world deepened and broadened inside the four walls of her simple Benedictine convent. When her mentor died, Hildegard became the abbess and soon moved the convent-generating some tension in the process—to a new location where it could better flourish as her fame attracted more and more notice and vocations.
        Hildegard was unusual for her time. She was unusual, in fact, for any time. She was a polymath with eclectic interests in numerous fields of study. She was a sophisticated and prolific composer of sacred music whose voluminous works surpass the output of almost any other Medieval musician. She had an advanced understanding of medicine and the human body, including an almost complete knowledge of how blood circulated in the body—four centuries before such knowledge was verified through post-mortem studies. Hildegard also had detailed knowledge of animal and plant life, of rocks, reptiles, fish, and the natural sciences in general.
      Yet, if she must be known for one thing above all, it must be for her pyrotechnic visions of God and the cosmos. Hildegard's colorful visions are difficult to classify. She described them as a wide-awake spiritual awareness of the "reflection of the living light." From childhood, she felt her entire body—bones, nerves, veins, senses—all rising ever higher into the vault of heaven, where she experienced all of creation in its particularity and in its oneness. These were not ecstasies or physical transportations but an eyes-wide-open, all-sensory experience of sermons, virtues, writings, and other human actions, as if they were shimmering like the sun on the mirror-like surface of a lake. The over-arching theme of these visions was the mystical marriage between God and His creation through the incarnation of Jesus Christ, a union consummated on the cross, where Christ makes His Bride, the Church, fertile for humanity.
      As Hildegard's writings became more well-known, the Pope was asked for his appreciation of their theological orthodoxy or heterodoxy. Pope Eugene III approved of Hildegard's description of her visions, with a prudent warning for Hildegard to avoid any pride in being so blessed. The great St. Bernard of Clairvaux, a famous contemporary of Hildegard, was also asked his opinions about her writings, and the two exchanged letters. In fact, many people, both humble and exalted, corresponded with Hildegard, leaving behind one of the most massive caches of extant letters from medieval times.
      In the last years of her life, despite worsening health, Hildegard's prestige was such that she was given permission to leave her convent in order to preach in town squares and churches, something almost unheard of for a woman of her era. She died in the odor of sanctity on

September 17, 1179

, the day on which her liturgical memorial is celebrated today. In the 2012 Papal Bull declaring her a Doctor of the Church, Pope Benedict XVI wrote that

"the corpus of her writings, for their quantity, quality and variety of interests

,

is unmatched by any other female author of the Middle Ages."
Saint Hildegard, your creative and versatile soul brought a feminine genius to the Church's theological and spiritual patrimony, using poetic and symbolic language to express the mysterious richness of God and His creation. Inspire all Christians to read creation like a book of div
     For More Saint of the Week
ST. AUGUSTINE PARISH NEWS
Beacons of Light Interview w/ Archbishop Schnurr
Archbishop Schnurr has recorded a new video – in interview format with Anna Mitchell of Sacred Heart Radio – discussing Beacons of Light. The video can be found here:
ST. AUGUSTINE PARISH NEWS
 Note on the Families of Parishes
(From: Denise Jasek) I thought this was a helpful video (less than 20 min) to watch with Archbishop Schnurr explaining beacons of light, in case you want to view and share with others.
Peace, Denise
ST. AUGUSTINE PARISH NEWS
The Bicentennial History of the Archdiocese of Cincinnati,
by Fr. David J. Endres
Books available at the website below
   ST. AUGUSTINE PARISH NEWS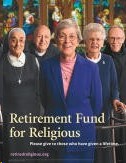 2020 RETIREMENT FUND FOR RELIGIOUS
Thanks for giving! "We are conscious of the great generosity of the many benefactors who support the Retirement Fund for Religious each year," says a Catholic sister. "Support from the fund has been a tremendous blessing to our retired sisters." Thank you for donating to last week's second collection.
ST. AUGUSTINE PARISH NEWS
Song used in Deacon Ken's Homily.
Song "I Then Shall Live"
https://www.youtube.com/watch?v=VNisXkfuo7k&list=RDMMVNisXkfuo7k&start_radio=1
     ST. AUGUSTINE PARISH NEWS
Attention
Attention parishioners of St. Augustine!!! ls there anyone who would be interested in joining the team of sacristans?? We will train you. If interested, please contact Fran Delegato or Sylvia Hess.
ST. AUGUSTINE PARISH NEWS
St. Augustine Catholic Church's Annual Report for the Fiscal Year 2019/2020 is now available Below.
St Benedict Bible study
You may access the St Benedict Bible study at 7:00pm on Wednesdays by keying in to https://meet.google.com/hpy-pmyp-fvt or dial 1 402-921-2290 PIN: 708 666 706#. Use 712 770 5362 access code 163036 to access for the Rosary at 11:00 am on Mo
ST. AUGUSTINE PARISH NEWS
Online Donations

You Can Now Donate Online to the St. Augustine Church.
Be Generous as God is Generous
Click Below to Donate
——————————————————————————————————————————————————-
ST. AUGUSTINE PARISH NEWS
Ministry Fair
If you were unable to attend the Ministry Fair and you are interested in joining one of our ministries, please contact the office 855-2289 and you will be directed to someone that can help you.
Sonshine in a Bag
ST. AUGUSTINE PARISH will participate and supports the FIRST CHURCH OF GOD with their "SONSHINE IN A BAG" food program. What is Sonshine in a Bag? The Sonshine in a Bag program provides bags of food for the weekend to students who qualify through a teacher/counselor/psychologist/staff referral. They refer students who they feel could benefit from receiving food from this program. Many of these children are on the free and reduced lunch program at school. For many of these children, the food they receive for lunch at school may be the only food they receive for the day. Ensuring that children have nutritious food available to meet their needs will help them to concentrate better during school, have less behavioral issues, and improve school attendance. The purpose of this program is to provide these students with nutritious food for the weekend. In return this will help the students be more successful in school and have a brighter future.
How Can I Help?
Donate By Check: Please make Checks to Germantown First Church of God and designate for Sonshine in a Bag. Checks can be mailed to Germantown First Church of God 760 Farmersville Pike Germantown, OH 45327
Donate Food Items: click below to see the list of needed items (please purchase items only on the list).
Donations will be accepted every Sunday after the 8:30 am Mass. For more information and the

"Sonshine in a Bag"
ST. AUGUSTINE PARISH NEWS
The Spirit of Sister Dorothy Stang Award
Sister Dorothy Stang from the Archdiocese of Cincinnati served as a missionary in Brazil and died as a martyr. The Spirit of Sister Dorothy Stang award is given in every parish to a parishioner or group who has modeled an extraordinary level of commitment to serving those in need either locally, nationally or around the world. Angie and Michael Valenti and Family are this year's award winner for St. Augustine. We appreciate all the work the Valenti Family does to support our parish and community. Congratulations to the Valenti's for this well deserved recognition!
ST. AUGUSTINE PARISH NEWS
SVDP REPORT
 If anyone who isn't participating in the Kroger Community Rewards program is interested in signing up, please contact Barb Maichle for additional information. Many thanks for your continued monetary support and prayers to help the St. Vincent De Paul society help others in our Germantown/Farmersville/New Lebanon community.
GREAT NEWS
Support St.Vincent dePaul When you Shop at Kroger
Help St. Augustine Conference/ St. Vincent dePaul earn dollars from Kroger fundraising program !!
1. Go to http://www.kroger.com/community rewards.

2. Sign into your online Kroger account (or create an account if you don't have one yet).
3. Click Kroger Community Rewards, search for "St.Augustine Church Germantown/St.Vincent dePaul" by name or by JP967, then click enroll. or call call 1-800-576-4377
4. Each time you use your registered Kroger Card, Kroger makes a donation to "St. Augustine Church Germantown/St.Vincent dePaul". Your fuel points or discounts will not be affected.
If any questions about the program see St. Augustine parishioner, Barb Maichle before or after Sunday Mass.
ST. AUGUSTINE PARISH NEWS
REGIONAL FUND-RAISING COMMITTEE
Fr. Francis is seeking a small committee to explore ideas and coordinate the execution of fund raisers to support church operations. Father is asking for two (2) representatives from each church to join the Team. Please Volunteer!! It will be a fun way to help our parishes! Everyone interested should see a Parish Council Member before leaving church today. You can also call your church office and leave a message.
THANK YOU!
OTHER AREA EVENTS
ST. AUGUSTINE PARISH NEWS
Father Jim Willig's Gospel teachings every Sunday on Sacred Heart Radio at 7:30 and 9:30 am. Sacred Heart Radio broadcasts in Greater Cincinnati on 740AM, Hamilton on 89.5FM, and Dayton on 910AM. Also listen anytime on Heart to Heart's website: http://www.heartoheart.org.
RELIGIOUS RETIREMENT FUND
Help cares for elders. "Thanks to support from the Retirement Fund for Religious, we are now in a much better position to care for our elders," writes a religious sister. Your donation helps her religious community and hundreds of others provide for aging members and plan for long-term needs. Please give to next week's Retirement Fund for Religious collection
ST. AUGUSTINE PARISH NEWS
FIRST COMMUNION & CONFIRMATION
If your child is ready for First Communion or Confirmation, please call the parish office and leave your name and phone number. Classes for the year have begun.
MEMBERSHIP IN OUR PARISHES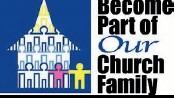 A "Hearty Welcome" to all new members. Please call the church offices 268-6697 (St. Benedict) or 855-2289 (St. Augustine) to register. Please notify the offices when moving or of any change in address. This will help us update our census information.
ST. AUGUSTINE PARISH NEWS
If you would like to become a Sacristan please contact Sylvia Hess or Fran Delegato!!
ST. VINCENT DE PAUL CONFERENCE
If you have some extra time and you would like to help the needy, the St. Vincent De Paul Conference at St. Augustine could always use some new members. If interested, please contact Sylvia M. Hess at the church office at 855-2289 or home at 855-6649 for further information.
`