ST. AUGUSTINE PARISH NEWS
Learn more at http://www.CatholicAOC.org/Synod. Want to participate? On the website you will find an opportunity to sign up for one of our local meetings near you. We hope to see you there! And, if you know someone who has left the faith, please invite them to participate too!
 A suggested ambo announcement is below.
Please forward the ambo announcement (below) to the pastors in the deanery. We will also send it to bulletin editors/communications directors. Also, there are some suggested social media posts (the Facebook one could also be a bulletin notice). The idea is to really push participation during
the increased attendance at Christmas. Please let me know if you have any questions, suggestions,
or revisions. If you would prefer to chat by phone, I can be reached at
937-657-5407.  http://www.catholicaoc.org/synod.
ST. AUGUSTINE PARISH NEWS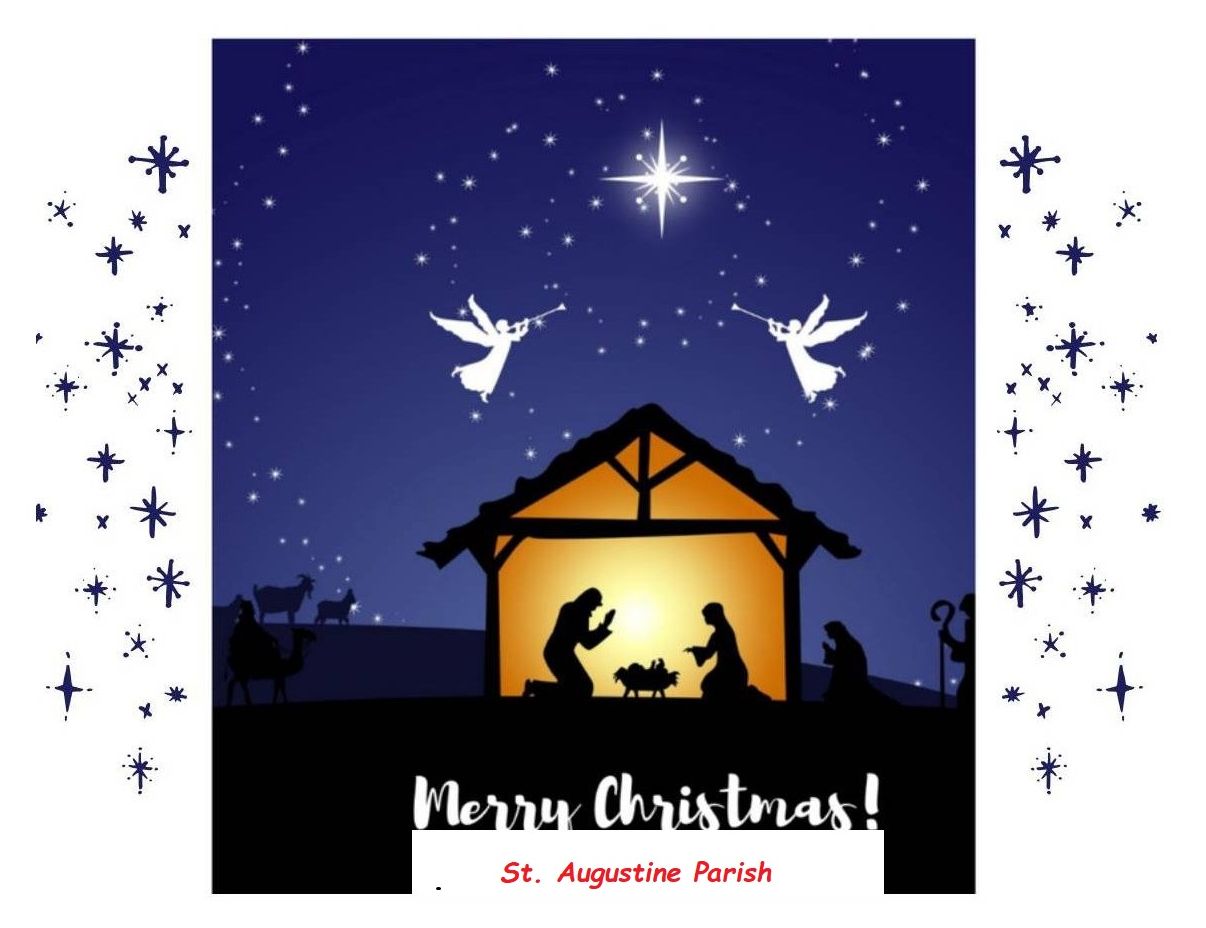 ST. AUGUSTINE PARISH NEWS
We are going to start collecting plastic for a second bench for the Marian Garden. Please bring the plastic to church and give it to Marie or Randy Klotz. 
Acceptable plastic are

:

grocery bags, case over wrap, dry cleaning bags, newspaper sleeves, ice bags, salt bags, product wrap, retail bags, air pillow cushions, bubble wrap, plastic shipping envelopes, and cereal box liners. Bread bags, ziploc bags, and produce bags are acceptable as long as they are clean and dry.
Thank you.
Randy Klotz
ST. AUGUSTINE PARISH NEWS
New Family of Parishes
NE-8 (2 priests)
• St. Augustine, Germantown
• Queen of Martyrs, Dayton
• Our Lady of Grace, Dayton
• St. Benedict the Moor, Dayton
For a complete list of

Family of Parishes
go to
ST. AUGUSTINE PARISH NEWS
St Augustine Catholic Church Annual Report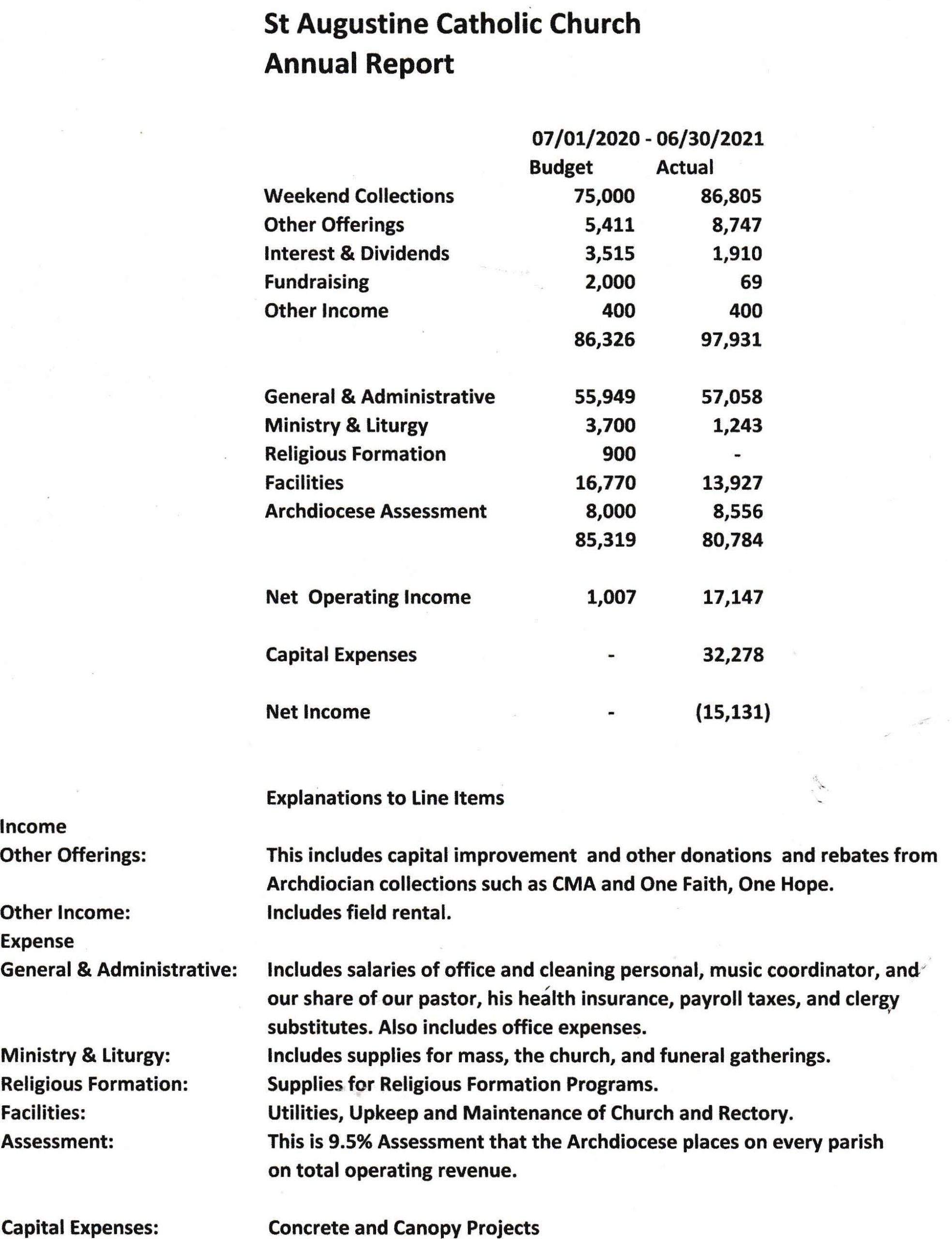 St Augustine Catholic Church Annual Report
ST. AUGUSTINE PARISH NEWS
ST. AUGUSTINE SVDP REPORT
The St. Vincent De Paul St. Augustine Conference provided help to 5 families during the 3rd quarter of 2021. Donations supported these families in the following ways:
• $300 for Rent
• $430 for Utilities
Parish donations along with donations from the Germantown Lions, Senior Citizens Center, and Kroger Community Rewards Program has allowed this conference to continue our mission of assisting neighbors in need. Many thanks for your continued monetary support and prayers to help the St. Vincent De Paul Society help others in our Germantown/Farmersville/New Lebanon community.
If anyone who is not participating in the Kroger Community Rewards program is interested in signing up, please contact Barb Maichle for additional information.
Saint of the Week 
January 11th.
ST. GREGORY OF NYSSA
FEAST DAY JANUARY 10
      St. Gregory of Nyssa

(c. 330-c. 395)

was a younger sibling in a family that gave the church many years of service and at least five saints. Before entering the monastery of his brother, Basil the Great, Gregory was a rhetorician. He may have been married, although some scholars believe that his treatise On Virginity argues against that.
      He became bishop of Nyssa

c 371 or 372.

Arians accused him of mismanagement and deposed him in

376.

On the death of the Arian, Valens, two years later, he was restored to his see. He attended the first Council of Constantinople in 381, after which he traveled in Transjordan (Arabia) to settle disputes in the churches. During a trip to Jerusalem, he was forced to defend his Christology, although he was then and is now well-known for his Trinitarian theology.
      In

394

, he attended a synod in Constantinople and is thought to have died shortly after that when mention of him in church records ceases. His best-known works are the Catechetical Oration, The Life of Moses, and the Life of St. Macrina (his sister)
      Gregory of Nyssa, also known as Gregory Nyssen (Greek: Γρηγόριος Νύσσης;

c.335 – c. 395

), was bishop of Nyssa, Cappadocia, from

372 to 376

and from 378 until his death. He is venerated as a saint in Roman Catholicism, Eastern Orthodoxy, Oriental Orthodoxy, Anglicanism, and Lutheranism. Gregory, his elder brother Basil of Caesarea, and their friend Gregory of Nazianzus are collectively known as the Cappadocian Fathers.
      Gregory lacked the administrative ability of his brother Basil or the contemporary influence of Gregory of Nazianzus, but he was an erudite theologian who made significant contributions to the doctrine of the Trinity and the Nicene Creed. Gregory's philosophical writings were influenced by Origen. Since the mid-twentieth century, there has been a significant increase in interest in Gregory's works from the academic community, particularly involving universal salvation, which has resulted in challenges to many
traditional interpretations of his theology.
Saint of the Week 
January 2nd.
ST. ELIZABETH ANN SETON
FEAST DAY JANUARY 4
       Elizabeth Ann Bayley Seton was the first native born American to be canonized by the Catholic Church. Born two years before the American Revolution, Elizabeth grew up in the upper class of New York society. She was a prolific reader, and read everything from the Bible to contemporary novels
      In spite of her high society background, Elizabeth's early life was quiet, simple, and often lonely. As she grew a little older, the Bible was to become her continual instruction, support and comfort – and she would continue to love the Scriptures for the rest of her life.
     Elizabeth's deep concern for the spiritual welfare of her family and friends eventually led her into the Catholic Church. Having lost her mother at an early age, Elizabeth felt great comfort in the idea that the Blessed Virgin was truly her mother. She asked the Blessed Virgin to guide her to the True Faith and officially joined the Catholic Church
     At the suggestion of the president of St. Mary's College in Baltimore, Maryland, Elizabeth started a school in that city. The school had originally been secular but once news of her entrance to Catholicism spread, several girls were removed from her school. It was then Seton, and two other young women who helped her in her work, began plans for a Sisterhood. They established the first free Catholic school in America. When the young community adopted their rule, they made provisions for Elizabeth to continue raising her children.
      On March 25, 1809, Elizabeth Seton pronounced her vows of poverty, chastity, and obedience, binding for one year. From that time, she was called Mother Seton. Although Mother Seton became afflicted with tuberculosis, she continued to guide her children. The Rule of the Sisterhood was formally ratified in 1812. It was based upon the Rule St. Vincent de Paul had written for his Daughters of Charity in France. By 1818, in addition to their first school, the sisters had established two orphanages and another school. Today, six groups of sisters can trace their origins to Mother Seton's initial foundation.
      Seton's favorite prayer was the 23rd Psalm and she developed a deep devotion to the Eucharist, Sacred Scripture, and the Virgin Mary. For the last three years of her life, Elizabeth felt that God was getting ready to call her, and this gave her great joy. Mother Seton died in 1821 at the age of 46, only sixteen years after becoming a Catholic. She was beatified by Pope John XXIII on March 17, 1963, and was canonized on September 14, 1975, by Pope Paul VI.
Saint of the Week 
December 26th.

ST. JOHN THE APOSTLE AND EVANGELIST
FEAST DAY DECEMBER 27
      St. John the Apostle, the son of Zebedee and Salome, was one of the Twelve Apostles of Jesus. John was called to be an Apostle by our Lord in the first year of His public ministry. He is considered the same person as John the Evangelist, John of Patmos and the Beloved Disciple. John's older brother was St. James the Great, another one of Jesus' Twelve Apostles. Jesus referred to the brothers as

"Boanerges,

" meaning

"sons of thunder."

John is believed to be the longest living apostle and the only not to die a
martyr's death.
       John, along with Peter and James, were the only witnesses of the raising of Daughter of Jairus, and the closest witnesses to the Agony in Gethsemane. John was the one who reported to Jesus they had
"'forbidden' a non-disciple from casting out demons in Jesus' name."

This prompted Jesus to state,

"he who is not against us is on our side."

John and Peter were the only two apostles sent by Jesus to make
preparations for the final Passover meal, the Last Supper. During the meal, St. John sat next to Jesus, leaning on him rather than lying along the couches.
      John is known as the author of the Gospel of John and four other books in the New Testament – the three Epistles of John and the Book of Revelation. The authorship of the Gospel is credited to the

"disciple

whom Jesus loved,"

and John 21:24 claims the Gospel of John is based on the

"Beloved Disciple's"

testimony. However, the true authorship has been debated on since 200. In his Eclesiastical History, Eusebius states the First Epistle of John, and the Gospel of John are agreed upon as John's. Eusebius continues to state the second and third epistles of John are not John the Apostle's.
For More Saint of the Week
ST. AUGUSTINE PARISH NEWS
Beacons of Light Interview w/ Archbishop Schnurr
Archbishop Schnurr has recorded a new video – in interview format with Anna Mitchell of Sacred Heart Radio – discussing Beacons of Light. The video can be found here:
ST. AUGUSTINE PARISH NEWS
 Note on the Families of Parishes
(From: Denise Jasek)

I thought this was a helpful video (less than 20 min) to watch with Archbishop Schnurr explaining beacons of light, in case you want to view and share with others.
Peace, Denise
ST. AUGUSTINE PARISH NEWS
The Bicentennial History of the Archdiocese of Cincinnati,
by Fr. David J. Endres
Books available at the website below
ST. AUGUSTINE PARISH NEWS
Graduates from St. Augustine Parish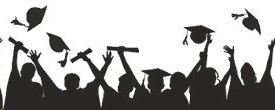 Congratulations to the following students from St. Augustine who recently graduated. We wish them well in their future endeavors and future studies.
Recent Graduates from St. Augustine Parish
Jacquelyn Adkins:

University of Toledo


Noah Devillez:

Miami University.



He is continuing his education at NKU
Aaron Adkins,

Valley View High School.



Aaron is the Valedictorian of his class and plans to attend The Ohio State University.
Anne Pheiffer, Valley View High School.
Anne is the Salutatorian of her class and plans to attend The Ohio State University.
Ansley Kozarec: Valley View High School
Farewell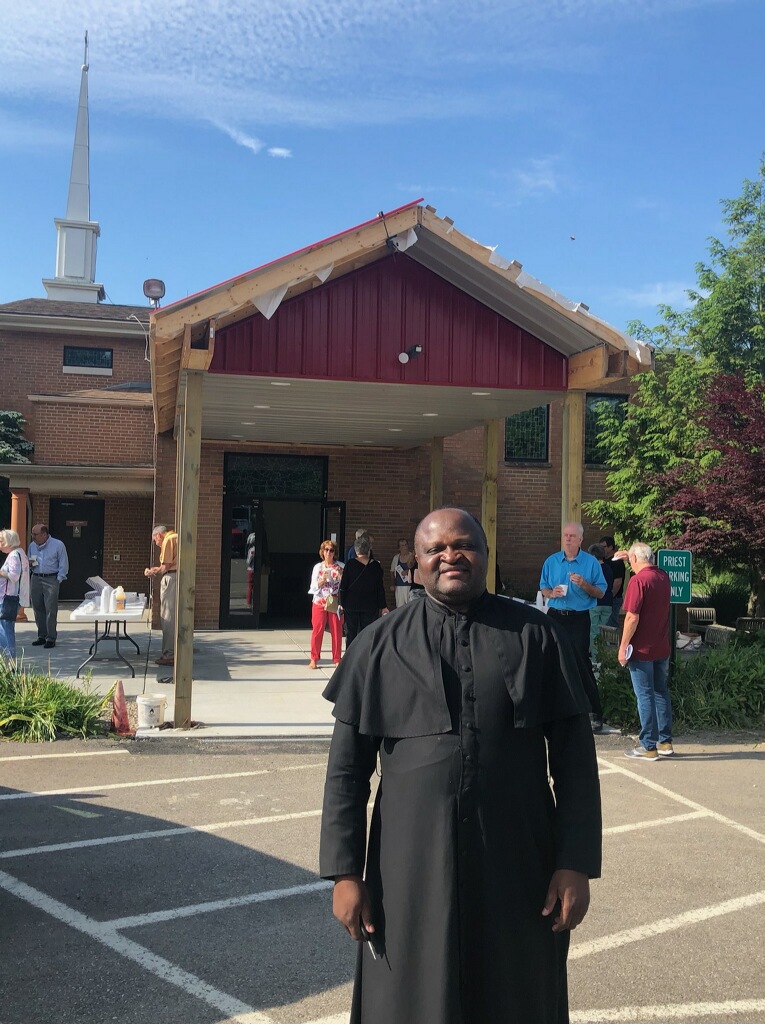 Farewell & Good Luck
Father Emmanual
June 6th 2021
Photo Provided by Julie North from Walling Photography
ST. AUGUSTINE PARISH NEWS
FROM THE ARCHDIOCESE WORSHIP TOGETHER SAFELY (COVID-19)
Updated June 1, 2021
     In light of improving circumstances, a reduction in infections, and more people being vaccinated, the Bishops of Ohio have restored the general obligation to attend Mass on Sunday and Holy Days effective June 5/6, 2021.
General Considerations Those who are ill, have significant health risk factors or care for someone who is compromised or ill, are not obligated to attend Mass in-person on Sunday and Holy Days as well as those who have significant fear or anxiety of contracting the coronavirus in a large group of people. These should observe the Lord's Day and are encouraged to spend time in prayer on Sunday, meditating on the Lord's passion, death and resurrection. An appropriate way to do this is through viewing a broadcast of Sunday Mass.
      NOTE: Mass that is broadcast through various media, including livestream, is not intended as an alternative nor does it fulfill the obligation for persons who are able to gather for a Sunday celebration and other Holy Days. They are intended for the sick, homebound, imprisoned etc. who are unable to attend Mass in person.
Specific Guidelines to be Observed (Effective June 2, 2021):
      Discreet use of hand sanitizer by ministers of Holy Communion should continue and hand sanitizer should be available at the doors of church if possible. No Holy Communion from the chalice by the faithful (wine); concelebrating priests should Communicate by intinction. It is recommended that at least one section of seating for at least one Sunday Mass continue to be reserved for social distancing; please adjust week to week based on the preference of the faithful and pastoral judgment.
Live-Stream Mass
To view our Mass via Livestream weekdays at 7:00am & Sunday at 11:00am, please go to the following link: 

https://venue.streamspot.com/5a36f117
ST. AUGUSTINE PARISH NEWS
Please keep Delores Broadstone a parishioner of St. Augustine in your prayers. Delores is convalescing in a nursing home in Vandalia after suffering a stroke.
ST. AUGUSTINE PARISH NEWS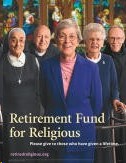 2020 RETIREMENT FUND FOR RELIGIOUS
Thanks for giving!

"We are conscious of the great generosity of the many benefactors who support the Retirement Fund for Religious each year,"

says a Catholic sister.

"Support from the fund has been a tremendous blessing to our retired sisters."

Thank you for donating to last week's second collection.
ST. AUGUSTINE PARISH NEWS
Song used in Deacon Ken's Homily..
Song
"I Then Shall Live"
https://www.youtube.com/watch?v=VNisXkfuo7k&list=RDMMVNisXkfuo7k&start_radio=1
ST. AUGUSTINE PARISH NEWS
Attention
Attention parishioners of St. Augustine!!! ls there anyone who would be interested in joining the team of sacristans?? We will train you. If interested please contact Fran Delegato or Sylvia Hess..
ST. AUGUSTINE PARISH NEWS
St. Augustine Catholic Church's Annual Report for the Fiscal Year 2019/2020 is now available Below.
St Benedict Bible study
You may access the St Benedict Bible study at

7:00pm on Wednesdays

by keying in to https://meet.google.com/hpy-pmyp-fvt or dial

1 402-921-2290

PIN: 708 666 706#. Use 712 770 5362 access code 163036 to access for the Rosary at 11:00 am on

Mondays.



ST. AUGUSTINE SVDP REPORT
The St. Vincent De Paul St. Augustine Conference provided assistance to 3 families during the 3rd quarter of 2020. Your donations were spent in the following manner:
$500 Rent
$157 for Utilities
Many thanks for your continued monetary support and prayers to help the St. Vincent De Paul society help others in our Germantown/Farmersville/New Lebanon community's. 
ST. AUGUSTINE PARISH NEWS
Online Donations

You Can Now Donate Online to the St. Augustine Church.
Be Generous as God is Generous
Click Below to Donate
ST. AUGUS

TINE PARISH NEWS
Coronavirus 2019
Some steps taking by Region one to avoid spread of the virus.
1. Eucharistic ministers should sanitize their hands before distribution of communion
2. Advise that all communicants receive communion in their hands and not by the tongue as there may be the danger of transmittance by saliva.
3. Distribution of communion will be under one specie (the body appearance)
4. There will be no holding of hands during the Lord's prayer as we normally do.
5. There will be no exchange of sign of peace at least by hand
6. We will advise that people should avoid as much hand shake as possible even at the doorway out.
Let us all cooperate with one another to help eradicate this decease with prayer and actions.
God bless
Fr. Francis Tandoh, C.S.Sp.
Pastor Region one of Dayton
———————————————————————————————————————————————————–
ST. AUGUSTINE PARISH NEWS
PRAY FOR OUR SHUT-INS
Please keep in your prayers our shut-ins: Toni Moore
ST. AUGUSTINE PARISH NEWS
Ministry Fair
If you were unable to attend the Ministry Fair and you are interested in joining one of our ministries please contact the office 855-2289 and you will be directed to someone that can help you.
Sonshine in a Bag
ST. AUGUSTINE PARISH will participate and supports the FIRST CHURCH OF GOD with their "SONSHINE IN A BAG" food program. What is Sonshine in a Bag? The Sonshine in a Bag program provides bags of food for the weekend to students who qualify through a teacher/counselor/psychologist/staff referral. They refer students who they feel could benefit from receiving food from this program. Many of these children are on the free and reduced lunch program at school. For many of these children, the food they receive for lunch at school may be the only food they receive for the day. Ensuring that children have nutritious food available to meet their needs will help them to concentrate better during school, have less behavioral issues, and improve school attendance. The purpose of this program is to provide these students with nutritious food for the weekend. In return this will help the students be more successful in school and have a brighter future.
How Can I Help?
Donate By Check:
Please make Checks to Germantown First Church of God and designate for Sonshine in a Bag. Checks can be mailed to Germantown First Church of God 760 Farmersville Pike Germantown, OH 45327
Donate Food Items:
click below to see the list of needed items (please purchase items only on the list).
Donations will be accepted every Sunday after the 8:15 am Mass. For more information and the "Sonshine in a Bag"
ST. AUGUSTINE PARISH NEWS
The Spirit of Sister Dorothy Stang Award
Sister Dorothy Stang from the Archdiocese of Cincinnati served as a missionary in Brazil and died as a martyr. The Spirit of Sister Dorothy Stang award is given in every parish to a parishioner or group who has modeled an extraordinary level of commitment to serving those in need either locally, nationally or around the world. Angie and Michael Valenti and Family are this year's award winner for St. Augustine. We appreciate all the work the Valenti Family does to support our parish and community. Congratulations to the Valenti's for this well deserved recognition!
ST. AUGUSTINE PARISH NEWS
QUARTERLY SVDP REPORT
The St. Vincent De Paul St. Augustine Conference made 6 home visits providing assistance to 19 adults and children during the 3rd quarter of 2019.  Your donations were spent in the following manner:
    $ 1,000 for Utilities
Donations from St. Augustine Parishioners, along with financial support from the Dayton District enabled us to meet the needs of our neighbors.  The Kroger Rewards program for this financial quarter increased SVDP's bank account by $72. Many thanks for your continued monetary support and prayers to help the St. Vincent De Paul society help others in our Germantown/Farmersville/New Lebanon community.
 If anyone who isn't participating in the Kroger Community Rewards program is interested in signing up, please contact Barb Maichle for additional information. Many thanks for your continued monetary support and prayers to help the St. Vincent De Paul society help others in our Germantown/Farmersville/New Lebanon community.
GREAT NEWS
Support St.Vincent dePaul When you Shop at Kroger
Help St. Augustine Conference/ St. Vincent dePaul earn dollars from Kroger fundraising program !!
1. Go to http://www.kroger.com/community rewards.

2. Sign into your online Kroger account (or create an account if you don't have one yet).


3. Click Kroger Community Rewards, search for

"St.Augustine Church Germantown/St.Vincent dePaul"

by name or by

JP967

, then click enroll. or call call

1-800-576-4377




4. Each time you use your registered Kroger Card, Kroger makes a donation to "St.Augustine Church Germantown/St.Vincent dePaul". Your fuel points or discounts will not be affected.




If any questions about the program see St. Augustine parishioner, Barb Maichle before or after Sunday Mass.

 
2019 CMA

Archbishop Schnurr sends his thanks to everyone from St. Augustine, St. Benedict the Moor and St. Mary who has pledged to the 2019 Catholic Ministries Appeal. If you have not yet made your pledge, please consider doing so this week. These important local ministries depend on our help each year. You will find extra pledge envelopes in the pews for your convenience this weekend. To make a pledge securely online, please
visit
http://CatholicAppeal.net

.
Thank you!
THANK YOU
To my parish families and friends of St Augustine, St Benedict and St Mary, I would personally like to thank all of you for making me feel a part of your parish families over the past several years. I would also like to thank you for the kind monetary gift you recently gave me as well. It was always my pleasure to celebrate masses with you. Each one of you always made me feel welcome. You will all be in my prayers and may each and every one of you continue to receive the blessing and love of Our Lord Jesus Christ and of his Blessed Mother Mary. Thank You again.
Yours in Christ,
Father Dominic
ST. AUGUSTINE PARISH NEWS
REGIONAL FUND-RAISING COMMITTEE
Fr. Francis is seeking a small committee to explore ideas and coordinate the execution of fund raisers to support church operations. Father is asking for two (2) representatives from each church to join the Team. Please Volunteer!! It will be a fun way to help our parishes! Everyone interested should see a Parish Council Member before leaving church today. You can also call your church office and leave a message.
THANK YOU!
OTHER AREA EVENTS
ST. AUGUSTINE PARISH NEWS
Father Jim Willig's Gospel teachings every Sunday on Sacred Heart Radio at 7:30 and 9:30 am. Sacred Heart Radio broadcasts in Greater Cincinnati on 740AM, Hamilton on 89.5FM, and Dayton on 910AM. Also listen anytime on Heart to Heart's website:
http://www.heartoheart.org.
RELIGIOUS RETIREMENT FUND
Help care for elders.
"Thanks to support from the Retirement Fund for Religious, we are now in a much better position to care for our elders,"
writes a religious sister. Your donation helps her religious community and hundreds of others provide for aging members and plan for long-term needs. Please give to next week's Retirement Fund for Religious collection
ST. AUGUSTINE PARISH NEWS
FIRST COMMUNION & CONFIRMATION
If your child is ready for First Communion or Confirmation, please call the parish office and leave your name and phone number. Classes for the year have begun.
MEMBERSHIP IN OUR PARISHES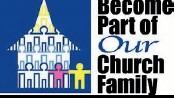 A "Hearty Welcome" to all new members. Please call the church offices 268-6697 (St. Benedict) 256-5633 (St. Mary) or 855-2289 (St. Augustine) to register. Please notify the offices when moving or of any change in address. This will help us update our census information.
ST. AUGUSTINE PARISH NEWS
If you would like to become a Sacristan please contact Sylvia Hess or Fran Delegato!!
ST. VINCENT DE PAUL CONFERENCE
If you have some extra time and you would like to help the needy, the St. Vincent De Paul Conference at St. Augustine could always use some new members. If interested, please contact  Sylvia M. Hess at the church office at
855-2289 or

home at

855-6649
for further information.
`